News > Spokane
Gleason Neuroscience Institute to open at WSU-Spokane
Jan. 16, 2019 Updated Wed., Jan. 16, 2019 at 11 a.m.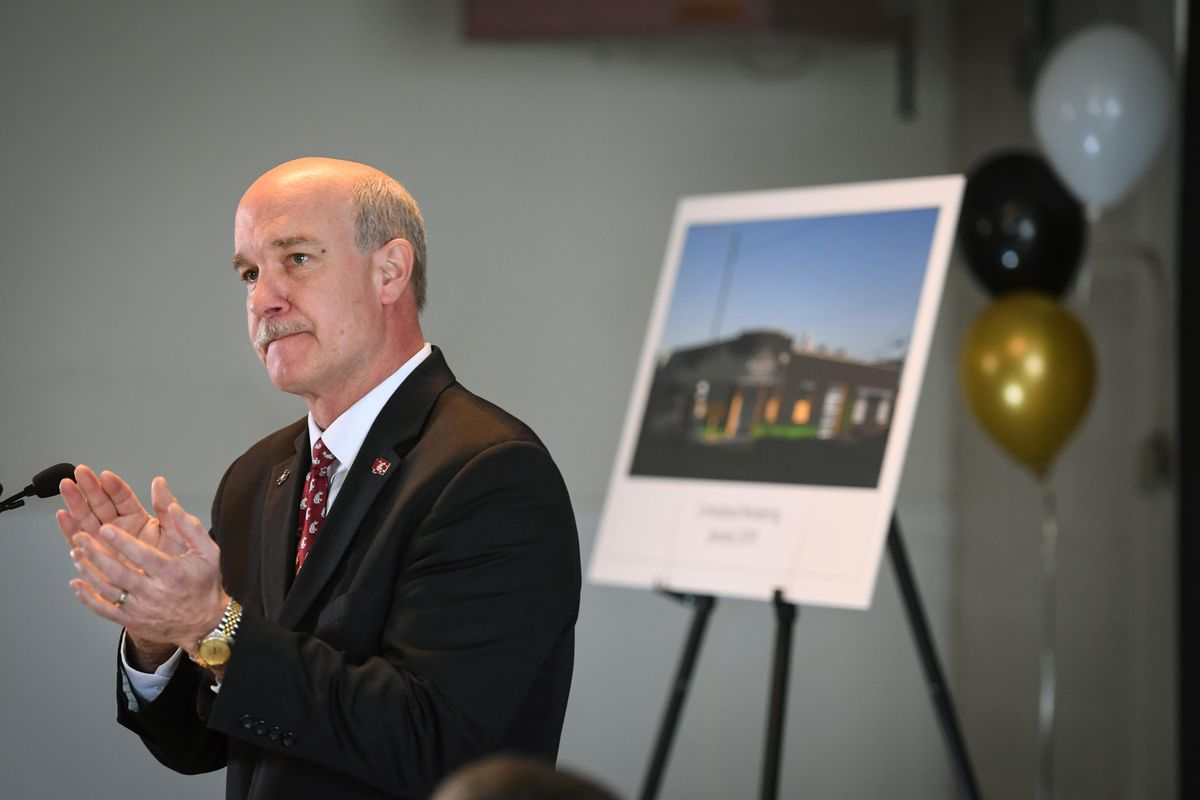 WSU Health Sciences Chancellor Daryll DeWald applauds all those involved with establishing the Steve Gleason Institute of Neuroscience during a press conference Tuesday. The institute will be located at 325 E. Sprague in Spokane. (Dan Pelle / The Spokesman-Review)
Improving the lives of people with debilitating brain diseases is the focus of the new Steve Gleason Neuroscience Institute at Washington State University-Spokane.
"Steve Gleason is a hero and an inspiration to many of us," Daryll DeWald, WSU Health Sciences chancellor, said at a Tuesday news conference announcing the institute. "This son of Spokane … is a national hero."
Gleason, 41, recently received a Congressional Gold Medal for his advocacy work for ALS patients. The Spokane native, former WSU linebacker and NFL player was diagnosed in 2011 with amyotrophic lateral sclerosis, also known as Lou Gehrig's disease. He and his wife, Michel Rae Varisco, and their children live in New Orleans, where Gleason played for the Saints.
"Steve is honored his alma mater founded an institute in his name," said Spokane County Superior Court Judge Tony Hazel, a family friend and board member of Team Gleason, the nonprofit Gleason founded.
The institute will launch later this year with $500,000 in initial funding and an office building in Spokane's University District. The institute will rent the space at 325 E. Sprague Ave. from an Avista subsidy at a nominal cost.
The Health Sciences & Services Authority of Spokane County provided $250,000 of the initial funding.
Besides improving care for patients with ALS and Parkinson's disease, the institute will include a research unit and a "smart home" center to train patients and their families on assistive technology.
DeWald said the institute will be a "place of hope" for patients with diseases that don't have cures.
Initially, the institute will focus on ALS and Parkinson's disease but could expand to Alzheimer's and other diseases in the future, said Marcos Frank, professor and chair of the biomedical science department at WSU's Elson S. Floyd College of Medicine.
Research will focus on "the next generation of therapy, cures and early detection," Frank said.
Finding ways to detect the diseases earlier would allow swifter intervention, he said. The institute also will provide opportunities for testing new therapies and clinical trials for medications.
The institute builds on Team Gleason's previous work to get adaptive technology to ALS patients, so "they can live a meaningful life despite having a debilitating disease," Hazel said.
ALS affects the function of nerves and muscles. About 6,000 people in the U.S. are diagnosed with the disease each year, according to the ALS Association.
Tuesday's event announcing the institute was packed with health care professionals. Providence Health Care, MultiCare and St. Luke's Rehabilitation Institute are partners in the project, along with the city of Spokane and the University District.
Dr. Robert Fischer, medical center director for the Mann-Grandstaff Veterans Affairs Medical Center, also attended. Research indicates veterans develop ALS at higher rates than the general population.
Since the disease progresses rapidly, the VA changed the way ALS claims are processed about 10 years ago. For veterans with active service, there's a presumption the ALS is linked to their time in the military, Fischer said.
In the coming months, the institute will be hiring a director, renovating the building on East Sprague and continuing to raise money. The institute's building is across railroad tracks from WSU-Spokane, near the University District Gateway Bridge.
The vision for the area's redevelopment includes health care and medical research, with the expectation it will become a south campus to WSU-Spokane.
This story was updated to correct the type of Congressional medal Gleason received.
Local journalism is essential.
Give directly to The Spokesman-Review's Northwest Passages community forums series -- which helps to offset the costs of several reporter and editor positions at the newspaper -- by using the easy options below. Gifts processed in this system are not tax deductible, but are predominately used to help meet the local financial requirements needed to receive national matching-grant funds.
Subscribe now to get breaking news alerts in your email inbox
Get breaking news delivered to your inbox as it happens.
---