Sports > Seattle Mariners
Seattle left-hander Marco Gonzales returns to Spokane as part of Mariners Caravan
Jan. 16, 2019 Updated Wed., Jan. 16, 2019 at 10:10 p.m. Dozens of children, most donning Seattle Mariners gear but a few representing Gonzaga, sat rapt in front of Marco Gonzales, taking turns asking questions.
What was your favorite place to play?
Fenway Park in Boston, Gonzales said. "I was trying not to be a fan."
Idols growing up?
Tom Glavine and Nolan Ryan, the Mariners pitcher answered.
Do you play (the online video game) Fortnite?
No, Gonzales said, admitting though that many of his Seattle teammates did, drawing laughs from the assembled crowd.
"I just love how pure it is, how genuine," Gonzales said of interacting with the kids. "They absorb so much."
Gonzales, who starred at Gonzaga University and started 29 games for the Mariners last season, was in Spokane on Wednesday afternoon for the Mariners Caravan, the team's annual photo and autograph tour of the Pacific Northwest.
He was joined by pitcher Shawn Armstrong, center fielder Braden Bishop, play-by-play commentator Dave Sims and mascot Mariner Moose.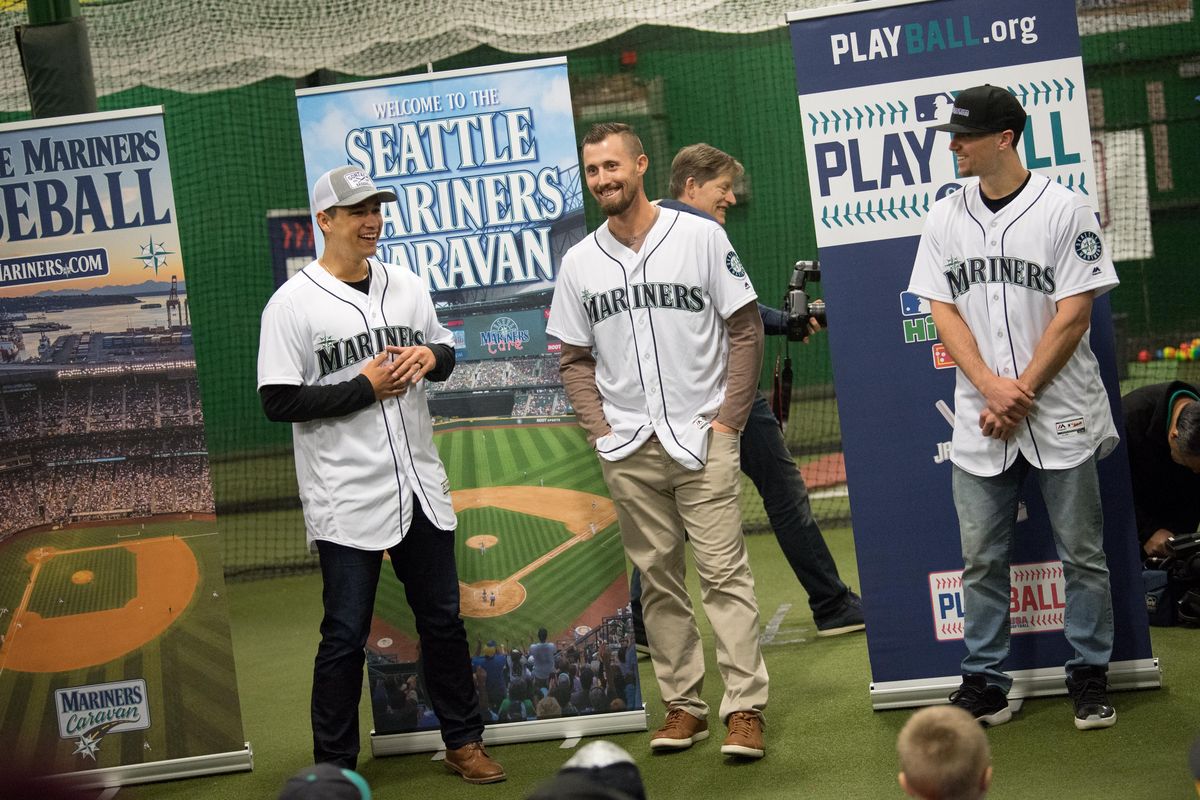 Gonzaga grad and Mariners pitcher Marco Gonzalez, left, laughs with teammates Shawn Armstrong, center, and Braden Bishop as they field questions from young fans during the Seattle Mariners Caravan's visit to Spokane on Wednesday, Jan. 16, 2019, at the Warehouse Performance Center in Spokane, Wash. (Tyler Tjomsland / The Spokesman-Review)
A couple of hundred fans showed up for the event at the Warehouse, across the street from Gonzaga, most of them shepherding their children who had the chance to pitch and hit in the batting cages with Armstrong and Bishop and get autographs and photos with Gonzales and Sims.
The homecoming was particularly sweet for Gonzales, who in three seasons won 26 games with the Bulldogs, posting a 2.34 earned-run average and striking out 278. He was the co-West Coast Conference Player of the Year as a junior in 2013, and the St. Louis Cardinals selected him 19th overall in the MLB draft that spring.
The Mariners traded for him in July 2017.
"It's a deja vu experience walking down the streets and campus. So many memories," Gonzales said. "I have cousins, and coaches and my former catcher when I was here at Gonzaga came with his two kids. It's just crazy how time flies."
That catcher was Cameron Edman, who brought his two young children to meet Gonzales.
"Once I heard he was coming here, I just wanted to come and wish him luck for the season," said Edman, who spent two years in the Baltimore Orioles' minor league system after playing at Gonzaga. "I was trying to explain it to (my kids) on the way here: 'So there's this guy Daddy played with whose really, really good at baseball.' They didn't really get it, but they might eventually."
Gonzales is coming off his best season in the majors. The left-hander won a team-best 13 games (losing nine) with an ERA of 4.00 and 145 strikeouts in 166 2/3 innings, the second most on the team behind Mike Leake's 185 2/3.
Asked about the potential of being the Mariners' opening-day starter, Gonzales said: "That's something I gotta earn. I won't take that opportunity lightly."
Not all the questions came from children. One man ended the Q&A session by asking Sims, quite innocently, which players had left the team after last season.
"(Jean) Segura, (Edwin) Diaz," Sims answered, then paused briefly as he counted and the audience, seemingly aware of the many Mariners transactions this offseason, started to laugh. "We could be here for a while."
The caravan had been through Post Falls earlier in the day, hosting an assembly at Mullan Trail Elementary, where the mascot is, coincidentally, a moose.
The players were in Yakima and Wenatchee earlier this week as part of the caravan. It continues on to Walla Walla on Thursday and Pasco on Friday. This is the second of the three-week tour, which sees various players rotate in for visits.
Local journalism is essential.
Give directly to The Spokesman-Review's Northwest Passages community forums series -- which helps to offset the costs of several reporter and editor positions at the newspaper -- by using the easy options below. Gifts processed in this system are not tax deductible, but are predominately used to help meet the local financial requirements needed to receive national matching-grant funds.
Subscribe to the sports newsletter
Get the day's top sports headlines and breaking news delivered to your inbox by subscribing here.
---