News > Spokane
COPS launches Paws – or claws – on Patrol, a neighborhood watch program
Thu., Jan. 17, 2019 A new program is beginning with the goal of turning people walking their dogs into the eyes and ears of the Spokane Police Department.
The Spokane Community Oriented Policing Services will host two Paws on Patrol training sessions this month for people interested in patrolling their neighborhood while also walking their pooch.
"This is something we're just starting this year," COPS executive director Patrick Striker said. "Crime prevention is about ordinary citizens observing and reporting. You know when things aren't right in your neighborhood."
Striker said the idea came from similar programs in other areas, but some of those programs are little more than an information pamphlet. "A lot of people walk their dogs every day," he said. "Let's train you up and teach you what to look for."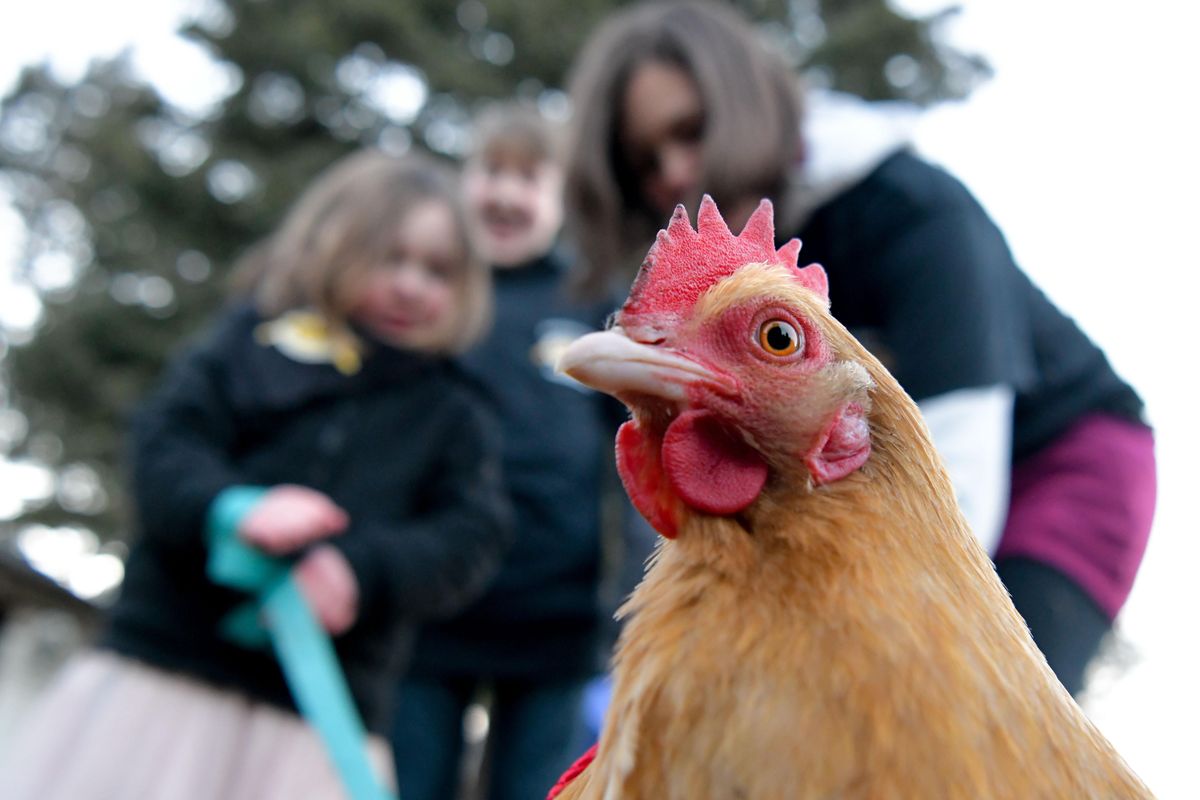 One of Makaya Judge's chickens sizes things up while on patrol in their neighborhood in the South Perry District on Monday, Jan. 14, 2019. Spokane COPS have started a Paws on Patrol program, and the Judge family joined the cause with their chickens. (Tyler Tjomsland / The Spokesman-Review)
The goal is to make the experience interactive, in part by having dog walkers gather in groups for regularly scheduled walks, which Striker describes as a positive show of force. "If someone just wants to do it on their own, by themselves, that's fine," he said. "Really there's a lot of freedom to do what you want with it."
Striker said the group walks will focus on school zones, parks and known problem areas.
The flexibility of the program extends to just what animal you put a leash on to walk the neighborhood with. Makaya Judge, who volunteers at COPS Southeast, said she plans to walk with her chickens.
"I'm not really a dog person," she said. "I just like (chickens) so much better. I just think that they're friendly. They're just really sweet."
Judge is also her block watch leader and already walks the neighborhood regularly with some of her neighbors. They don't do it as much in the winter after her mother took a bad fall on ice last winter and broke her arm. "She shattered her entire forearm," she said.
Judge was excited to hear about the new Paws on Patrol program shortly after she bought leashes and harnesses for her chickens.
"I thought, yes, a reason to walk the chickens," she said.
Her chickens are family pets and are used to being held. Judge said she would sometimes bring them on her walks.
"I just carried them around," she said.
This week she went on a trial walk with two of her chickens, Thing 1 and Goldie Hen. The birds cooed as they got dressed in their harnesses and seemed eager to get out and explore, but kept wandering off in different directions.
"It's like herding chickens," Judge laughed. "It's more fun to carry them. They love being carried."
While she was walking, Judge called out to neighbors she knew who were outside and seemed to know everyone's name. That's the familiarity that organizers want people to have with their neighborhood so that anything out of the ordinary will stick out.
The walks are also a way to get the community involved, Striker said. "We recognize not everyone has the time every week to work the front desk," he said. "It just ultimately means to be creative."
The training sessions are from 6 to 7 p.m. Jan. 23 at the Southside Senior Activity Center, 3151 E. 27th, and from 6 to 7 p.m. Jan. 24 at COPS West, 1901 W. Boone Ave. People are asked to leave their dogs at home. Both trainings are identical, so people only need to sign up for one.
Volunteers will be taught what to look for on their walks and how to report what they see. They will receive T-shirts to wear on the walks and there will be bandanas for the dogs to wear. Those planning to attend are asked to call (509) 625-3328 to register.
"This is your town, these are your streets and you are the first line of defense," Striker said.
Local journalism is essential.
Give directly to The Spokesman-Review's Northwest Passages community forums series -- which helps to offset the costs of several reporter and editor positions at the newspaper -- by using the easy options below. Gifts processed in this system are not tax deductible, but are predominately used to help meet the local financial requirements needed to receive national matching-grant funds.
Subscribe now to get breaking news alerts in your email inbox
Get breaking news delivered to your inbox as it happens.
---