News > Spokane
East Valley senior Genesis Wilkinson a force on the boards
Thu., Jan. 17, 2019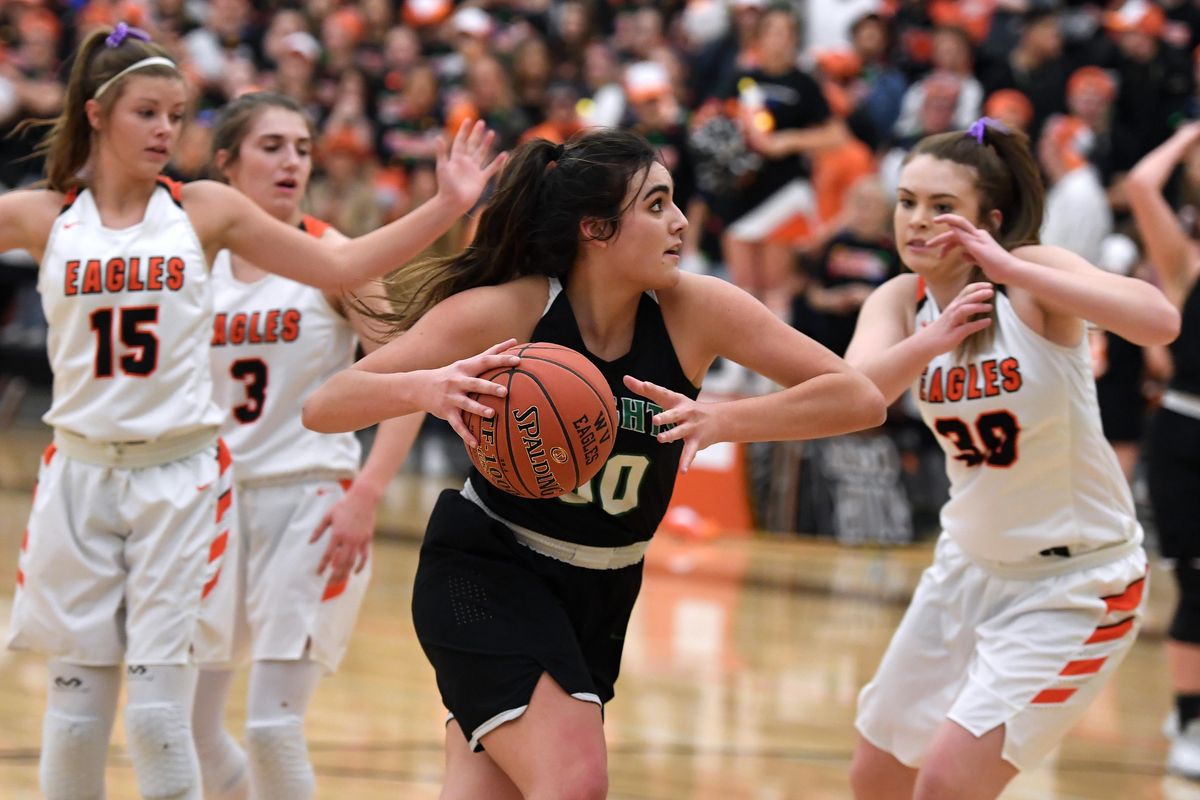 East Valley basketball standout Genesis Wilkinson looks for a shot during a game against West Valley on Friday at West Valley High School. Wilkinson scored 20 to lead the Knights to victory, 53-38. (Colin Mulvany / The Spokesman-Review)
It's a typical girls basketball practice session at East Valley High, which means there are happy sounds filling the gym.
The Knights know how to work hard and they have the record to bear out that work ethic.
But oh, do they like to have fun while they do it.
"We do have fun! We have a lot of fun," Genesis Wilkinson said. "Our coach (Rob Collins) lets us have fun while we work and he encourages us to have fun. That's what makes it all work. And we get an awful lot of hard work done every day in practice."
For her teammates, the 5-foot-11 Wilkinson is a leader in both mirth and work ethic. She embraces the joy of the game, the thrill of sharing it with her teammates, and attacks the game in a seriousness that has earned her a full-ride scholarship to play at Carroll College next year.
After she dominated on the boards and scored the final six points to secure East Valley's 52-47 win over Clarkston in a first-place Great Northern League showdown last year, the Clarkston coach was succinct.
"To me, Genesis made the difference," Debbie Sobotta said. "She's a beast."
There are any number of Great Northern League coaches who will agree with her.
Wilkinson takes rebounding seriously, and her reputation on the boards is well deserved.
Legend has it that if a ball caroms off a basketball rim anywhere in the East Valley School District, she will corral it and fire an outlet pass to one of her guards.
"That's what I'm expected to do," the senior with the megawatt smile said. "My teammates rely in me getting the rebound and I'm going to work hard to do that."
But she's a little reluctant to talk about her secret.
"I hate to admit it, but I have size 13 feet," she said, turning red. "It's kind of embarrassing. But that gives me a pretty big base."
As a freshman, Wilkinson made an impression early on. And the team's success definitely made an impression on her.
"I was intimidated when I got here," she said. "This team had enjoyed so much success and there were five great seniors on the team. I wasn't sure I belonged, but they embraced me and made me feel so comfortable. They never once made me feel like I was a freshman and they were seniors. I was one of them."
Collins had a challenge on his hands, and, well, the genesis of an idea.
"We had Hannah Burland playing out of position in the post," Collins said. "I started to put Gen in there because she's more of a natural post player and that let us move Hannah outside to her more natural position."
Burland's 5-6 frame is more suited to the position she now plays as a redshirt sophomore at Lewis-Clark State: guard.
The coach quickly realized he needed to do more than sub in his freshman post.
"After about three games I realized what I had to do and I just started her," he said. "That opened everything up for us."
For the most part, she's been there since.
"Well, she does have a lot of enthusiasm for the game," Collins laughed. "That can get away from her early in games. I have a hard-and-fast rule: you get two fouls in the first half, you sit."
Wilkinson on the bench is an opponent's best-case scenario. When she's on the floor, she is capable of taking over a game, putting her team on her back and carrying them to the finish.
"She can definitely do that," Collins said. "I wish she did it more."
As the season turns into January for the home stretch of the GNL schedule, East Valley is the top-rated girls Class 2A team in the state according to the WIAA's RPI rankings, just ahead of Clarkston. The Knights lost their first matchup with Clarkston this season, but eked out a 72-69 victory Tuesday.
"I think we kind of took Clarkston more lightly than we should have," Wilkinson said of the first game. "We have to up our game the rest of the way. We need to take our game to the next level and we have to take every team seriously.
"That's the thing about our league. I think it's the toughest league in the state right now."
Collins stood on the sideline while his team worked through a shooting drill with an assistant coach. When they finished, the squad gathered for a huddle at the free-throw line, then walked off the court to collect their belongings and head for home.
"Well," Collins laughed. "I guess they're done."
Not hardly, Wilkinson said.
The Knights, she said, are serious about their task: returning to state for a sixth straight year and playing for a state championship. East Valley has placed in four of the past five seasons, including a fourth-place finish a year ago, a third-place finish when Wilkinson was a sophomore and a fifth-place trophy as a freshman.
"On the one hand, we've done this before," she said, "But at the same time, there's more pressure on us to get that done. We just have to meet the challenge."
Local journalism is essential.
Give directly to The Spokesman-Review's Northwest Passages community forums series -- which helps to offset the costs of several reporter and editor positions at the newspaper -- by using the easy options below. Gifts processed in this system are not tax deductible, but are predominately used to help meet the local financial requirements needed to receive national matching-grant funds.
Subscribe now to get breaking news alerts in your email inbox
Get breaking news delivered to your inbox as it happens.
---