Sports > Outdoors
Fifty years (and more than a few beers) later, Priest Lake Snowshoe Softball tournament still going strong
Thu., Jan. 17, 2019 If you're going to drink beer and chase an oversized softball through fields of snow wearing cheap plastic snowshoes, at least cover the ball in pink Jell-O.
That's what the experts do.
After 50 years, competitors in the annual Snowshoe Softball Tournament in Priest Lake are consummate experts in the genre-mixing sport.
On Saturday, six teams faced off for the 50th annual tournament. Players pitched, hit, ran and dived wearing brightly colored (and old) snowshoes.
The pink Jell-O makes the ball visible in the snow. The downside? The viscous substance gets over everything, said Mick Barber, a member of the Miller Lite team and a longtime competitor.
Despite the undeniable hilarity of watching grown men (and two women) stumble through the snow, the event is competitive. Many played organized ball at some level, years (and many beers) ago.
And some of the younger guys look like they might still.
"It slows some of the fast guys down," Von Chimienti said. "But it's pretty competitive for being on snow and on snowshoes.
"We've had some arguments over the years. Some guys get a little huffy, but it's competitive. These guys want to win."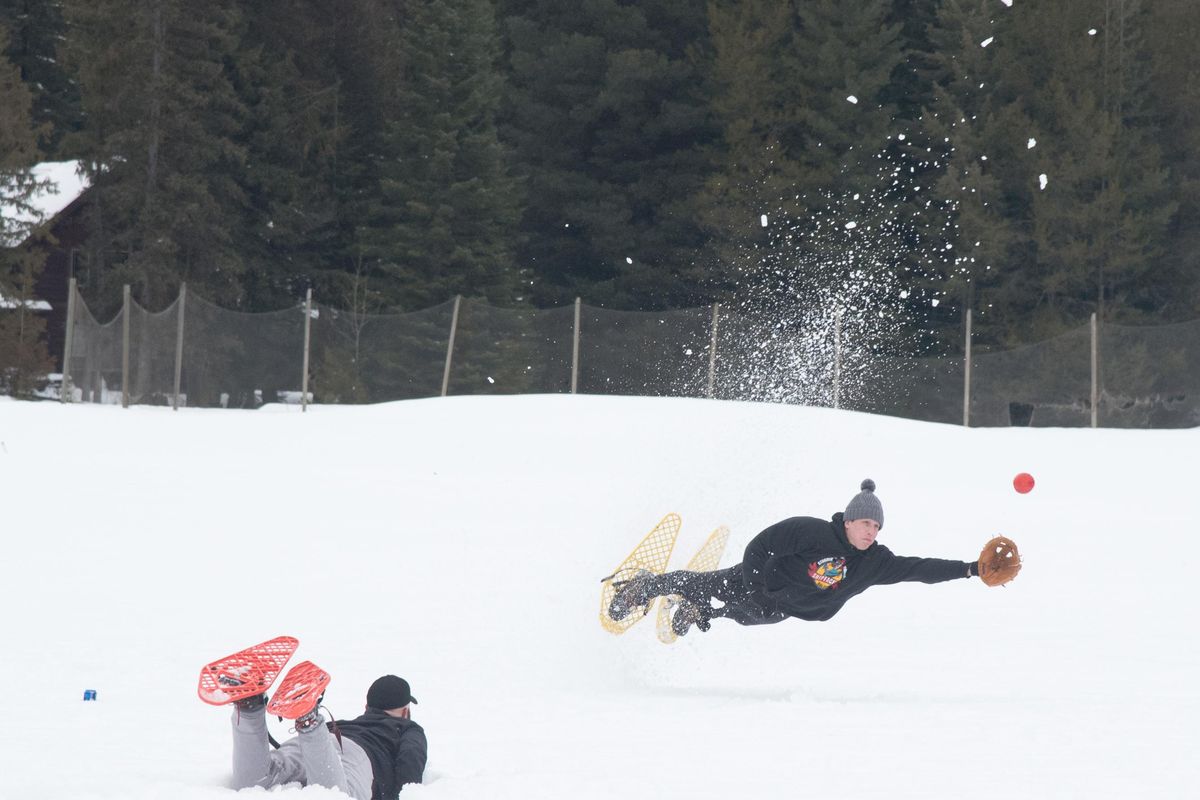 An outfielder dives for a ball during the 50th annual Snowshoe Softball Tournament in Priest Lake on Saturday Jan. 12, 2019. The tournament started as an interlude to the annual Priest Lake dog sled races in 1969. (Eli Francovich / The Spokesman-Review)
Winners get $1,000, a bye in the next tournament plus championship T-shirts.
Chimienti, 64, has been playing in the tournament for 36 years on the same team, Strick's.
The Strick's team has participated in all 50 years of the tournament and is named after the legendary Strick's Donuts in Spokane, which closed in 1996.
George 'Brick' Harris and Fred 'Bud' Adams started the tournament. At first, it was entertainment for crowds watching the U.S. Pacific Coast International sled dog championships held at Priest Lake.
In the inaugural year, the tournament only had two teams, according to a history written by Tiffany Adams. Since 1980, 12 teams have competed in the three-weekend, double-elimination tournament.
The event even garnered mention in Sports Illustrated in 1989.
The game is played according to USA Softball modified fastpitch rules: no leading off, no stealing bases and the pitchers can throw as fast as they can as long as they don't wind up.
Hired umpires call the game.
Joining the tournament is tough with most teams returning year after year, said Bryan Adams, the grandson of Fred Adams.
"We've always had enough teams," Adams said. … "There is a waiting list to play. Once you're in, you're grandfathered in."
Teams have come from as far away as California and Oregon, although this year's 12 teams are all from the Spokane region.
On Saturday, about 40 spectators watched the games, many of them friends or family of players.
"It's hilarious for them to go out there and try to catch a ball in snowshoes," Tana Atkinson said.
Atkinson and her husband Eric spent the weekend in Priest Lake to watch one of their friends play in the tournament. They'd never been before but were having a blast.
In the early years of the tournament, Chimienti said one or two teams would dominate. But the competition has evened out and no one team runs the roost now, he said.
Weather plays an important role in the endeavor. Some years, games are played in blizzards or slogging through deep snow. Other years, players find themselves splashing through a miniature lakes.
Chimienti remembers one year playing in the championship game during a blizzard. The game lasted eight innings and ended 4-3.
"I know we lost," he said. "But it was fun."
There was no shortage of good-natured ribbing on Saturday.
After running from second to third base, Ken Pickens, the board president of the Spokane Boys and Girls Club of Spokane County, bent over, hands on knees, catching his breath.
His Miller Lite teammates on the sideline noticed.
"Somebody give him some oxygen," someone yelled.
Later, Pickens jokingly explained he's only been playing in the tournament for two or three years and isn't "fully accepted" yet.
That's the price of entry for an event with half a century of history.
Local journalism is essential.
Give directly to The Spokesman-Review's Northwest Passages community forums series -- which helps to offset the costs of several reporter and editor positions at the newspaper -- by using the easy options below. Gifts processed in this system are not tax deductible, but are predominately used to help meet the local financial requirements needed to receive national matching-grant funds.
Subscribe to the sports newsletter
Get the day's top sports headlines and breaking news delivered to your inbox by subscribing here.
---