Sports > WSU basketball
Robert Franks fuels Washington State with 24 points in dominant 82-59 win over Cal
Jan. 17, 2019 Updated Thu., Jan. 17, 2019 at 11:03 p.m.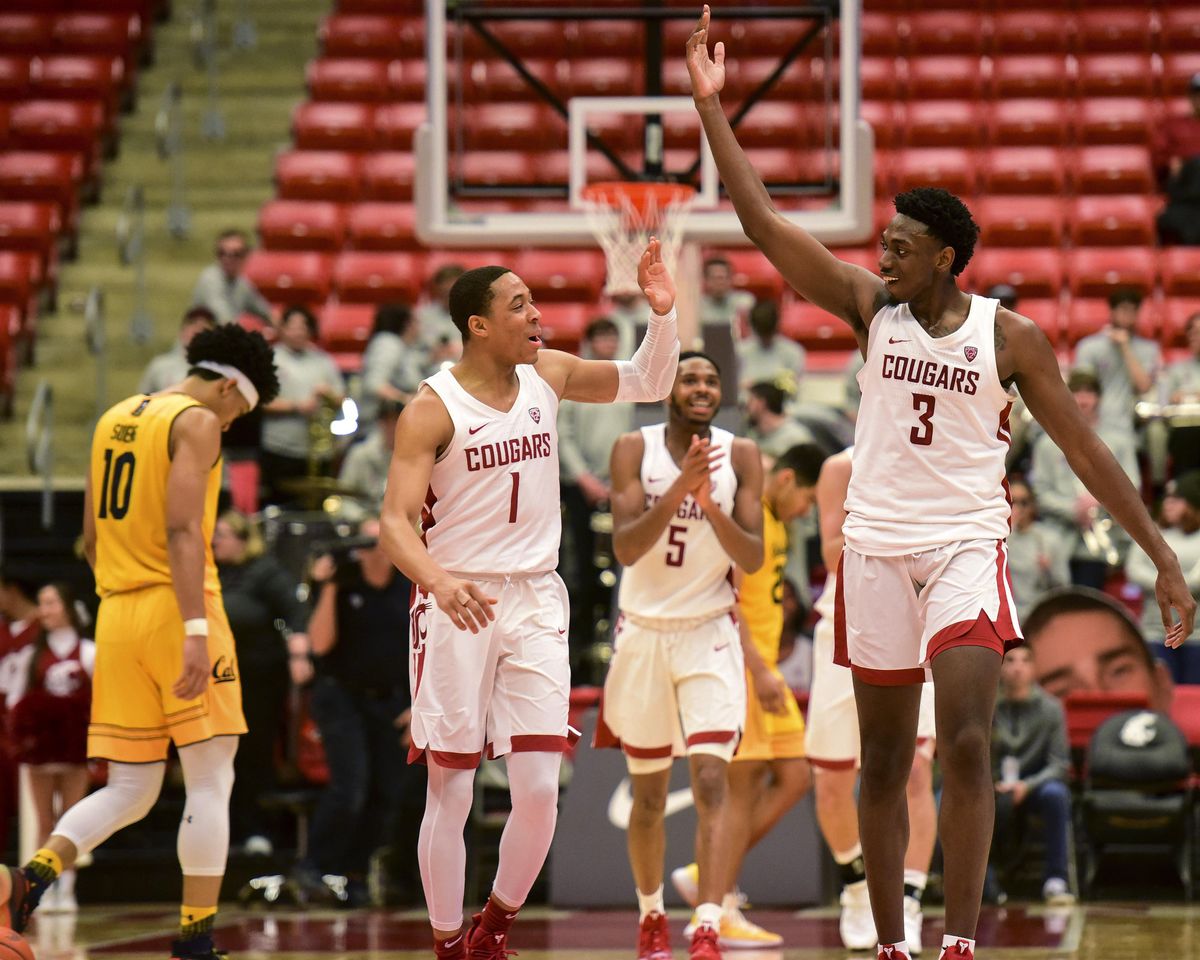 Washington State guard Jervae Robinson (1) and forward Robert Franks (3) celebrate after California coach Wyking Jones called a timeout during the second half of an NCAA college basketball game Thursday, Jan. 17, 2019, in Pullman, Wash. Washington State won 82-59. (Pete Caster / AP)
PULLMAN – Robert Franks checked into Thursday's Pac-12 home opener against Cal nearly 2 1/2 minutes into the first half and made his final exit with about 2 1/2 remaining in the second.
The impact of having the league's top scorer back on the court? It was packaged into the 35 minutes between.
Fully healed from the hip injury that kept him off the court for almost a month, Franks helped Washington State repair many of its own wounds Thursday night at Beasley Coliseum – most of them on the offense end – and guided the Cougars to a dominant 82-59 win over the Golden Bears in a matchup of the only two teams without a Pac-12 win.
Franks helped the Cougars (8-9, 1-3 Pac-12) overcome many of the offensive fits they'd experienced in four games without their 22 point-per-game scorer in the lineup – a putrid stretch of basketball that saw WSU average just 67 points and shoot the lowest field-goal percentage in the Pac-12.
The Cougars weren't counting on Franks to solve every one of their problems, but WSU's offense certainly looked functional – and at times lethal – with him back in the fold.
Franks didn't get the starting nod – WSU coach Ernie Kent had said he wanted to ease his top player back in – but just 2:26 elapsed before the 6-foot-9 forward made his way to the scorer's table, with the Cougars up 6-4.
"Now entering the game, Robert Franks Jr.," announcer Glenn Johnson bellowed. "Welcome back."
The senior's wind wasn't a problem – he played 31 minutes , more than everyone but guard Viont'e Daniels. And putting the ball in the bucket seemed to come even easier for someone who'd yet to score a point in 2019, and not since a Dec. 23 game against New Mexico State.
Franks finished with 24 points, on 10-of-18 shooting from the field, and knocked down 3 of 7 3-pointers. He finished with eight rebounds, dished out two assists and also had a steal.
"It felt great, it felt just like a season opener for me," Franks said. "Being out there with the guys and especially getting the win, it felt really good."
The Vancouver, Washington, native lifted the Cougars to a 19-12 lead with his first bucket – a pull-up 3-pointer from the shoulder midway through the first half.
Late in the second, he was involved in the sequence that allowed WSU to stretch its lead to 21 points.
Franks pulled down a defensive rebound after a Cal miss, sent an outlet pass to a teammate then ran the length of the floor before getting the ball back from Jervae Robinson and slamming a one-handed dunk.
Robinson found Franks on the next possession for a transition 3-point shot that made it 69-48.
"The biggest thing you noticed about him, that you noticed in practice two days ago, is the calm," Kent said. "The team calms down. The reason it calms down is because you have another veteran player that understands your system. … He puts up numbers, but he allows us to play fast again."
The Cougars scored 24 fast-break points after combining for just 20 in games against Washington, Colorado and Utah.
As a team, WSU had its most accurate shooting game of the young Pac-12 season. After shooting 46 percent, 44 percent and 36 percent in the first three contests, the Cougars made 30 of 56 attempts from the field for a 56 percent clip.
WSU's 3-point shooting percentage through three games sat at 26 percent (18 of 69), but the Cougars made amends for that, too, hitting on 45 percent (9 of 20) of their long-range shots against Cal.
"When you lose that many games in a row, it definitely hangs on the minds of everybody and it definitely feels like there's kind of a weight lifted off everyone's shoulders in the locker room now that we've got that first conference win," forward Jeff Pollard said.
Four other Cougars finished in double figures. Daniels, CJ Elleby and Marvin Cannon all had 11 points while Pollard added 10.
WSU, still unbeaten in Pullman with an 8-0 record, plays host to Stanford (8-9, 1-4) on Saturday at noon (Pac-12 Networks).
Local journalism is essential.
Give directly to The Spokesman-Review's Northwest Passages community forums series -- which helps to offset the costs of several reporter and editor positions at the newspaper -- by using the easy options below. Gifts processed in this system are not tax deductible, but are predominately used to help meet the local financial requirements needed to receive national matching-grant funds.
Subscribe to the sports newsletter
Get the day's top sports headlines and breaking news delivered to your inbox by subscribing here.
---