News > WA Government
Jerry Brown warns Washington lawmakers: climate change will get worse
Jan. 18, 2019 Updated Fri., Jan. 18, 2019 at 8:45 a.m.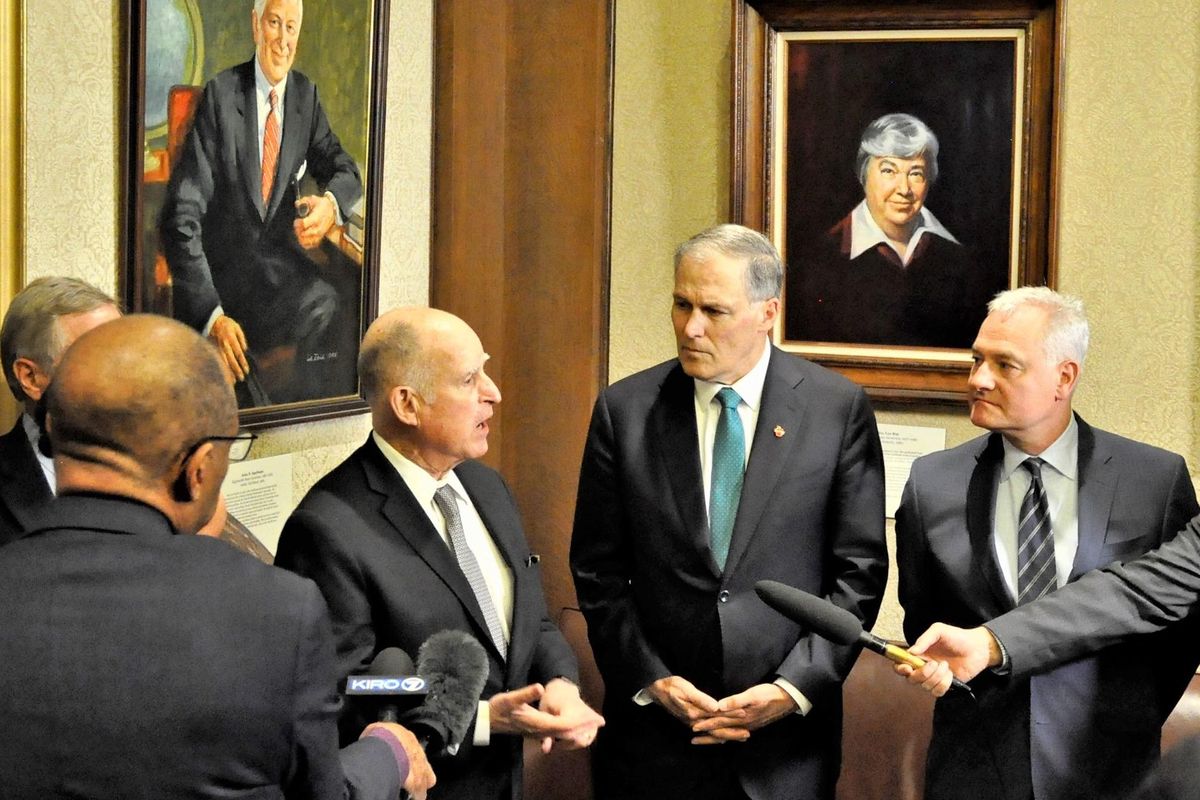 OLYMPIA – Former California Gov. Jerry Brown, left, Washington Gov. Jay Inslee and Senate Energy Committee Chairman Reuven Carlyle, D-Seattle, meet with reporters in the lobby of the Inslee's Capitol office, after talking with legislators about the importance of passing new laws to fight climate change. (Jim Camden / The Spokesman-Review)
OLYMPIA – Gov. Jay Inslee imported some out-of-state help Thursday to convince the Legislature to pass bills that would fight climate change.
Former California Gov. Jerry Brown, a fellow Democrat, joined Inslee in lobbying lawmakers with a pitch that the threat of climate change is real, but fighting it is good for the economy, the environment and even the life of a political party.
From catastrophic wildfires to eroding coastlines to invasive species, California is seeing a wide range of effects Brown attributed to climate change. "It's not going to get better, it's going to get worse," he said.
Inslee has an aggressive list of environmental proposals, many of which have been enacted in California, and he hopes the new larger Democratic majorities, coupled with some freshmen lawmakers who ran successfully on fighting climate change, will get them through this year's Legislature.
"People understand there's nowhere we can hide," Inslee said.
But Brown said a key to his success was getting Republican support for some initiatives, even though "the parties are more polarized than I've ever seen in my lifetime."
What helped generate support for environmental laws in California, he said, was the fear GOP legislators expressed about their shrinking numbers.
"Republican leaders said the party is dying, it's losing young people," he said.
Inslee said he would welcome GOP suggestions on ways to fight climate change. He knows House Republicans are proposing incentives to reduce carbon pollution, but hasn't seen it or talked to legislators about it yet.
A three-time candidate for president, Brown couldn't get away from a gaggle of news reporters without being asked about advice for Inslee, who is considering a run for the White House in 2020.
Most of it was generic: Line up plenty of resources, find the vulnerabilities of your opponents and exploit them. But he prefaced it with a warning:
"Don't listen to me," he said, a nod to the fact that his campaigns in 1976, 1980 and 1992 weren't successful.
Local journalism is essential.
Give directly to The Spokesman-Review's Northwest Passages community forums series -- which helps to offset the costs of several reporter and editor positions at the newspaper -- by using the easy options below. Gifts processed in this system are not tax deductible, but are predominately used to help meet the local financial requirements needed to receive national matching-grant funds.
Subscribe now to get breaking news alerts in your email inbox
Get breaking news delivered to your inbox as it happens.
---