News > Spokane
Spokane's first Indigenous Peoples March winds through downtown
Jan. 18, 2019 Updated Tue., Jan. 22, 2019 at 8:42 a.m. Barbara Gongyin didn't seem tired or lethargic, despite only getting a few hours of sleep after a long night of last-minute preparations.
Facing a crowd, the organizer of Spokane's first Indigenous Peoples March, held Friday in coordination with marches across the nation, asked everyone to check negativity at the door and have a good time.
"Our goal is to keep everything positive," the Spokane Tribe member told the hundreds assembled outside the Spokane Tribe Gathering Place near City Hall. "Thank you all for coming."
What followed her short address was a long list of speakers, many of them Native Americans, who touched on a variety of native issues, ranging from language to climate change, water, fracking and missing and murdered indigenous women. The event ushered in a busy weekend of public demonstration in Spokane, with the Women's March on Saturday, and Martin Luther King Jr. events peppered throughout the next few days.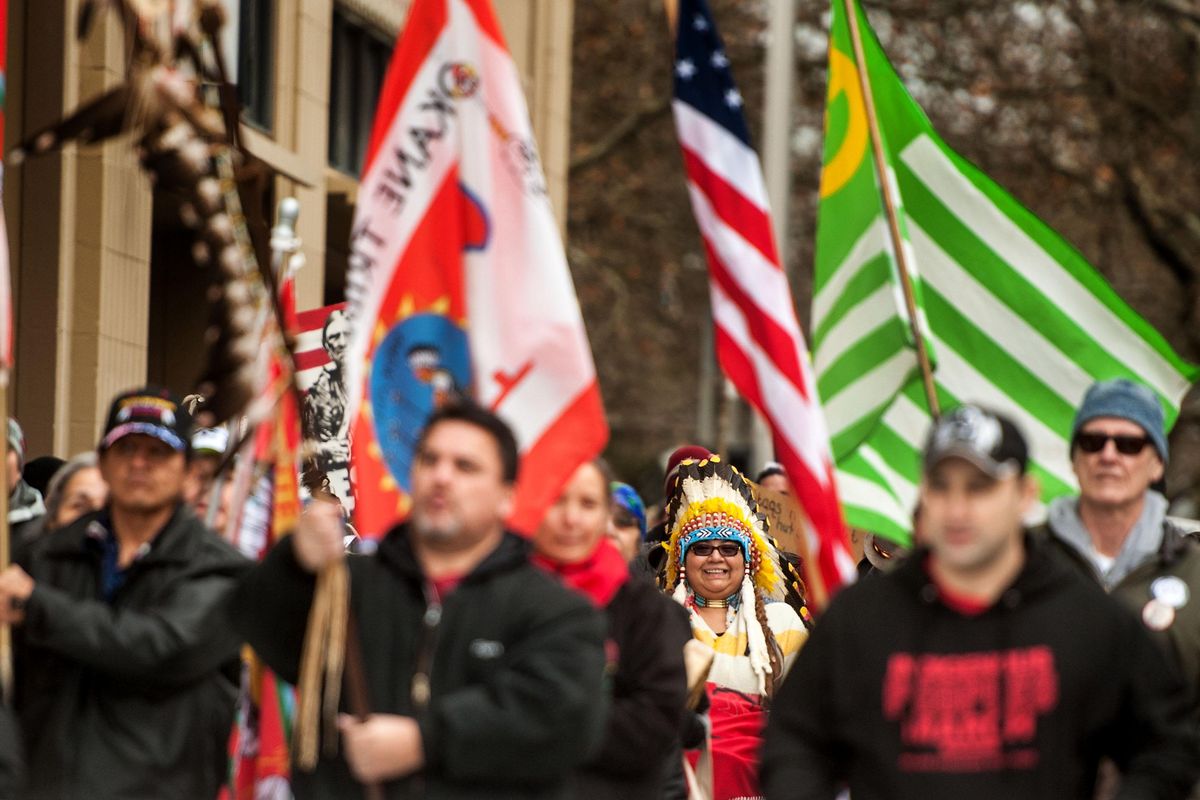 Debra Rattler, center, participates in the Indigenous Peoples Day march in downtown Spokane on Friday, Jan. 18, 2019. (Kathy Plonka / The Spokesman-Review)
Interspersed with jokes by David Brown Eagle, a former vice chairman of the Spokane Tribal Business Council and emcee of the event, speakers took the microphone one at a time as about 300 people stood in the small enclave.
"As you can see, everyone that's here, we're all in this together," said Brown Eagle. "If our planet dies, we die. If we abuse our women. If we abuse our men, likewise."
Spokane Tribe member Barry Moses led the crowd through a prayer spoken in Salish. That was followed by a short song by the Bad Canyon Wellpinit Singers.
Spokane City Councilwoman Karen Stratton, who said her grandmother was a member of the Spokane Tribe, delivered a proclamation from the council welcoming the march.
"I march today because of her and the strength she gave my family," she said. "I march with her in my heart."
Taking to the sidewalks – not the streets, since a marching permit hadn't been secured – the long line of people, cut into small chunks by traffic lights and walk signals, made a short loop through downtown heading south on Post Street, turning east on Sprague Avenue, then north on Howard Street.
Several came dressed head-to-toe in Native American regalia . Others hoisted signs high in the air while a few sang songs.
"We're very passionate about native issues," said crowd member Judy Noel as she held a striking poster of a Native American designed by activist Jacob Johns. "Sovereignty. Environment. You name it."
"And during this, we're all relative," said Noel's friend Karn Nielsen. "It's important."
Nan Loppert, a 72-year-old activist, walked while holding an anti-President Donald Trump sign.
"Everybody's rights are everybody's rights," she said. "These people are marginalized. And I like to support all Americans."
The marching portion concluded in Riverfront Park at the newly renovated Howard Street Bridge, where a microphone and speakers were set up. There, more voices addressed the crowd, which had ballooned as more and more people joined in.
James Pakootas, who said he was celebrating two years of sobriety, talked about the importance of native language, and how without it, a culture dies.
"People ask why I march," he said. "I march for our youth … We are here. And we are strong people."
Editors note: This story was updated after its original publish date to better reflect the type of clothing native people wore at the event.
Local journalism is essential.
Give directly to The Spokesman-Review's Northwest Passages community forums series -- which helps to offset the costs of several reporter and editor positions at the newspaper -- by using the easy options below. Gifts processed in this system are not tax deductible, but are predominately used to help meet the local financial requirements needed to receive national matching-grant funds.
Subscribe now to get breaking news alerts in your email inbox
Get breaking news delivered to your inbox as it happens.
---