2019 Spokane Women's March draws around 3,000 Karin Steever marched to protect democracy. Teresa Mendoza marched for equality. Allison Bayley marched for women's rights. The three women joined thousands of marchers in downtown Spokane Saturday for the city's third Women's March, held in concert with similar events around the country. Though the crowd's size was somewhat lessened this year realative to the marches of 2017 and 2018, supporters said it remains as important as every to keep the march's momentum going.
"It might be exhausting, but we have to keep fighting," said Mandy Manning, who last year won the National Teacher of the Year award for her work with refugee and immigrant students. She was recognized at the Spokane Convention Center, where marchers gathered around noon to listen to speakers before flooding the streets.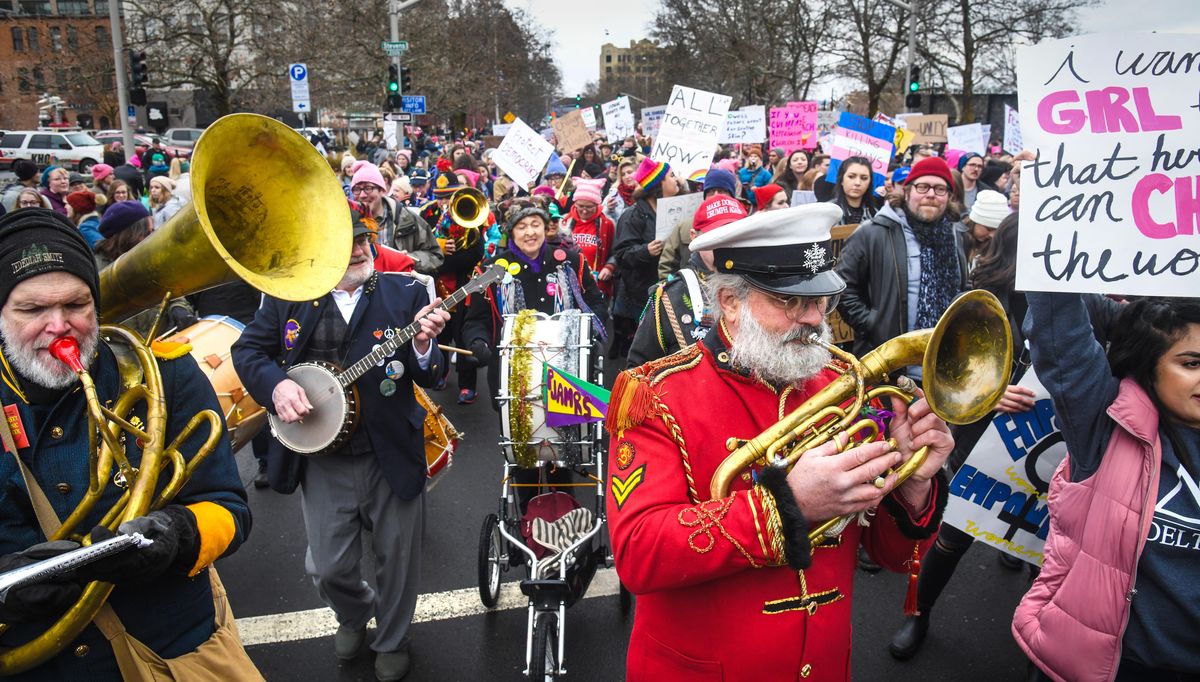 Leaving the convention center around 1 p.m., the crowd threaded through Riverfront Park before looping through downtown. The march itself lasted about an hour.
Early estimates put the number of attendees at roughly 3,000, though march organizers couldn't immediately be reached for comment. While less than years past – the march in 2017 drew 8,000 people and last year's drew 6,000 – the size of the march still stood out during a month when political rallies have typically drawn crowds in the hundreds.
Susan Brudnicki, a Women's March organizer, said the common consensus is that, while fewer marchers are showing up, the idea of empowering people's voices is as important as ever.
Brudnicki said some of the energy from the first year's march has shifted to volunteers getting voters registered, canvassing neighborhoods or volunteering in local elections.
"I think that women that were involved the first year have kind of grown in their experience in activism," she said.
Regardless of the declining turnout, the crowd still remains strong, Brudnicki said.
"The speakers were very inspiring and we had a good crowd of people," she said. "All in all, it was a big success."
Marchers' signs highlighted a range of issues, reading: "End the Trump Shutdown," "Mute R Kelly," "Facts Matter," "Thank you for knowing your worth," "Black Lives Matter," "She the People" and "Free Palestine."
"There are so many issues to be raised," said Mendonza. "The constant presence annd reminding will make change."
At the edge of the march, a handful of anti-abortion protesters waved large signs with grotesque images of aborted fetuses, but women's marchers held shower curtains on sticks in front of the signs to block them from view.
Pink "pussyhats," which are sewn with two corners to resemble cat ears, sat on the heads of many marchers, many hand-knit.
---