Sports > Area sports
Locally: Jade Redmon, Brianna King reach 1,000-point milestones in collegiate basketball careers
Jan. 19, 2019 Updated Sat., Jan. 19, 2019 at 7:31 p.m.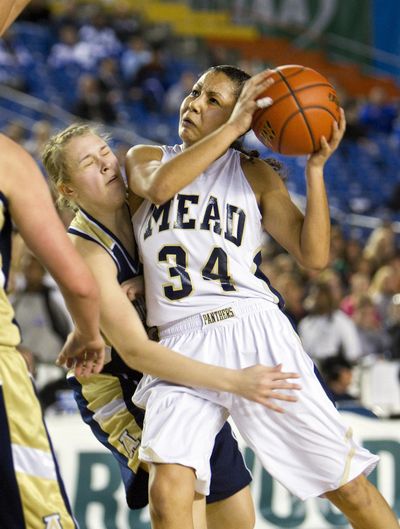 Two Greater Spokane League graduates, Jade Redmon (Mead) and Brianna King (North Central), recently celebrated 1,000-point milestones in their collegiate basketball careers.
Redmon, a senior at Nevada who played her freshman and sophomore seasons at Eastern Washington, scored her 1,000th career point on her first basket in her 116th game, a 75-74 loss to Boise State on Wednesday.
She went on to finish with 16 points, including 6 for 6 from the free-throw line, and had 1,015 career points entering play this weekend. She scored in double figures in all 13 games she's played this season, her 14.0 average second on the team. She leads the team with 29 assists.
She scored 505 points in 63 games at EWU and has 510 in 53 games with the Wolf Pack.
King, a senior at Montana Western, collected her 1,000th point as a Bulldog in just her 50th game at the Dillon school, a 73-63 win over 22nd-ranked Rocky Mountain on Jan. 10. She scored 29 in the game as the NAIA's fourth-ranked team completed a 2-0 week against ranked opponents.
The transfer from Community Colleges of Spokane, where she scored 1,175 points in 63 games, took a four-year career total of 2,188 points in 113 games into last week's games. She has 1,013 for the Bulldogs.
The 29 against Rocky highlighted a week in which King averaged 20.5 points, 5.5 rebounds and 4.5 assists to earn her fourth straight women's player of the week honor, and fifth of the season, from the Frontier Conference.
Bowling
Kaleb Ramelow converted the difficult 4-6-7-10 split en route to winning his first Junior Bowlers Tour championship last Sunday at North Bowl.
The University High School senior qualified in third place for the five-person finals. He defeated Shaynie Montee (235-211) and Mason Georgeadis (195-181) to get a shot at top qualifier Madison Hilden, who won her first JBT title in the previous tournament last month at Valley Bowl.
Ramelow prevailed 251-184 to cap a day in which he averaged a tournament-best 210 for 11 games and turned in an 840 four-game series during the match-play portion of qualifying. Hilden, who averaged 201 for nine games to lead the girls and had the day's best series, an 869, had to defeat Georgeadis in a ninth and 10th-frame roll-off to capture the No. 1 qualifying spot.
Georgeadis finished third, Montee was fourth and Wyatt Grunwald, who rolled an 848 series to earn the No. 4 spot in qualifying, was fifth. The high game scores were turned in when Max Simonsen defeated Montee 269-268 in one of the day's best matches.
The next JBT will be Feb. 10 at Cheney Bowl.
College scene
Brett Rypien finished his college football career at Boise State as the 17th quarterback in FBS history to eclipse 13,000 yards passing, finishing his four-year career with 13,581.
The 2018 Mountain West Offensive Player of the Year completed 301 of 447 passes for 3,705 yards and 30 touchdowns with seven interceptions in leading the Broncos to a 10-3 record. He finishes as the MWC career leader in passing yards, completions (1,036) and 300-yard passing games (21). The 300-yard games are also a Boise State school record.
• Central Washington quarterback Reilly Hennessey, who played his freshman and sophomore seasons at Eastern Washington, signed to play professionally with the Parma Panthers of the Federazione Di American Football in Italy.
Hennessey, who passed for 2,705 yards and 21 touchdowns in leading Central to the 2018 GNAC championship, will be joining a team that has reached the playoff semifinals every year since 2006 and has won four Italian Super Bowls, including in 2018.
• Riley Sine, a junior at Northwest University in Kirkland, Washington, was named the Cascade Collegiate Conference Men's Indoor Track Athlete of the Week after he broke the school record in the 3,000-meter run at the University of Washington Preview.
The Central Valley graduate ran 8 minutes, 28.87 seconds, showing he's recovered from his first major injury that sidelined him during cross country in the fall after he had finished fifth in the 5,000 at the NAIA Outdoor Championships last spring to earn All-America honors.
• Idaho juniors Ben Doucette and Zachary Short swept the Big Sky Conference indoor track male athlete of the week awards.
Doucette earned the track honor after he ran a career-fastest 7.88-second time in winning the 60-meter hurdles, the fastest in the Big Sky this season and 19th in the country, and 21.91 in winning the 200 meters. That's the second fastest in the conference.
Short broke the Big Sky indoor shot put record, which had stood since 2007, by one-half inch in winning the event with a personal-best 62 feet, 3 inches. That's eighth best in the country this season. He was also seventh in the weight throw.
• Match Burnham, a Carroll senior from Liberty, collected his fourth Frontier Conference Men's Basketball Player of the Week award of the season after he averaged 27.5 points and 4.5 rebounds as the third-ranked Saints won twice on the road, including 84-78 over No. 10 Lewis-Clark State.
He hit 19 of 25 shots from the field, including 6 of 9 3-pointers, and was 11 of 13 from the free-throw line.
• Whitworth freshman Cameron Lyon and sophomore Ryan Grady were named Northwest Conference student-athletes of the week in swimming for their performances in conference dual meets against Puget Sound and Pacific Lutheran.
Lyon received the women's award for collecting four individual victories plus swimming a leg on the Pirates' winning 400 medley relay against UPS. Grady was the men's recipient after winning four of five individual events and a leg on the winning 400 medley relay against UPS.
• Seven area athletes who are at least a sophomore with a GPA of 3.0 or better were named to 2018 Frontier Conference Academic All-Conference teams.
Carroll: Men: John Cooney, sr., Gonzaga Prep. Women: Abby Hammermeister, jr., Cheney.
Lewis-Clark State: Men: Jonny Handel, sr., Logos (Moscow); Cooper Haney, so., Lakeland. Women: Natalie Herring, sr., Timberlake; Jamey Weishaar, jr., Timberlake.
Montana Western: Women: Gabi Gomez, sr., Shadle Park.
Football
Steve Oliver, who has been on the Idaho staff the last three seasons, has been elevated to the position of an assistant coach in charge of the tight ends, Vandals head coach Paul Petrino announced.
An offensive lineman at the University of San Diego, Oliver was the Mark Vaught Director of Football Operations for the Vandals last season, where he was responsible for day-to-day operations, after serving as an offensive graduate assistant in 2016 and 2017.
Hockey
The Spokane Chiefs announced that 17-year-old forwards Cordel Larson and Connor Gabruch, who are seniors at Ferris High School, have been named the team's Academic Achievers for December and November.
Gabruch, who has played 29 games in his first season with the Chiefs, has an average grade of 95 percent. Larson, who appeared in four games for the Chiefs last season and has played in 36 this season with six goals and one assist, has a 91 percent average grade.
The Western Hockey League recognizes one player from each team for academic success during November, December, January and February.
Letter of intent
Lewis-Clark State women's cross country/track: Abigail Peightal, distances, Timberlake (Spirit Lake); four top-10 Idaho State 3A cross country finishes, three-time state track qualifier, fifth in 1,600 and 3,200 last two years.
Shooting
Mason Maystrovich finished in the top half of the men's field to lead the showing by three members of the Spokane Junior Rifle Team at the largest USA Shooting Winter Air Gun Championships at the Olympic Training Center in Colorado Springs, Colorado.
Maystrovich, 17, who attends Northwest Christian, was 49th out of 110 juniors, and 68th out of 137 competitors overall, scoring 1,187.7 out of a possible 1,308 on 60 shots from a standing position at 33 feet. He also was 38th out of 99 in the men's team event, scoring 400.3 out of 436.
In the women's category, Cassidy Wilson, 18, who is home schooled, was 83rd out of 176 juniors and 106th out of 205 overall with a 1,208.4 and 56th out of 125 in the team event with 407.7. Taylor Christian, 17, Spokane Valley Tech, was 104th in the junior category and 154th overall with 1,179.7. She was 108th in the team event with 387.6.
Soccer
Jon Harvey, an assistant at Washington State for five seasons, the last four under Todd Shulenberger, has been named recruiting coordinator by the Cougars' head women's coach to add to his coaching responsibilities. Harvey is in charge of the Cougars' goalkeepers and defensive back line.
Summer camps
The Spokesman-Review is now accepting submissions for summer camps that will appear in the 2019 Summer Plus section, which publishes May 1. They will also be included in an online directory at spokesman.com that will be available all spring and summer.
Information about any residential or day camp in our readership will be accepted at no charge, including athletic camps, academic camps, theater camps, special needs camps and equine camps.
All we need is its name, location, cost, age range and a short description. Please include contact information for the public, such as a phone number, email or site.
Information can be submitted by email to summercamps@spokesman.com or uploaded online at spokesman.com/ summercamps-form/
Submissions received after 5 p.m. March 14 will be included in the online directory, but not guaranteed for the print version.
Local journalism is essential.
Give directly to The Spokesman-Review's Northwest Passages community forums series -- which helps to offset the costs of several reporter and editor positions at the newspaper -- by using the easy options below. Gifts processed in this system are not tax deductible, but are predominately used to help meet the local financial requirements needed to receive national matching-grant funds.
Subscribe to the sports newsletter
Get the day's top sports headlines and breaking news delivered to your inbox by subscribing here.
---