Sports > Gonzaga basketball
TV Take: Pregame premonition rings true as Gonzaga powers past Portland to remain perfect in WCC play
Jan. 19, 2019 Updated Sat., Jan. 19, 2019 at 11:03 p.m. Tom Glasgow deserves some points for honesty.
The veteran broadcaster, who handled the play-by-play chores on Saturday night's Gonzaga contest, shown on KAYU in the Spokane area, was blunt before the game began.
"Look, to be honest, it's tough to come up with a scenario that Portland gets a win tonight, right," Glasgow asked before the fifth-ranked Zags' 89-66 victory at Portland.
He was right, even if the Bulldogs played at times as if they knew Glasgow was right.
What they saw …
• The Pilots (7-13, 0-5 in West Coast Conference play) are one of the nation's lowest-rated defensive groups. So they played a 2-3 zone, trying to keep the Zags' bigs (Brandon Clarke, Rui Hachimura and Killian Tillie) from dominating inside.
Francis Williams, doing the analysis, knew exactly what the Zags (18-2, 5-0) needed to do to counter the strategy.
"Gonzaga can't fall in love with the 3," Williams said early on, saying the Bulldogs needed to get the ball inside first, then look to kick it out if need be.
When Gonzaga started to pull away in the first half, that's what the Zags did. And Williams noticed, after another of Hachimura's 17 points. "Unless it is transition," Williams said, "Gonzaga should go in there every time."
• Did the Zags "fall in love" with the 3-pointer?
They shot 31. They averaged 23 a game coming in.
Of Saturday's total, 15 came in the first half, though only four went in.
Gonzaga finished with 11 makes, which translates to 35.5-percent shooting. On the season, Gonzaga hits 36.6 percent of its long-range attempts.
• One of their most interesting segments in a lackluster second half was a lengthy interview with Zach Collins, the second-year pro who played one season at Gonzaga.
Collins talked about his time at Gonzaga, the run to the NCAA title game, this year's GU team and his first couple years playing for the Portland Trail Blazers.
The downside? Josh Perkins had an impressive 25-foot lob to Clarke, who dunked it home behind the Portland zone. It wasn't mentioned until after a commercial and was not shown again – until it was designated the play of the game some six minutes later.
Perkins had seven assists, Clarke 11 points. Seven Zags scored in double figures.
• The play came within a lengthy second-half stretch in which Mark Few had his three bigs on the court at the same time.
For the most part, Hachimura and Clarke roamed inside and Tillie popped outside. Though Tillie had a 3-pointer among his 10 points, his most impressive statistic was his six assists.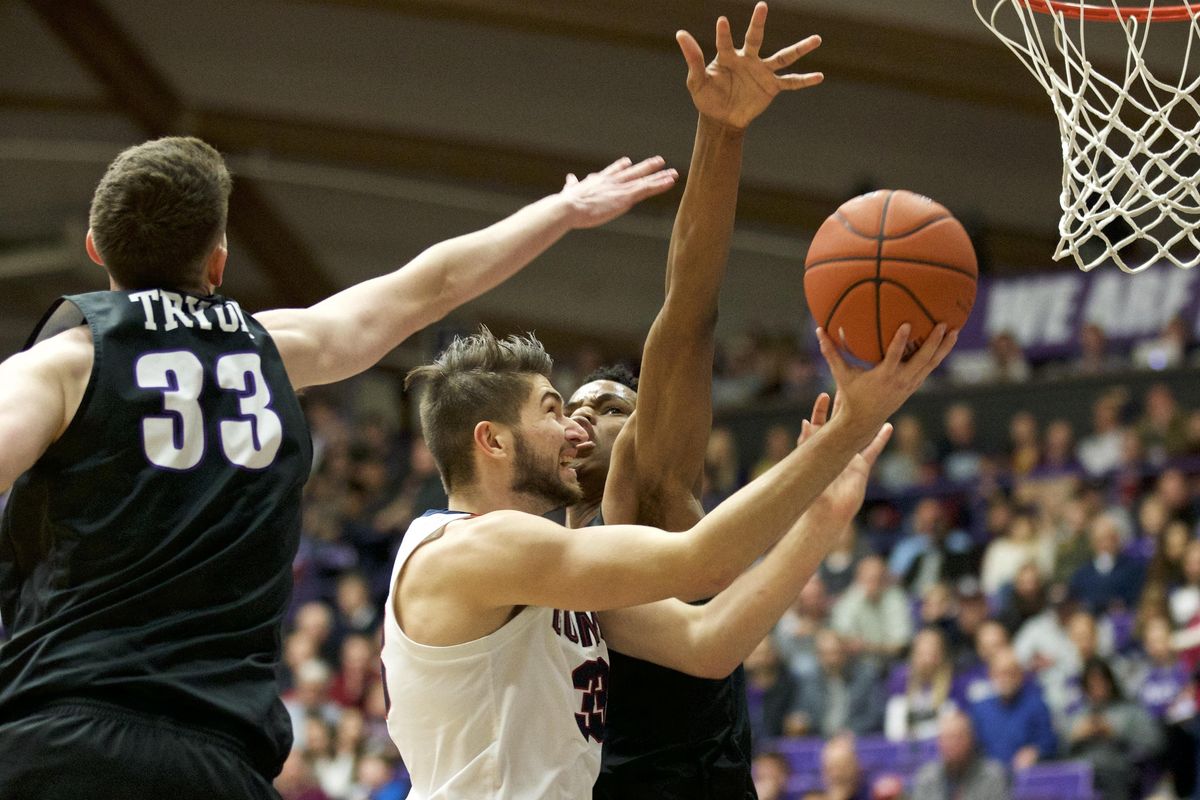 Gonzaga forward Killian Tillie, center, shoots past Portland center Theo Akwuba, right, and forward Jacob Tryon, left, during the first half of an NCAA college basketball game in Portland, Ore., Saturday, Jan. 19, 2019. (Craig Mitchelldyer / AP)
What we saw …
• We didn't see anything clearly, which is too bad. The game broadcast didn't look to be in high definition, though it was being shown on KAYU's high-definition station.
This has been a problem in the past, with games that originate with either ROOT or the West Coast Conference's television arm, TheW.tv.
The on-court action might have been fuzzy, but the commercials were picture perfect. Just what every viewer wants, right?
• Where Gonzaga will be ranked next week isn't clear either.
Three of the Associated Press' top five lost this week, something that didn't befall the Zags.
But one of those teams that lost, top-ranked Duke, also won a huge game at home Saturday, holding off fourth-ranked Virginia 72-70.
Expect the Bulldogs to move up at least a spot.
• One thing that was not mentioned was Gonzaga's porous defense. The Pilots shot 47.8 percent from the field, about 10 percentage points higher than GU yields on average this season. Portland hit 12 of 21 second-half attempts, a 57.1-percent clip.
Richard Fox would have been apoplectic at some of the Portland drives, which were met with only occasional resistance, especially after halftime.
• Basketball is a game that is constantly changing. And keeping up with those changes is sometimes tough.
It showed a bit early on when Corey Kispert was called for a foul around the rim.
Williams immediately weighed in.
"I bet you when Gonzaga looks at that on film next week, Coach Few is going to be telling Kispert that he should have come across the lane and taken the charge," he said. "He's not a shot blocker. That's not his role."
Five years ago, Williams was right. But since the rule of verticality – the defensive players' ownership of the space he occupies to the ceiling – was re-emphasized a few years ago, Gonzaga has emphasized challenging shots.
The Bulldogs leap straight up, with high hands, just as Kispert did on the play.
For some reason Rod Brokenbrough, officiating his second GU game in WCC play this season, called a foul from behind the play.
Kispert fouled out with 5 minutes, 45 seconds left, having scored 11 points.
Local journalism is essential.
Give directly to The Spokesman-Review's Northwest Passages community forums series -- which helps to offset the costs of several reporter and editor positions at the newspaper -- by using the easy options below. Gifts processed in this system are not tax deductible, but are predominately used to help meet the local financial requirements needed to receive national matching-grant funds.
Follow along with the Zags
Subscribe to our Gonzaga Basketball newsletter to stay up with the latest news.
---