Sports
Grip on Sports: It's another up and down Saturday for area college basketball fans
Sun., Jan. 20, 2019 A GRIP ON SPORTS • Where were we? Oh ya, talking about college basketball. Yesterday was the busiest day of the year around the country, with plenty of games around here as well. Not all of them finished the way local fans might have wanted, however. Read on.
••••••••••
• If the bottom line is whether your team wins or loses – and that's all that matters, right? – then yesterday was a mixed bag.
Gonzaga won, and won handily. But Portland isn't a team that strikes fear in anyone's heart this season, so the 89-66 road victory wasn't much in doubt from the opening tip.
It's how the Bulldogs played, however, that could ignite a bit of heartburn, especially on the defensive end. Let's just say it wasn't their best effort, collectively – the help-side rotations were as slow as they've been all season – or individually – the UP guards blew past their Gonzaga counterparts way too often.
The Zags came into the game ranked 45th in Ken Pomeroy's adjusted defensive ratings. They began this morning at 49th.
• Washington State seemed to be building some momentum. The euphoria started by a home win over California lasted less than 48 hours, knocked down by a lackluster effort in a 78-66 loss to visiting Stanford.
Stanford isn't an overpowering presence, especially when missing two of its better players. And the Cardinal came in with a 1-6 road record. But in the minutes we watched, the elusive "want-to" genie was sitting in the Stanford corner. The Cardinal just seemed a half-step quicker on most possessions and it translated into a road victory. And the Cougars leaving the court with their heads low.
• Eastern won another home game, but this one came with a bit of a tarnish. Montana State's Tyler Hall became the Big Sky Conference's all-time leading scorer, wrestling that title away from a former Eagle, Bogdan Bliznyuk.
Bliznyuk held the record for about a year, having set it during last year's run to the Big Sky title game. Losing the record an Eagle held was a sour night on a day with a sweet win.
• Idaho hasn't won in a while and it's not just because of the Big Sky's weird scheduling gaps. The Vandals have lost three consecutive times after last night's 69-51 home defeat against Montana and are 1-5 in conference play.
• Most nights Whitworth just outscores the opposition. But some nights, even at home, the opposition puts up resistance. Strong resistance. That happened last night. No matter. The Pirates turned up the defense and held off Pacific Lutheran, 71-56. The win kept Whitworth within a game of Northwest Conference-leading Whitman.
• The best game on TV yesterday pitted Duke, No.1 in the Associated Press poll, against visiting Virginia, No. 1 in the coaches' poll. The difference in Duke's 72-70 win? Probably the Cameron magic.
But it also could have been Zion Williamson. As far as most college basketball fans are concerned, at least those who don't roll with Coach K, Williamson should pack it in and make himself for the NBA Draft. He's got nothing else to prove at the college level.
His 27 points last night against one of the nation's best defensive teams came despite missing seven free throws. (Shouldn't he just stop playing these silly college games and spend all his time improving his free-throw stroke? That will his draft status, right? We are speaking for every Tennessee basketball fan everywhere, we think.)
At times he looked like a man among boys. At 6-foot-7 and 285 pounds, the 18-year-old is huge. But he's also an exceptional athlete, who does things few his size have ever been able to do. (There is, however, a risk of injury, so we join every Michigan and Michigan State fan in saying he should stop playing these silly college games and prepare for the NBA Draft.)
Duke has some injuries. But they still have Williamson. And that was the difference yesterday. (I'm sure Gonzaga fans would join in the call for Zion to pack his bags, stop playing these silly college games and head for New York right now. He might want to get the best seat for the June 20th draft.)
•••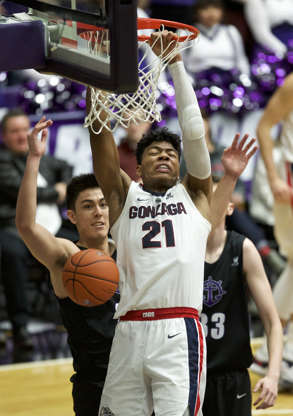 Gonzaga: Portland's 2-3 zone enticed GU into taking a season-high 31 3-pointers last night. But it also allowed the Zag bigs free space to clean up on the offensive glass. Their 23 second-chance points was the difference. Jim Meehan has that and more in his game analysis and his three keys to the win. … The guys in the office put together highlights and a recap. … I had my thoughts on the TV broadcast, which was uncharacteristically fuzzy, at least at my house. … The women bounced back from their lone conference defeat and won handily at USD. … Around the WCC, it seems as there has been a bit of a changing of the guard. USF won for the first time at home against BYU last night and has to be considered the top contender for, well, second place (along with Saint Mary's, which continues to dominate San Diego). … Pacific let a lead slip away against visiting Santa Clara.
WSU: The Cougars' defeat was covered extensively, with Theo Lawson handling the game story, John Blanchette with a column and Theo adding the thoughts of the players and coach Ernie Kent with these videos. … Former Cougar quarterback Mark Rypien has his picks for today's NFL conference championship games. He relayed them through my friend Dave Boling. … Elsewhere in the Pac-12, your conference leaders in basketball? That would by Washington, which raised its record to 5-0 with a 71-52 home win over lowly California. … Oregon is only as good as its defense allows it to be. It wasn't very good yesterday against host Arizona State. … Oregon State didn't have a good weekend in the desert, topped by yesterday's loss at Arizona. The Wildcats lost a good player to injury. … In the battle for Los Angeles, USC somehow found a way to win. Neither the Trojans or UCLA have been playing all that well. … Utah is relying heavily on a trio of freshmen.
EWU: The Eagles' win – and Hall's record – were covered by Ryan Collingwood in this game story. … The Eastern women rallied late to force overtime and then won in Bozeman. … Around the Big Sky, Weber State made a statement at home by defeating Northern Colorado. … Southern Utah picked up a home win over Sacramento State. … Host Northern Arizona defeated Portland State. … There are changes brewing at UNC.
Idaho: Our buddy Josh Wright has the game story from the Vandals home loss to Montana.
Whitworth: Jason Shoot was out at the Fieldhouse for the Pirates' NWC victory.
Chiefs: Tri-City and Spokane have one of the better WHL rivalries. And the teams played one of the better games of the season last night at the Arena. The Americans earned a 2-1 shootout win. Dan Thompson has the game story.
Preps: There were basketball games all over the Inland Northwest last night and we have them covered. We can pass along a GSL girls roundup, a GSL boys roundup and roundups from boys and girls games throughout the area. … A couple of former local standouts are shining at the collegiate level.
Mariners: We will find out Tuesday of Edgar Martinez makes the Hall of Fame. (My guess is yes.) But there has been one fan who has felt he is Hall-worthy since his career began.
•••       
• My sister flew up from California for a visit. You know what disappoints her the most? No, it's not my utter failure as a brother, but there is that. It's the lack of snow on the ground. It's late January, after all. She expected some of that white stuff you don't see by the beach. It would be like me going to visit her and not finding sand on the shore. Or something like that. Until later …
Local journalism is essential.
Give directly to The Spokesman-Review's Northwest Passages community forums series -- which helps to offset the costs of several reporter and editor positions at the newspaper -- by using the easy options below. Gifts processed in this system are not tax deductible, but are predominately used to help meet the local financial requirements needed to receive national matching-grant funds.
Subscribe to the sports newsletter
Get the day's top sports headlines and breaking news delivered to your inbox by subscribing here.
---