East Central neighborhood rising with plans for Carl Maxey Center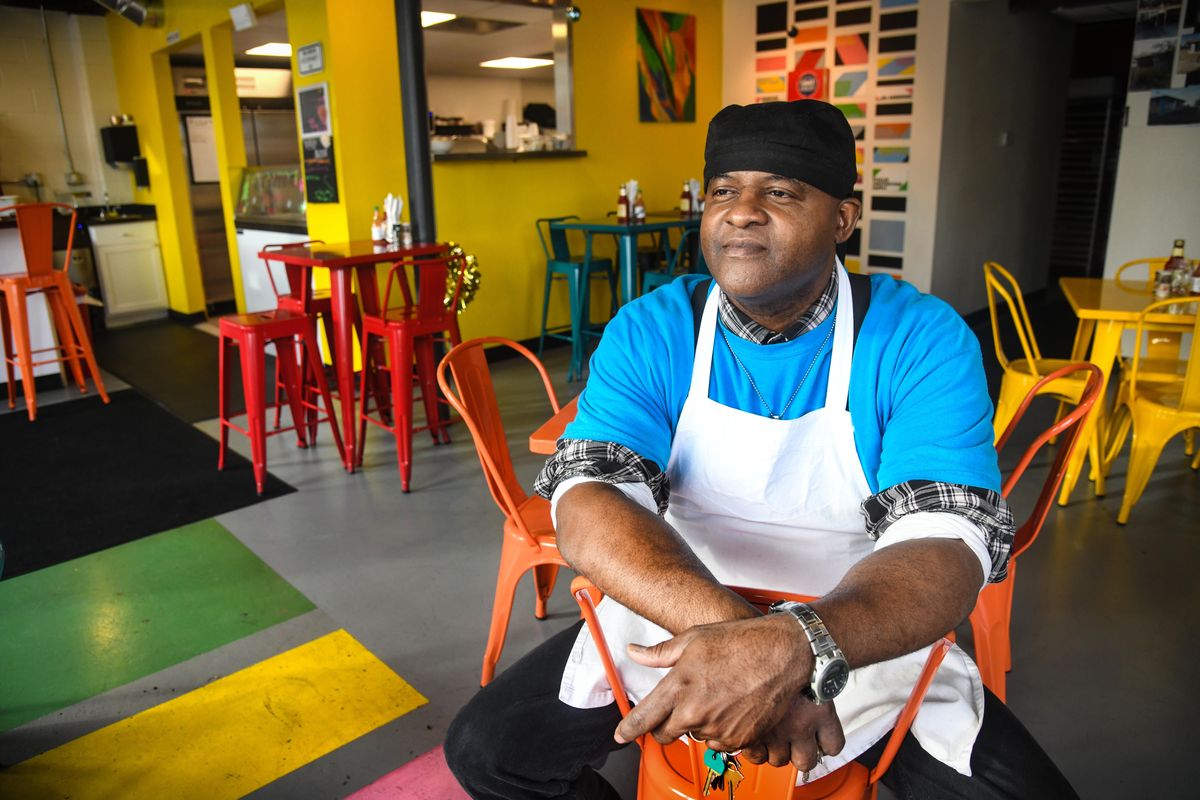 For years, many buildings in East Central Spokane between Altamont and Thor streets sat vacant and dilapidated. Now, residents are revitalizing the neighborhood, specifically along Fifth Avenue, with a restaurant, retail, and plans for the Carl Maxey Center.
The Friends of the Black Lens, a nonprofit organization that supports the Black Lens monthly newspaper, raised $375,000 to buy a century-old building and adjacent lot last August to build a community space that, when complete, will be a cultural center focused on the city's African-American community, while honoring the legacy of prominent civil rights attorney Carl Maxey.
The center will be a gathering place for residents, with office space, community events, cultural exhibits and workshops.
Friends of the Black Lens board members held focus groups and an open house to ask residents about features they wanted in the community center. Residents expressed interest in a coffee shop, bookstore, office, meeting and performance space, said Sandy Williams, editor and publisher of The Black Lens.
The Friends of the Black Lens is planning to launch a second fundraiser to cover remodeling costs of the building, once design sketches for the center are complete by project architect Patsy O'Connor, who also designed the renovations of the Saranac Building and the Main Market Cooperative.
Williams hopes to open the Carl Maxey Center in 2020, if fundraising goals are met.
The nonprofit's board of directors chose Fifth Avenue for the Carl Maxey Center after visiting the grand opening for Fresh Soul last year, a restaurant that provides a job training program for teens to gain skills and work experience.
"We were sitting on the patio, people were walking by and we were talking about how it felt to be there, seeing people that you know," said Williams. "(The neighborhood) started to feel like it used to feel. We were all really excited about that."
Fresh Soul and its training program operate as a nonprofit through the Spokane Eastside Reunion Association, founded by Michael Brown.
SERA purchased the building at 3029 E. Fifth Ave. in 2015 to open Fresh Soul. The building, which sat vacant for several years, was the former home of Flippers Ice Cream Parlor.
The city of Spokane paid for a new roof, a construction class installed drywall, Lowe's donated $15,000 in materials, Local 44 installed plumbing and a grant from the city paid for restaurant equipment. The city also added a new sidewalk and trees surrounding the restaurant.
"I wanted to give something back to the community, so why not do it right in your own neighborhood?" said Brown, explaining why he chose to open Fresh Soul.
Fresh Soul, which serves up traditional Southern comfort food such as fried chicken, catfish, ribs, jambalaya, collard greens and gumbo, has attracted many patrons since its opening last July.
The youth program is also doing great, Brown said.
"We have three youths working in the restaurant now. It was supposed to be for 16 weeks, but they've been working a little longer," said Brown.
While the Garland, Perry and North Monroe Business districts were revitalized to vibrant, walkable neighborhood centers, East Central has been the forgotten neighborhood, said Brown, who grew up in the area.
But that's changing with what is taking shape on Fifth Avenue, which is home to not only Fresh Soul, but Jacob's Well Church, New Beginnings Hair & Beauty Salon and longtime neighborhood anchor Larry's Barber Shop.
"I met with city last week and they are putting crosswalks on the corners and slowing down the speed limit," said Brown. "This area is going to be really taking off pretty soon. In the next five years, we'll definitely be looking forward to seeing growth in the community."
Williams said it's exciting to see Brown's plans to open Fresh Soul come to fruition and residents are committed to the future of the neighborhood surrounding Fifth Avenue.
"I remember how it was more active and was the happening place," she said, adding it felt like a forgotten part of town for some time. "We could have looked elsewhere to put the center, but we wanted to be specifically to be on that street. Its like coming home."
George Thomsen of Spokane-based Vanguard Contracting purchased a vacant building across the street from Fresh Soul last year for $200,000.
"The building looked like it could use some love and it looks like there's momentum on the block to get an active business district," Thomsen said about his decision to purchase the site.
Thomsen is working to restore the 4,700-square-foot building, which was formerly a Horseman's Foods grocery store, into two tenant spaces.
"We're getting things cleaned up and ready for our vision here," he said. "The corner space would lend itself well to a restaurant.
"(Residents) are just excited to have something happening and have businesses they can walk to," he added. "There's upward momentum there."
Williams said she hopes to see the neighborhood become a vibrant, destination place with a cultural flavor.
"I really believe we are the beginning on that happening," she said. "Our hope is to continue to uplift the community and celebrate that area again."
---