News > Spokane
Then and Now: Cohn Bros. Furniture
Mon., Jan. 21, 2019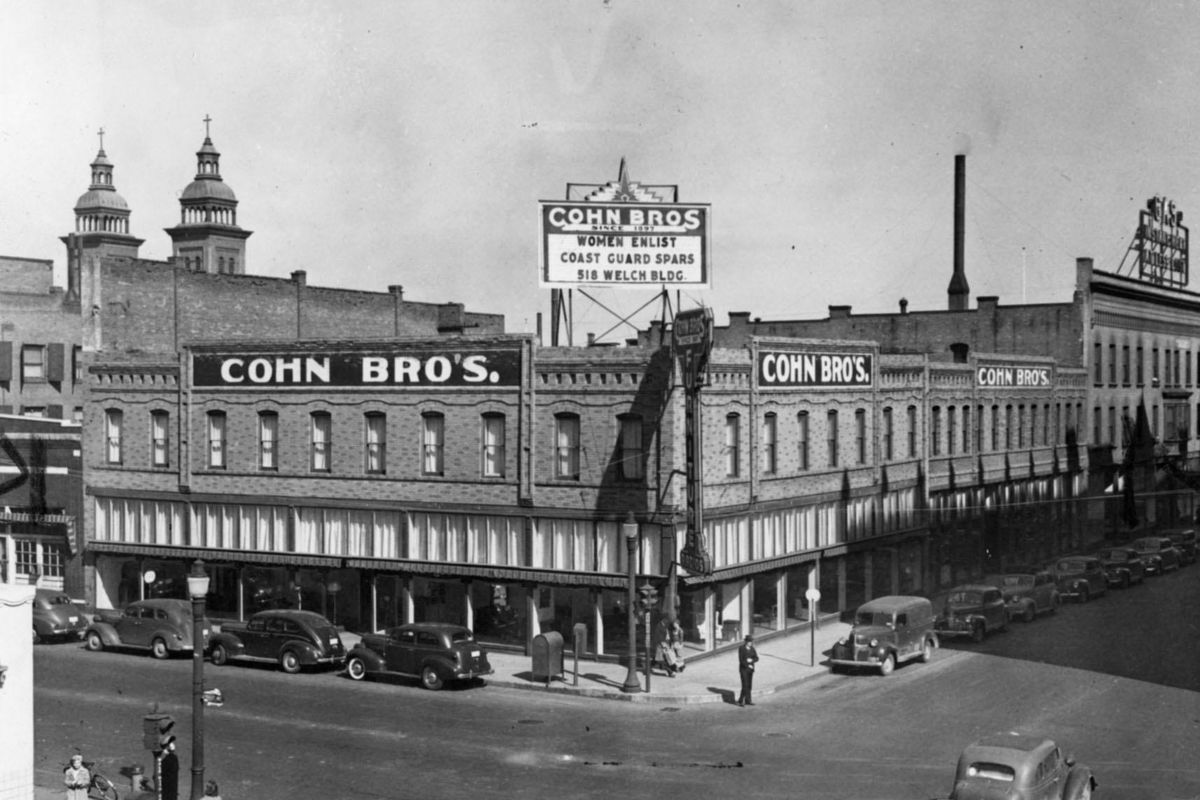 1945 - The Cohn Bros. Furniture building, built in 1905, was sold after the business shut down in 1960, a few years after Harry Cohn, the last brother/partner died in 1952. At the corner of Sprague and Monroe, the building was intended for redevelopment, but served only as a parking lot until the Cowles Company built its production facility there around 1980. (SPOKESMAN-REVIEW PHOTO ARCHIVE / SR)
The name Cohn has been associated with the furniture business for more than 130 years.
The extensive Russian Jewish clan, along with several other families, arrived in Oregon in the 1870s after a long trek by wagon and on foot from North Dakota. Sons Hyman, Sol and possibly others started the Cohn Bros. Furniture in Portland in the 1890s. Sol had several enterprising sons and one daughter and most worked in the business. Some struck out on their own with other stores, including Cohn Bros. Furniture of Spokane and Howard's Furniture in Oregon City.
The Spokane store was founded by Harry, Hyman and Joseph Cohn in 1895.
Sol Cohn died in 1899.
In 1905, the brothers opened the large two-story brick building on the northwest corner of Monroe Street and Sprague Avenue. Architecture historian Robert Hyslop called it "very ordinary," but in the classic furniture store design of the day, the second floor was a mezzanine open to the first floor where furniture was stored. The windows were brightly lit when it was open.
The store is cited several times in the 1909 Advertisers Cyclopedia of Selling Phrases, which credited the store with the classic phrase "Our first summer furniture sale!" and also the pitch of "Part down and the remainder weekly or monthly!"
Nate Cohn, a younger brother of Harry, Hyman and Joseph, was born in 1890 and lived in Portland. He gained some notoriety as a vaudeville singer at age 15. New child labor laws interrupted his career and he went to work in the furniture business. He got back into show business with a radio program in the early 1930s where he introduced young talent to a radio audience that was hungry for entertainment. In 1934 the program was named "Stars of Tomorrow" and was later carried by NBC. The "Stars of Tomorrow" program continued in many forms, including on television, and toward the end, Nate Cohn was affectionately known as "Uncle Nate" in Portland. He died in 1964, one of the last of the Cohns of his generation.
The Cohn Bros. store in Spokane was closed in 1960, though store manager Marvin Bennigson, a grandson of one of the store's partriarchs, said the business was healthy and could continue.
Local journalism is essential.
Give directly to The Spokesman-Review's Northwest Passages community forums series -- which helps to offset the costs of several reporter and editor positions at the newspaper -- by using the easy options below. Gifts processed in this system are not tax deductible, but are predominately used to help meet the local financial requirements needed to receive national matching-grant funds.
Subscribe now to get breaking news alerts in your email inbox
Get breaking news delivered to your inbox as it happens.
---