Sports > Seattle Mariners
John Blanchette: Overlooked no more – Edgar Martinez gets the national recognition he deserves with Hall of Fame induction
Jan. 22, 2019 Updated Tue., Jan. 22, 2019 at 11:04 p.m. Do a YouTube search for "Edgar Martinez double." Select the top link. It's the ESPN Classic video with Brent Musburger on the call instead of Dave Niehaus, but grit your teeth and bear through it anyway.
And watch closely.
Once the Seattle Mariners' Hall of Fame designated hitter puts that decisive swing on Jack McDowell's split-fingered fastball and the camera tracks the ball into left field, you never see Edgar Martinez again.
MLB / YouTube
There's Ken Griffey Jr. steaming toward third base and sliding into home with the run that wins the 1995 American League Division Series. There are A-Rod and Vince Coleman leaping on him to start that epic dogpile, and soon there's Junior's beaming visage peeking out from underneath. There are fans roaring and Lou Piniella in triumph and Paul O'Neill with a long, pained gaze at the madness and what got away from the Yankees.
This is what someone decided America needed to see: Junior's smile, fan delirium, Yankee heartbreak, George Steinbrenner in his suite stewing over who gets fired.
Edgar Martinez was an afterthought in the moment he created.
But the man endures.
That base hit and 2,247 more in the regular season – and OK, some charming TV spots – cemented him into a region's heart, and put his name on 800 yards of street outside what's now T-Mobile Park and a mezzanine cantina inside.
And on Tuesday, he smoked one over the wall that took him national.
"The wait," he said, "it worked out well for me."
In the last of his 10 years of ballot eligibility, voters left no doubt about Martinez's merit for induction in Cooperstown. He was named on 85.4 percent of the 425 ballots, well past the 75 percent required. That left him in the middle of a four-man 2019 election class led by Yankees closer Mariano Rivera – the first unanimous electee in Hall history – and two other dominating pitchers of the starting variety, the late Roy Halliday (also 85.4 percent) and Mike Mussina (76.7).
Wait, did we saying dominating?
Well, maybe against everyone but Edgar Martinez.
A dive into the popular metric of the day – the "slash line" that strings together batting average and on-base and slugging percentages – shows that Martinez was .375/.416/.714 against those three gentlemen. His batting average against Rivera alone was a slowpitch-esque .569.
Mariano and Moose better bring their best stuff to induction day on July 21.
Not that Martinez is going to be anything other than unflappable whether facing a 100 mph fastball or 50,000 folks hanging on his acceptance speech. When Jack O'Connell of the Baseball Writers' Association of America phoned with the news, Martinez barely broke a smile – and seemed ready to hang up after saying, "Thank you, sir. Appreciate the call."
"Like somebody was pranking him or something," Griffey joked to the boys at MLB Network.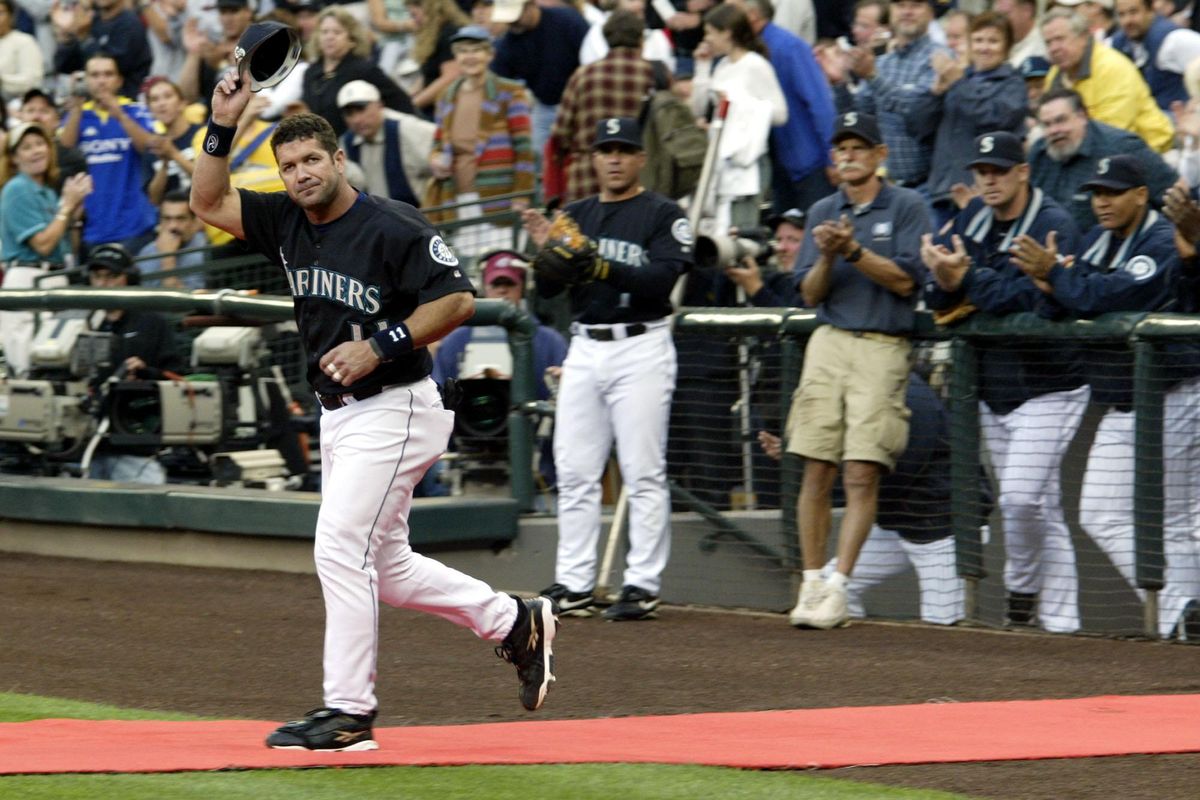 Seattle Mariners' Edgar Martinez tips his cap as he runs onto the field on a red carpet just prior to being officially inducted into the Hispanic Heritage Hall of Fame and Museum Tuesday, Sept. 9, 2003 at Safeco Field before a game against the Texas Rangers. (TED S. WARREN / AP)
Of course, this was the same Edgar who kept a straight face in the M's commercial that had him teaching young Latino players to say, "How 'bout them Cougs?"
The day was a triumph on multiple fronts.
Just as football's hall voters had to swallow hard to accept kickers and punters, it seems the designated hitter regressives have been beaten back. Sure, Paul Molitor was inducted back in 2004, but half of his career was spent in the field; Martinez did the equivalent of just four full seasons at third base. But testimonials from scads of contemporaries helped break down enough holdouts – even some who recoiled at the Today's Game Era Committee voting in a lesser DH, Harold Baines, last fall.
Nor did the Mariners' fecklessness on the field hold back Edgar, in the end. Junior might have paved the way three years ago, but his pedigree and joy and cap on backwards and highlight-reel catches made him renowned beyond our little corner. Though feared in pitchers' meetings across baseball, Edgar was always a regional conceit – beloved for humility as well as hitting, and for staying true to the blue for 18 seasons.
In fact, his franchise and his fans – whom he took pains to salute Tuesday – rallied into a crazy alliance with baseball's new mathematicians to produce an unprecedented groundswell, taking Martinez from a mere 27.2 percent of the vote four short years ago to Cooperstown in the bottom of the ninth.
The metrics even won over Martinez himself.
"It's amazing that some of the numbers compare to some of the greatest players that I admire," he said. "It's surreal to me to think about it."
No one should want Cooperstown or any sports shrine to be a mere Hall of Stats, but if "fame" as we know it is the only component then it's likely to be just a Hall of Yankees or Hall of Sox. The statistical revolution – and some good old-fashioned love – helped Martinez overcome both location and position.
He was the ultimate compromise candidate – and got elected in a landslide.
Surreal to think about that, too.
Local journalism is essential.
Give directly to The Spokesman-Review's Northwest Passages community forums series -- which helps to offset the costs of several reporter and editor positions at the newspaper -- by using the easy options below. Gifts processed in this system are not tax deductible, but are predominately used to help meet the local financial requirements needed to receive national matching-grant funds.
Subscribe to the sports newsletter
Get the day's top sports headlines and breaking news delivered to your inbox by subscribing here.
---