News > Spokane
NIC officials refuse to explain reasons for firing wrestling coach
Jan. 23, 2019 Updated Thu., Jan. 24, 2019 at 11:05 a.m.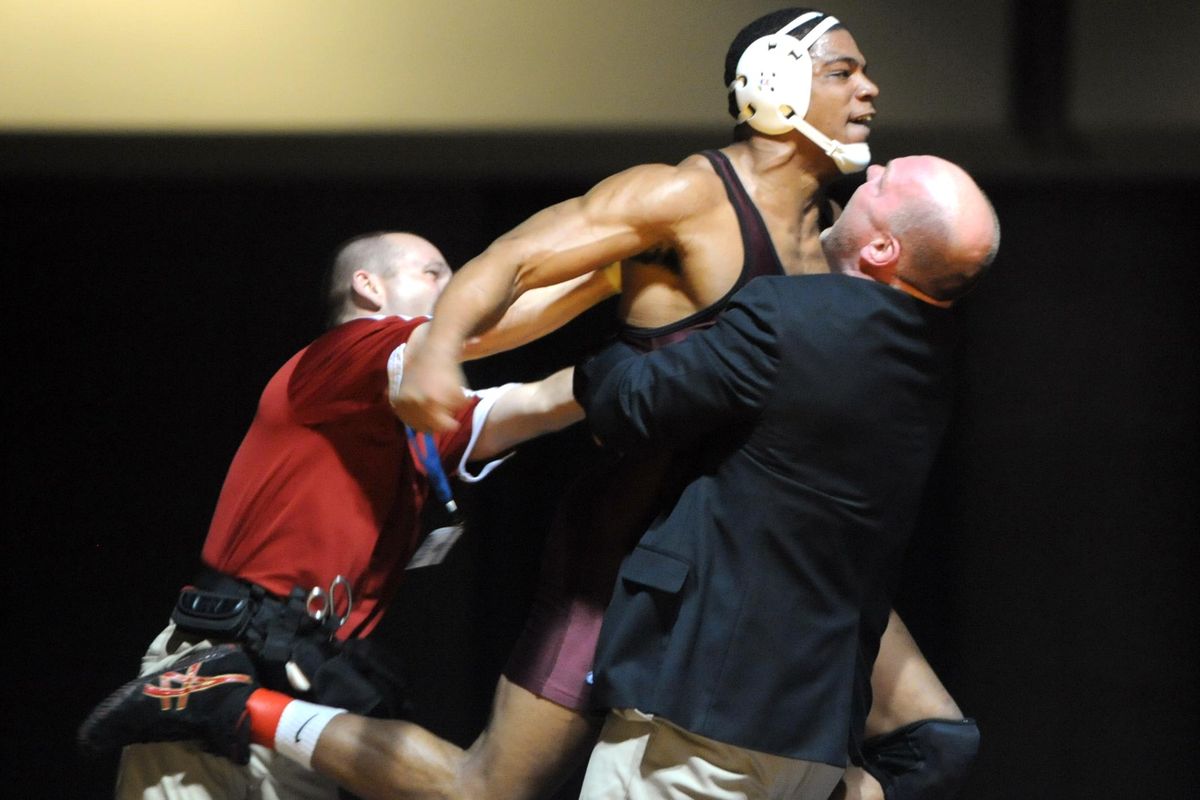 In this 2011 photo, North Idaho College's Jamelle Jones jumps into the arms of his coach, Pat Whitcomb. On Wednesday, Whitcomb said he was fired Jan. 7 from NIC in part so that the school can drop wrestling and add baseball. (Jesse Tinsley / The Spokesman-Review)
North Idaho College officials won't explain why they would fire a three-time national champion coach of a wrestling team that is ranked No. 4 in the nation so late in the season.
Midseason firings are rare, but sometimes occur after a team fails to perform. Idaho punted football coach Robb Akey in 2012 after the Vandals limped out to a 1-7 record. Florida canned former Eastern Washington quarterback Jim McElwain in 2017 after a 3-4 start as coach of the Gators.
But former NIC wrestling coach Pat Whitcomb said he was fired for what he believes are his efforts to upgrade facilities for a disabled athlete, for speaking up for a co-worker who was assaulted on campus and because school leaders want to drop wrestling in favor of baseball.
If true, NIC would be cutting one of the most successful sports programs in the North Idaho and Spokane region. And that includes Gonzaga men's basketball, which also is ranked No. 4 in the nation.
"We are all extremely proud of Gonzaga basketball. A lot of people are responsible for that," former NIC wrestling coach John Owen said. "I really believe everybody benefits from quality. I've got to believe that if NIC is winning national titles, it is an advantage to that school."
NIC spokeswoman Laura Rumpler cited personnel rules for refusing to give details why school officials fired Whitcomb. She did say it had to do with "actions by personnel that do not align with our values" as part of an academics-integrity investigation.
"I can confirm that Mr. Whitcomb was terminated late Friday, January 11th, as a result of the findings of our investigation … but I cannot give any additional details regarding that decision," Rumpler wrote in an email.
Since 1972, NIC has dominated the junior college ranks. The Cardinals won 14 national titles as a team along with 54 national individual titles. They also have produced 235 All-Americans, all of which are National Junior College Athletic Association records.
"They have a good nursing program at NIC. We always brag about that," Owen said. "We also brag about our wrestling program. We set the pace for everybody down there. … They are the ranked No. 4 in the nation. I just hope for cool heads, or whatever it takes. Let's save that program."
Whitcomb speaks out
Whitcomb, who won two national titles wrestling for Owen before taking over the program from him in 1997, issued a statement Wednesday that provided more information about how his firing occurred, but not the underlying reasons behind it.
Whitcomb said he was called into a meeting Jan. 7 and given a choice: Resign his position and he would be paid through June. If he refused to resign, he would be terminated and receive only two weeks of pay and benefits. He would also have to agree "to not say anything negative about what has been taking place at NIC."
"I refused to sign, as I had done nothing wrong," Whitcomb said.
Rumpler denied on Jan. 8 that Whitcomb had been fired.
"Pat Whitcomb is still an employee of North Idaho College," she said. "Beyond that, I will reiterate that we have an ongoing investigation that involves multiple personnel issues."
Asked for clarification of her earlier statements, Rumpler said her previous comments were accurate because NIC had initially placed Whitcomb on paid leave and didn't fire him until Jan. 11.
Whitcomb maintains he was fired Jan. 7, the same day NIC President Rick MacLennan sent out an internal memo to announce the school last fall had initiated an investigation into "possible violations of academic integrity after concerns were brought to leadership's attention regarding practices within the athletic department."
But in his statement, Whitcomb said his wrestling program, at the two-year college in Coeur d'Alene, had not been implicated.
"During the independent investigation meeting, my attorney and I were read a statement by the investigating attorney from a Vice President at NIC that directly implicated a head coach from an athletic program other then (sic) wrestling dealing with academic integrity violations," Whitcomb wrote in a news release issued Wednesday.
Whitcomb said the "real reasons" for his ouster included his advocacy to improve access for a disabled athlete and for speaking out after a female employee was assaulted on campus last fall.
The problems started, Whitcomb said, after 2016 when he recruited a wrestler from Alabama, Hasaan Hawthorne, who is a double amputee.
"At the time of his signing with NIC I immediately made a request to the administration requesting better access on his behalf to the wrestling room and campus," Whitcomb wrote. "He had to be carried, or crawl up the stairs.
"Still to this day, almost three years later, not one accommodation has been made of easier access to the practice room."
Whitcomb said he raised the concerns with Athletic Director Al Williams, who "told me this was his call and that was that. It was only after this that I started to receive poor evaluations and official write-ups in my personal (sic) file."
Reached by phone Wednesday, Williams refused to comment and said all statements must come from Rumpler.
"I'm not allowed to respond to anything related to this situation," Williams said.
Unrelated to the facility upgrade requests for the wrestler, Whitcomb wrote that a female employee had been assaulted on campus and the situation had been immediately reported to administration officials.
"When I became aware that nothing was being done to protect her safety, I met with a number of administrators and loudly voiced my dismay," Whitcomb wrote. "As far as I know, the campus still has not been made aware of this safety issue."
Whitcomb also said he's known for the past three years that Williams, the athletic director, wants to drop the wrestling program and add baseball.
"If (NIC) wants to send a message of retaliation against standing up for what is right … then drop the most successful wrestling program in the NJCAA," Whitcomb wrote.
Asked if he intends to add baseball, Williams said, "Not at this time."
Rumpler went further, saying NIC has no plans to discontinue the wrestling or any other athletics programs.
"Nor have we had any discussions other than supporting the wrestling program," she said. "In fact, the college is currently conducting a communitywide study to see the viability and interest in expanding our athletics offerings."
Whitcomb said that if NIC switches sports, he would prefer school officials also add another women's sport.
"I'd love to see baseball come back," Whitcomb said. "It's just the way they are going about it."
He also said his public statements were not intended to be part of an effort to get his job back.
"My time has come and gone at North Idaho College," he wrote. "I will always be proud and thankful of my time spent at NIC since walking on campus in the fall of 1985."
---
Pat Whitcomb release after being fired by NIC.
Local journalism is essential.
Give directly to The Spokesman-Review's Northwest Passages community forums series -- which helps to offset the costs of several reporter and editor positions at the newspaper -- by using the easy options below. Gifts processed in this system are not tax deductible, but are predominately used to help meet the local financial requirements needed to receive national matching-grant funds.
Subscribe now to get breaking news alerts in your email inbox
Get breaking news delivered to your inbox as it happens.
---