A longtime left tackle, Washington State's Andre Dillard briefly enters new world (right tackle) at Senior Bowl MOBILE, Ala. – Andre Dillard was less than 10 yards away from home, but in a completely new world Thursday at the Senior Bowl.
If NFL scouts wanted a sample of Dillard's versatility, they got it during the South's final practice at Ladd-Peebles Stadium in Mobile, Alabama.
And if the Washington State offensive lineman wanted to see what life was like outside of his comfort zone, he got that too.
The All-American left tackle got a new assignment Thursday afternoon, spending a majority of the two-hour practice session on the opposite side of the offensive line, playing four spots to the right of the only position he's ever known.
Prior to Thursday, Dillard's only experience at right tackle came during his redshirt season in Pullman. He played there briefly on WSU's scout team before shifting over and spending four years at left tackle – three of them in a full-time starting role.
"That was it," Dillard said of his short stint at right tackle. "High school I was left as well and the rest of college."
Not until the South team regrouped for a team period toward the end of practice did Dillard make the flip. Earlier on, during one-on-one offensive line versus defensive line drills, he was excelling from his usual left side. On one play, Dillard shielded Jaylon Ferguson from the "quarterback," squaring up the Louisiana Tech edge rusher at the point of contact before holding a steady block another three or four seconds until the whistle blew.
The 6-5, 306-poiund Dillard didn't commit any major errors in protection when he split out to right tackle later in more of a scrimmage-like environment.
But there's still an adjustment for somebody whose mind and body have taken hundreds of thousands of career reps from the left side.
"It's totally just a muscle memory thing," Dillard said. "I'm so used to being twitchy off the right foot, on the left side, but then just switching it up you just kind of have to get a feel for switching your whole body and your kind of mind, you just flip the plays in your head."
A few of his old WSU teammates have undergone position swaps at this same event in the past. Last year, ex-Cougar right tackle Cole Madison took a handful of reps as an interior lineman, playing both right guard and center. Before him, Joe Dahl traded plays at left guard and right guard during the 2016 Senior Bowl.
In three days at the Senior Bowl, Dillard's name has become one of the most popular among offensive linemen in attendance. He didn't have an exact count, but the number of NFL teams Dillard hadn't met with by Thursday night was much smaller than those he hadn't.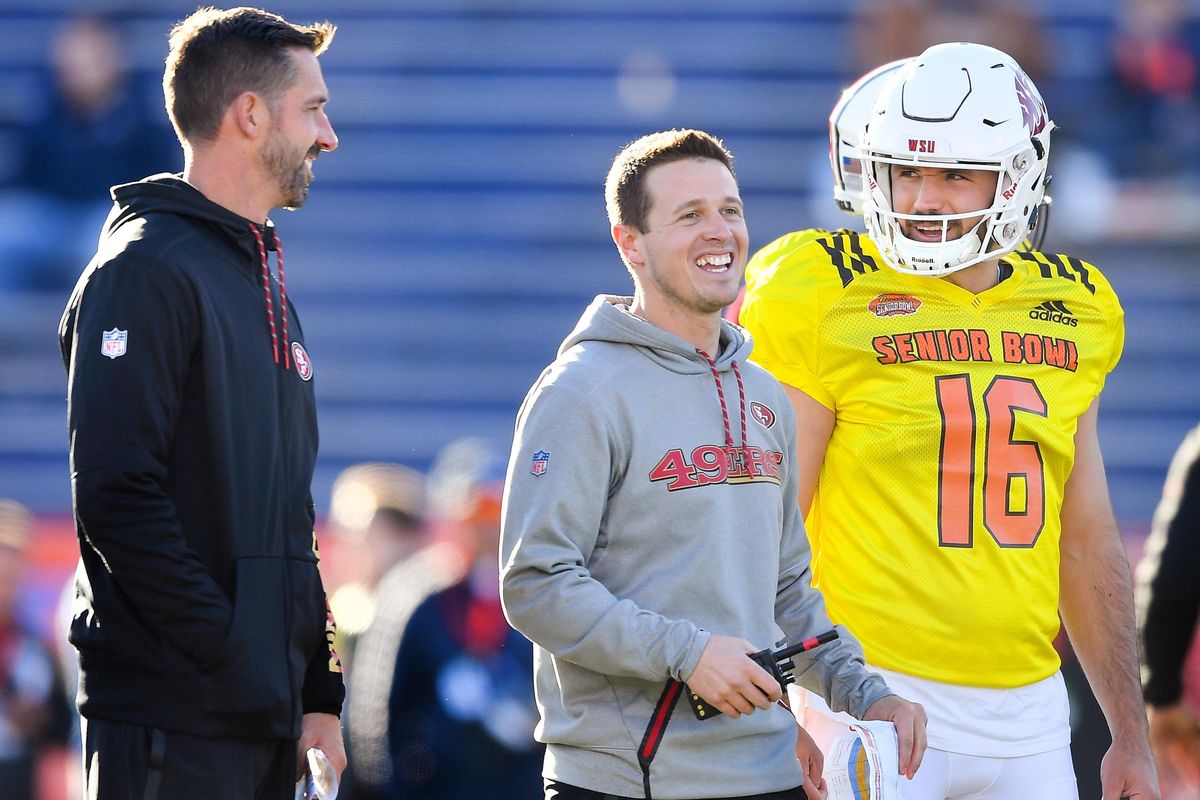 This week in Mobile, Dillard, an O-lineman with Air Raid lineage, is also keen on showing scouts he can play on a line with closer splits. Air Raid linemen usually play anywhere from three to four feet apart from each other. The distance of those splits has essentially been cut in half this week at the Senior Bowl.
"It's not super difficult," he said. "You're still playing, still doing your techniques, you're just a little bit closer to the guy next to you."
Dillard also said learning new play-calling language has been a change, albeit a welcome one.
"Well, first of all, plays that don't just have one word to them," he said. "More complex stuff, terminology, plays and different types of stuff like that."
---