A&E > Stage
At Lake City Playhouse, 'She Loves Me' brings on all the charm
Thu., Jan. 24, 2019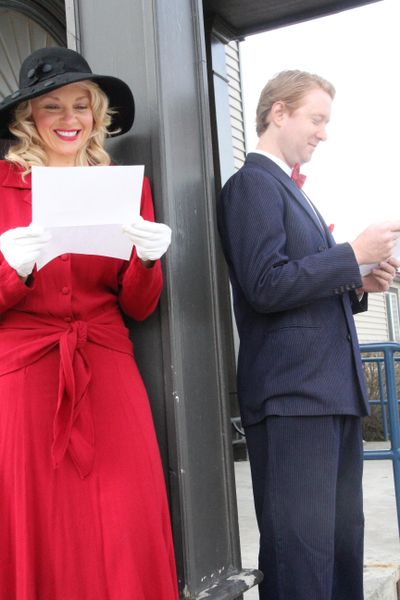 The 1963 musical "She Loves Me" is charming and quirky, sweet with just a hint of sour. Lake City Playhouse's production, which wraps up this weekend, features some talented voices, clever bits of stagecraft, and warmth in abundance.
Based on the 1937 play "Parfumerie" by Hungarian playwright Miklos Laszlo, "She Loves Me" tells the story of Georg (Daniel Bell) and Amalia (Amy D'Orazi), co-workers in a small Hungarian cosmetics and perfume shop who don't like each other at all, only to discover they've been falling in love as anonymous pen pals.
If the story is familiar, that's because it is. It's been made into three films, including 1940's "The Shop Around the Corner," with Jimmy Stewart and Margaret Sullavan. "She Loves Me," with music by Jerry Bock, lyrics by Sheldon Harnick, and book by Joe Masteroff, was revived on Broadway in 2016 prompting the New York Times to hail this "old-fashioned and unpretentious show" as being like ascoop of the best vanilla ice cream, "the hand-cranked, homemade variety that at its best is a transcendent marriage of human labor and carefully mixed ingredients."
The action centers on the shop owned by Mr. Maraczek (Vermont Trotter), where Georg is the trusted second in command, and Amalia is the new clerk who grates on Georg's nerves. The cast of characters also include the delivery boy, Arpan (Tyler McCabe); the sad sack, Ladislav Sipos (Brad Pfau); the Lothario, Steven Kodaly (Joseph Hall); and the lovelorn single girl, Illona Ritter (Amber Fiedler). And while each of these characters gets a chance to shine, George and Amalia take center stage and keep it.
Makes sense, too, considering both of these actors have done memorable work on the Lake City stage previously. Bell was among the cast of "All is Calm" in 2014, the beautiful treatise on the Christmas truce during World War I. And that same year, he was quite memorable as Javert in "Les Miserables," a show I still can't believe they pulled off on that small stage. And just a year ago, D'Orazi was delightful in "Falsettos" as the shiksa caterer, Cordelia.
Both turn in fine vocal performances and bring to life characters that are relatable. Bell brings exuberant anticipation to "Tonight at Eight" and an air of satisfaction to the show's title song. Meanwhile, D'Orazi shines in the cheery "Vanilla Ice Cream," and is beautifully heartbroken in "Dear Friend."
Meanwhile Fiedler, also a veteran of that 2014 "Les Mis," as Eponine, has a standout, powerful solo too, with "I Resolve," where she promises to stop falling for men who treat her badly. Fielder nails it.
Trotter, as Mr. Maraczek, brings the gravitas, and a bit of darkness, to the story. Balancing business struggles and marital woes, he lashes out at Georg, wrongly, and makes a wrong step, only to be saved by Arpan.
There's some nifty stagecraft at work here, as the shop's interior becomes the exterior – quickly, and frequently while people are walking through the door – thanks to walls on wheels. There's some whimsy, too, as the clerks bid farewell to every single customer with a song: "Do call again, madame!"
When I saw the show opening weekend, it took until Act II for it all to really click. In particular, "A Romantic Atmosphere," was an elaborate dance number set in a cafe that could have used a little more rehearsal. Still, "She Loves Me" deftly handled Christmas Eve chaos in the shop with humor and good cheer. And that's the vibe of the whole show. It's fun and cheerful, sweetly romantic. Not even the dark bits cast a long shadow.
Local journalism is essential.
Give directly to The Spokesman-Review's Northwest Passages community forums series -- which helps to offset the costs of several reporter and editor positions at the newspaper -- by using the easy options below. Gifts processed in this system are not tax deductible, but are predominately used to help meet the local financial requirements needed to receive national matching-grant funds.
Subscribe to the Spokane7 email newsletter
Get the day's top entertainment headlines delivered to your inbox every morning.
---