Super Stories: Mark Rypien proved his worth to Washington Redskins in Super Bowl-winning season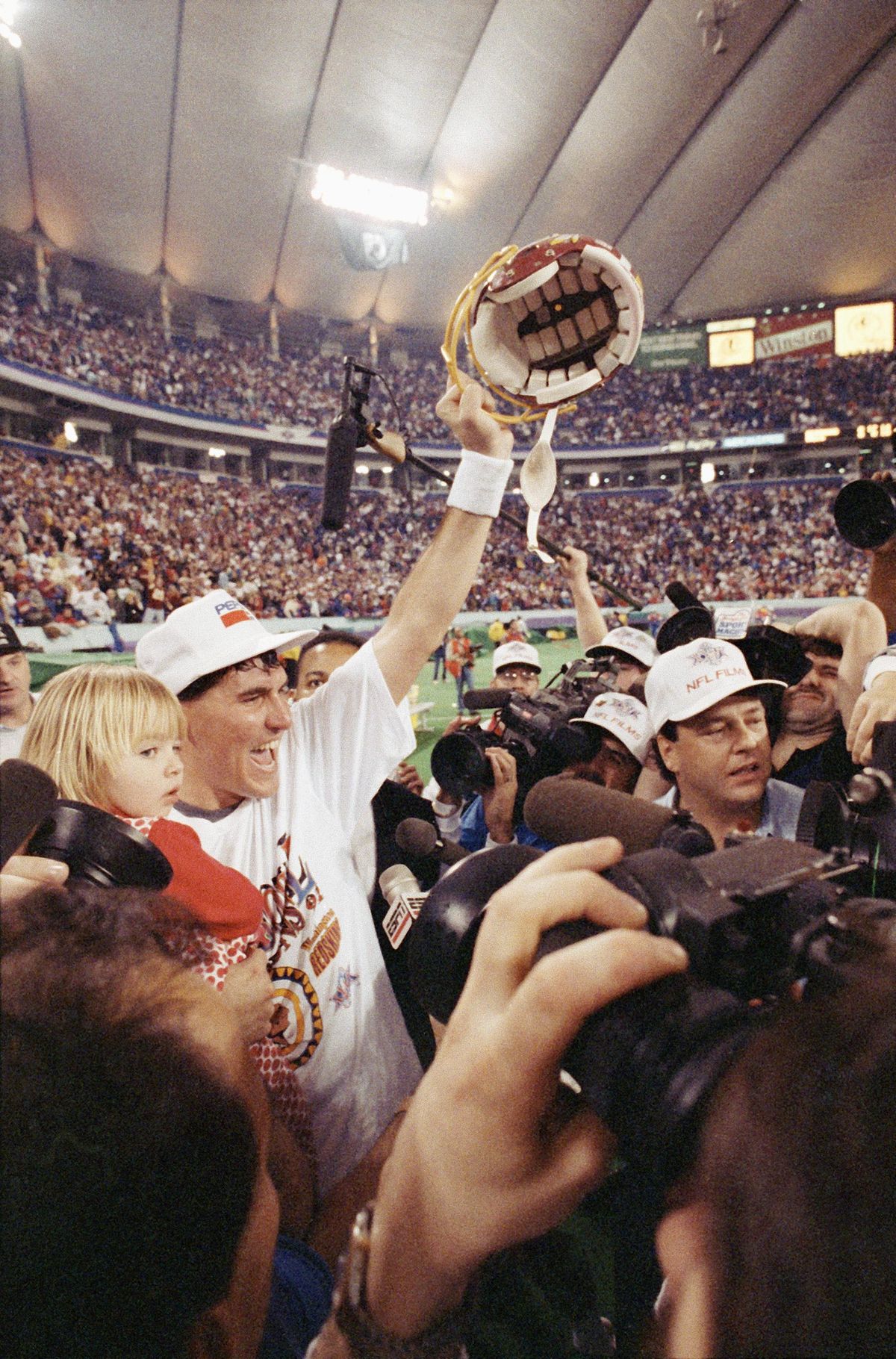 Mark Rypien's greatest NFL season started out sketchy. His team's owner, Jack Kent Cooke, called him "a bloody idiot."
And when a D.C. area magazine held a referendum among fans on which Washington Redskins player they'd most like to see traded. Mark Rypien "won" in a landslide.
Nothing like making you feel wanted.
Rypien, a sixth-round draft pick out of Washington State, deserved better. He'd been named an injury replacement to the Pro Bowl after the 1989 season, and in 1990 quarterbacked the team to a playoff win over the Philadelphia Eagles.
All this while his base salary was a skimpy – even for the time – $275,000. Cooke and the Redskins fans were getting more than their money's worth out of Rypien.
When that contract ended, Rypien reasonably asked for a salary around the average for NFL starting quarterbacks, something north of $1 million a season. When talks stalled, he held out the first six days of the 1991 training camp.
"Mr. Cooke was a bit crotchety, but he wanted his team to do well," Rypien said. "He wasn't happy with me, but after I signed, he said, 'OK, Mark, God bless ya, now go win us a Super Bowl.' "
Rypien dutifully followed Cooke's orders, and well and truly earned his raise by quarterbacking the team that is considered by some as the best Super Bowl-winning team in history. Rypien passed for 292 yards and two touchdowns to earn Super Bowl XXVI MVP honors in a 37-24 win over the Buffalo Bills.
Rather than indulging in any of the warranted how-do-you-like-me-now recriminations, Rypien was gracious and humble after the game, fully aware of his role as a cog in the machinery that had been tooled and fine-tuned by coach Joe Gibbs.
"That '91-'92 team had a mission," said Rypien, a Spokane native who will speak about his Super Bowl experiences at an event Monday at the Bing Crosby Theater. "Joe Gibbs challenged us every Wednesday when we put in the game plan. We had 53 guys who went out on a mission, along with our head coach and staff, who kept us focused and gave us the best game plan to be successful."
At age 29 that season, Rypien led the NFC in passing yards and passing touchdowns. After rolling to a 14-2 regular-season record, the Redskins picked up momentum in the playoffs, pummeling Atlanta and Detroit by a combined score of 65-17.
But in the press, Rypien still inexplicably drew critiques of his haircut, and his perceived lack of charisma. During Super Bowl week, Bills defenders practically taunted him, promising to blitz him mercilessly.
What no one could criticize was Rypien's toughness. As promised, the Bills sent stunts and blitzes from every angle, and put him on his back countless times. But Rypien stood in until the final moment before delivering the ball to open receivers, and was never actually sacked.
"Rip got hit but stood in there, that was one of the keys," Gibbs said afterward.
Bruce Smith, Buffalo's Hall of Fame sack-master, nailed Rypien in the ribs early and seemed to have him shaken. Unexpectedly, it was Rypien who reached down to offer to help Smith off the turf. The message of the gesture was clear: If that's your best shot, I'm gonna be here all day.
The Redskins pulled away when Gibbs let Rypien take over, running the offense from the line of scrimmage in a no-huddle barrage that denied the Bills opportunities to substitute special defensive packages.
In a 17-minute span, the Redskins went up 17-0. Some in the media joked after the game that Rypien might be a better play-caller than Gibbs.
"I call myself street smart, football smart," Rypien said. "We had a great football IQ on this team and we were always prepared by the coaches to handle anything. We had all the tools in place to be successful."
The game in hand, Rypien cut loose his emotions, running across the field, leaping and punching the air, perhaps jabbing back at all the phantom doubters and critics.
Washington went up 24-0 early in the second half. Later, someone approached Rypien on the sideline with word that he was going to be named the game's MVP, and he should start practicing the postgame marketing pitch, "I'm going to Disney World."
Several analytical studies have named Rypien's club that season the best Super Bowl-winning team in history.
"We knew we had something special," Rypien said. "It was how we prepared and what kind of guys we had in that locker room. It was an amazing group of guys and an amazing year. That whole era of football in D.C. was special, because you were held accountable to a higher standard there."
From the distance of years, Rypien can see how Gibbs had motivated the veteran team. He rarely scolded players, relying on the team leaders to keep the team focused and driven to succeed.
The following season, Rypien's signature deep-route success failed him.
"The ball kept coming up short," he said. "I was working as hard as always, but it turns out I had a detached biceps tendon. I could still play, but I wasn't as strong. I'm not one to make excuses, but it made a difference. I had to get that (tendon) tacked down, and then I injured a knee and then those things started piling up."
In the 27 seasons following Rypien's MVP year, the Redskins used four first-round draft picks on quarterbacks, and signed at least three other free agents who had been first-round picks, but none has led the team past the divisional round of the playoffs.
Rypien concedes he gets nostalgic this time of year. He said that at the time he collected the MVP trophy, he didn't fully understand how it might change his life. But he did understand one part of it – the memory of this single transcendent accomplishment was irrevocable.
"No matter what happens," he said at the time, "I'll always have this moment. They can never say I can't win the big one, because they don't come any bigger than this."
---