UW researchers use scat-sniffing dogs to bolster wolf count in Washington The number of wolves roaming Washington is higher than official estimates, according to University of Washington researchers.
Samuel Wasser, of UW's Center for Conservation Biology, presented the findings of a two-year study using scat-sniffing dogs to Washington Senate Agriculture, Water, Natural Resources and Parks committee Tuesday.
In one study area in Stevens and Pend Oreille counties, Wasser said his dogs detected 68 individual wolves between 2015-16 and 95 individual wolves in the 2016-17 season.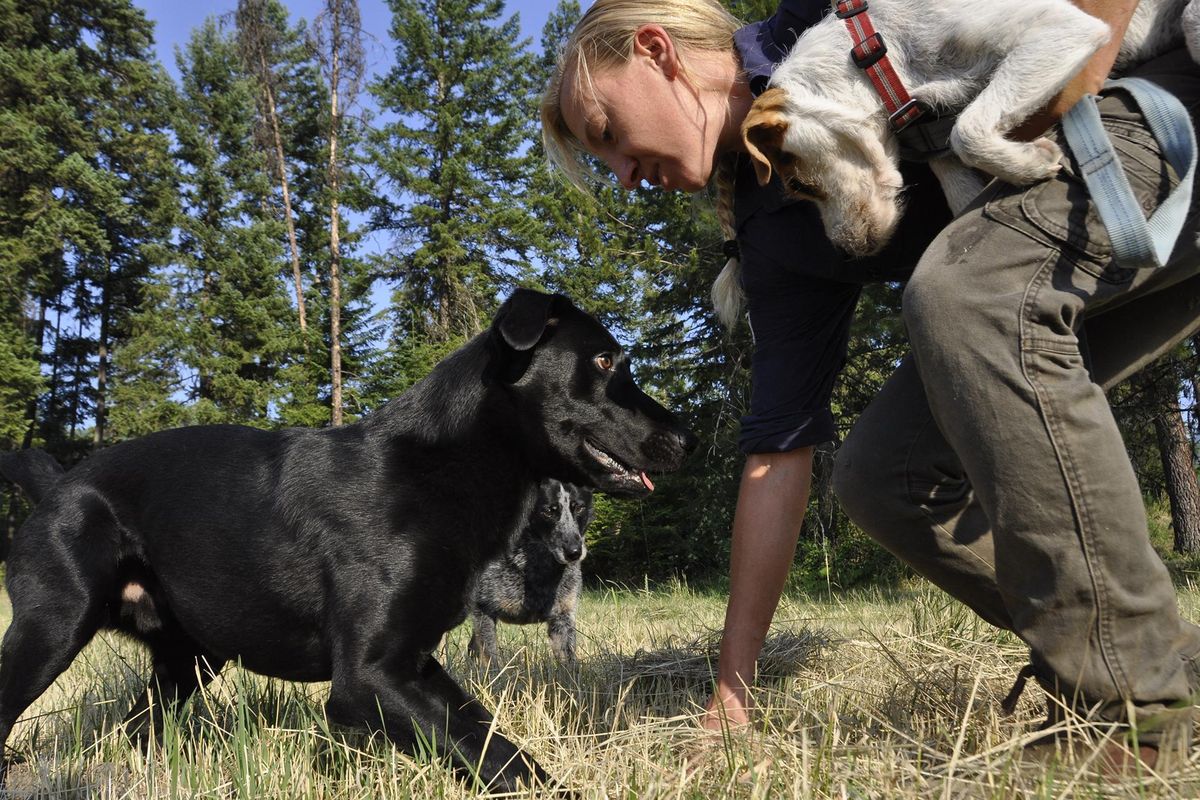 "This is quite a bit higher than the minimum number that WDFW had (for the same area)," he told the committee.
According to the latest Washington Department of Fish and Wildlife estimate, there are a minimum of 122 wolves, 22 packs and 14 successful breeding pairs statewide. That estimate was reported nearly a year ago.
Although Wasser hasn't completed a statewide survey, he said it's quite possible that the population of wolves is closer to 200 animals.
Wasser uses rescue dogs to sniff out scat of different animals. The program, Conservation Canines, has been operating for more than 20 years. His dogs have been used to study orcas, wolves in the Yukon and caribou.
The dog method removes much of the sampling bias that crops up in more traditional wildlife surveys relying on remote cameras, collars or visual observation.
For example, WDFW comes to a population estimate by collaring some wolves, following them and counting other wolves they see with the collared animals.
"If you took that tool and applied it to all the wolves in Washington state, we'd clean up," Wasser said in an interview Wednesday.
The data isn't limited only to population estimates. By analyzing the animal excrement, biologists are able to determine a number of things, including whether the animal was malnourished, pregnant or overly stressed.
Whether Wasser's able to survey the entire state's wolf population depends on if the Legislature allocates money for the work. The two-year survey completed in Eastern Washington cost about $200,000. WDFW has supported the work, he said.
Wasser's team is also looking at how wolves and midlevel predators, such as coyotes and bobcats, interact. Preliminary findings indicate that wolves are avoiding coyotes, not the other way around.
"That has been blowing our mind," he said.
The reason isn't clear, Wasser said.
Preliminary analysis of the scat composition shows that wolves have been eating mostly deer, followed by moose and elk. Coyotes and bobcats, on the other hand, have been eating mostly snowshoe hares, which the struggling Canada lynx need to survive.
"Hopefully, the wolf will impact the coyote population and perhaps the bobcat population, and maybe that will bring stability into the system," Wasser said Tuesday to lawmakers.
Washington is a particularly good place to study wolves because the canines haven't spread to all areas of the state. Studying areas where wolves have not widely entered (south of Interstate 90, for example) and observing how the ecosystem responds will shed light on the interaction between wolves and other predators.
Wolf managers from WDFW also addressed lawmakers Tuesday.
"We are seeing a wave of recovery," said Donny Martorello, the wolf policy lead for WDFW. "Really, what we're seeing in Washington is that continued growth of that larger wolf population."
The state's wolf population has grown, on average, 30 percent per year.
"This is indicative of adequate protections, available habitat and suitable prey base," Martorello said.
He added that every year the state has authorized lethal removal of problem wolves, the population has increased the following year.
Nationwide, Martorello said wolves and cattle come into conflict 20 percent of the time. In Washington, they come into conflict 12 percent of the time.
The question of how many wolves are in the state is an important one. According to the state's wolf recovery plan, wolves can be delisted after 15 successful breeding pairs are documented for three consecutive years, or after officials document 18 breeding pairs in one year.
Under either scenario, the pairs have be distributed evenly throughout the state's three wolf management areas. Most likely, Martorello said, the state will document 18 breeding pairs in one year before they document 15 successful pairs over the course of three years.
"Wolves are doing quite well. They're here. They're here to stay," WDFW director Kelly Susewind said.
Wolves are a state endangered species throughout Washington. In the western two-thirds of the state, they're federally endangered. The majority of the documented packs are in Eastern Washington.
Chase Gunnell, the communications director of Conservation Northwest, said the scat information shows that wolf recovery is progressing well in Washington.
"Despite a few high-profile events, the rate of lethal removal due to conflicts with livestock is much lower here than in Rocky Mountain states," he said. "We hope to soon see wolves confirmed in Washington's South Cascades, as well as new areas of the North Cascades where reported sightings have become more common in recent years."
---