Senior Bowl notebook: Washington State's Gardner Minshew voted captain by South teammates MOBILE, Ala. – When Gardner Minshew wasn't winning over coaches and scouts with his right arm or his football savvy this week at the Senior Bowl, the Washington State quarterback was wowing them with his windpipes and leadership skills.
Teammates were drawn to the "Mississippi Mustache," too.
Hours before the South met the North Saturday at Ladd-Peebles Stadium, San Francisco 49ers coaches ordered a team-wide vote to elect the South's three captains. Minshew was among them, joining Mississippi State defensive end Montez Sweat and South Carolina wide receiver Deebo Samuel at midfield for the pregame coin toss.
Jon Gruden's North team was captained by North Carolina State center Garrett Bradbury, Delaware free safety Nasir Adderley and Notre Dame linebacker Drue Tranquill.
Of the eight quarterbacks on site in Mobile this week, Minshew's voice carried the loudest during practices at Ladd-Peebles Stadium and inside South Alabama's indoor facility.
The WSU QB often ran over to congratulate his receivers on big catches and, according to an Associated Press story earlier in the week, gathered the phone numbers of his fellow South QBs and centers so he could spend more time working on snaps.
"I learned right before the game," Minshew said of being named captain. "Guys thought I'd be the best to represent the team, so it's definitely an honor."
Buffalo quarterback Tyree Jackson, Minshew's South teammate, gave him high praise.
"He's awesome. Gardner's a funny guy and he's really cool," Jackson said. "He's someone that – I think the great thing about this quarterback room this week is everyone meshed together. It wasn't just guys doing their own thing. Everyone was happy for each other, and you'd see guys coming off the sideline and after a good pass they're high-fiving. I'm excited for those guys' careers."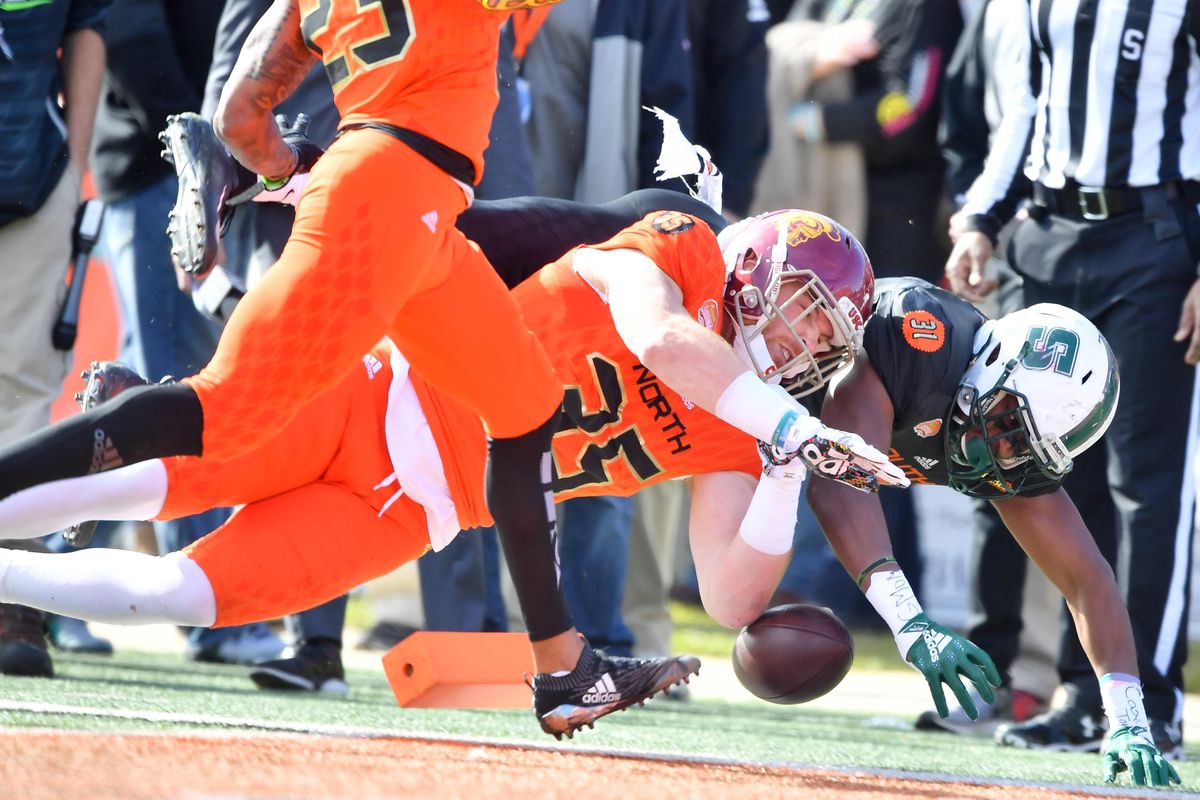 Dillard-Jelks, Part Five
A couple of the Pac-12's top linemen – one on the offensive front and one on the defensive front – squared off for the fifth time Saturday.
Washington State offensive tackle Andre Dillard and Oregon defensive end Jalen Jelks got to know each other well as Pac-12 North rivals. They had another encounter at the Senior Bowl, respectively playing for the South and North in Mobile.
"Every year I played him at Washington State, we kind of give each other a little head nod because we just play each other so much," Dillard said, "and it was kind of cool to line up against him in this game, too."
Dillard stood up Jelks on five consecutive plays against the Ducks' edge rusher when both were on the field during the second South drive of the first quarter.
The Cougars' All-American tackle didn't get any time to study the North on film, so Jelks was the only opponent he was familiar with, having played Oregon four times in four years. WSU won all of those matchups.
"He's really the only guy I knew what he was going to do," Dillard said. "We didn't get a whole lot of time to study the other team, really. We just know how each other plays, so it's just kind of lining up and going."
Dillard had a solid game protecting the South's signal-callers. Jelks finished with one tackle and recorded a game-high two QB hurries.
Hunting with Hunter
Two former walk-ons became close acquaintances during their week at the Senior Bowl.
Minshew, a one-time walk-on at Troy, spent time getting to know Clemson wide receiver and South teammate Hunter Renfrow, who was a nonscholarship player for the Tigers before helping them win two national championships in four seasons.
Minshew said he and Renfrow hope to find time to hunt turkeys if they can squeeze a break into their predraft schedule. Minshew is training in Fort Lauderdale, Florida, and Renfrow's still working out at Clemson.
"So hopefully, if I get a visit to either go up to Carolina or Atlanta, it's close enough I'll be able to go hunting with him," Minshew said. "… But there's a bunch of guys that I'll definitely be playing with in the future and hopefully follow their careers, too, and do well."
Purple reign
Drew Sample, Greg Gaines and Kaleb McGary unofficially notched another win over the Cougars at the Senior Bowl.
Washington's contingent in Mobile suited up for the North team. Each of the three Washington Huskies left a paw print on the 34-24 victory.
Sample, a tight end, hauled in four receptions for 39 yards on four targets, catching passes from Missouri's Drew Lock, Duke's Daniel Jones and North Carolina State's Ryan Finley.
McGary, an offensive tackle, played a steady game on the North's offensive line, which gave up just one sack all afternoon.
Gaines, a defensive tackle, was a force in the middle of the North's D-line, and was credited with three tackles and one-half tackles for loss.
What's next
On Sunday, Minshew will head to Dallas to prepare for the State Farm All-Star Football Challenge at AT&T Stadium before returning to Fort Lauderdale, where he's been working with QB trainer Ken Mastrole and XPE Sports owner Tony Villani.
Dillard is returning to Irvine, California, where he's been training with other NFL prospects since the Cougars finished the season in the Alamo Bowl. Dillard's agent is Chase Callahan of Rep1 Sports – the same agency that represents former WSU QB Luke Falk.
Minshew said he'd met with all 32 NFL teams at the Senior Bowl. By Thursday, Dillard had spoken to all but a few.
---