Sports > NFL
Super Stories: Jerry Kramer instilled Vince Lombardi's ideas into his daily life
Jan. 26, 2019 Updated Sat., Jan. 26, 2019 at 6:43 p.m.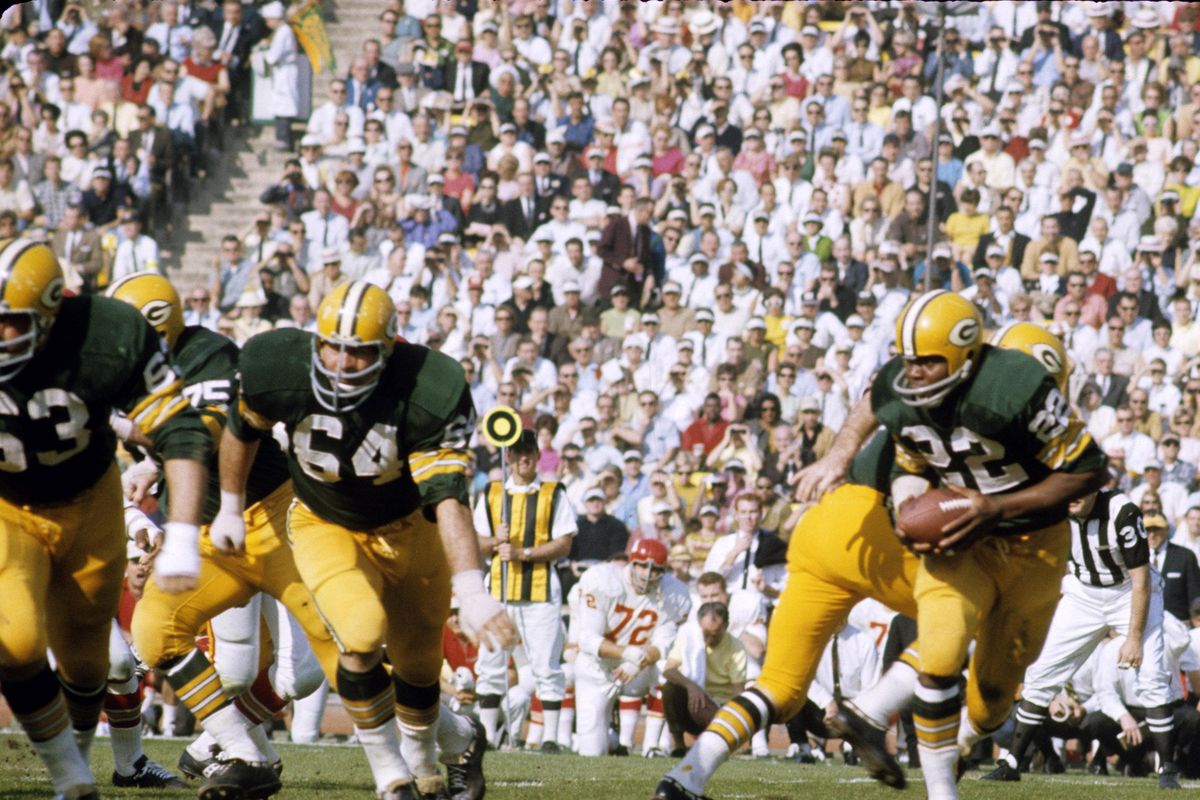 Green Bay Packers running back Elijah Pitts (22) follows guards Fuzzy Thurston (63) and Jerry Kramer (64) on the famed Packers Sweep during Super Bowl I, a 35-10 victory over the Kansas City Chiefs on January 15, 1967, at the Los Angeles Memorial Coliseum. (NFL / Associated Press)
In the run-up to a speaking event at the Bing Crosby Theater on Monday night, Hall of Fame football player Jerry Kramer was asked if he had spent much time in Spokane.
His first recollections of the city were these: "I was operated on in Spokane when I shot myself with a shotgun, and I was also operated on at Deaconess (Hospital) when I ran a stick in my groin – they had to take slivers out of my intestinal area."
So, yeah, Spokane … good times.
The Sandpoint native now returns to Spokane, ready to recount for an audience many of his career highlights, particularly his participation in Super Bowls I and II. Kramer's headlining of an event (along with Mark Rypien) brings a tidy circular symmetry to his story, and certainly symbolizes how far he's come from the early days of touring operating rooms of the Inland Empire.
After a career at the University of Idaho, Kramer set off toward a jagged destiny. He accepted a paltry $250 signing bonus from Green Bay in 1958 and suffered through a one-win rookie season before coach Vince Lombardi arrived and constructed an NFL dynasty.
Kramer would make and lose millions, become a best-selling author; then feel the sting of repeated rejections by the gatekeepers of pro football's pantheon, only to be finally presented his bronze bust and gold jacket in Canton, Ohio, last summer.
This trek involved untold physical, fiscal and emotional wreckage, and required him to absorb just about all the metaphorical sharp sticks to the groin that one life can deliver. But as he assesses his 83-year journey, now, he has one piece of hard-won advice for others who also might have become disaffected along their life's journey: "Quit bitchin.' "
When it was suggested that "Quit Bitchin' " might be a decent title for another book he could add to his series of successful publications, he didn't immediately reject the notion.
Like so many other facets of Kramer's life, the lessons in the futility of complaining is a product of the deeply ingrained Lombardi ethos. And, yes, even nearly 50 years after the coach's death, Kramer remains an unwavering acolyte of the gospel of Saint Vincent.
"(Lombardi's) philosophies on preparation, commitment, discipline, consistency, tenacity, belief in yourself … those things are lifelong principles, qualities that will make you better at whatever it is you want to be," Kramer said during a phone interview from his home in the Boise area.
Kramer recalled how attention to even the smallest details paid off during the Packers' preparation for the famed "Ice Bowl" (1967 NFL championship game against Dallas in Green Bay, played in minus-13 temperatures). During film studies, Kramer spotted a vulnerability, noticing that Cowboys defensive tackle Jethro Pugh played "high" in goal-line situations. He pointed it out to Lombardi, saying it might make a "wedge" play effective.
Trailing 17-14 with 16 seconds left in the frigid game, Lombardi called "Wedge 31," as Kramer had advised. Kramer fired out lower than Pugh, and along with center Ken Bowman rooted Pugh out of the hole. Quarterback Bart Starr sneaked across the icy breach for the historic win.
Kramer not only applied the most famous block in the game's history, but would earn first-team All-Pro honors five times and was named the best guard in the NFL's first 50 seasons. But he would watch as 11 other Lombardi-era Packers were inducted to the Hall of Fame as his 10 nominations fell short of induction.
He tracks his mindset over those years: "I didn't get picked, didn't get picked, and now I'm a little embarrassed," Kramer said. "I get a little frustrated; I get a little angry. After about the eighth, ninth, 10th time, I start sucking my thumb and pouting."
Kramer eventually consulted the mirror and reminded himself that self-pity was never a part of the Lombardi playbook. "I decided, if this Hall of Fame thing happens, great, if it doesn't, it's been a wonderful ride, great teammates, great games, a great journey – so quit bitchin.' "
His daughter, Alicia, wasn't nearly as philosophical about the snubbing of Jerry Kramer and started a campaign among Green Bay fans and former players to promote her father for consideration as a "senior candidate" for the Hall.
"When she first told me she wanted to do it, I said I didn't think it was a good idea, I'd rather you didn't," Kramer said. She didn't listen, and spent about five years on the project.
"For a long time, we were worried that dad's career would be defined by NOT being in the Hall of Fame," Alicia Kramer said. The response to her efforts was overwhelming; dozens of supporting letters arrived. "For so many of them to say to dad, 'You belong,' was such a tremendous feeling," she said.
Her father, Alicia said, is very much at peace, but not nearly ready for the rocking chair. "At 83, to have such defined value, I think that's done a lot for dad. He still feels he has to rise to excellence in whatever he's doing, so he doesn't like to sit still."
Kramer has altered his perspective on competitiveness that drove him in football and business so many years. "You ultimately quit competing against other people and instead you compete against yourself," he said. "You realize the competition becomes about you, how good you are, how true you are to your own beliefs and philosophies."
Kramer will have no shortage of stories Monday night with Spokane native Mark Rypien, Super Bowl XXVI MVP. His memory still sharp, Kramer is a human archive of an NFL that is largely unknown to several generations of fans, an NFL so different in so many ways:
Economics: In addition to his $250 signing bonus (which he discovered was later subtracted from his salary), Kramer made a meager $8,000 his first season, and never made more than $50,000 a season, even with multiple All-Pro honors. Like so many other players, he had to find offseason work to supplement his income. For several offseasons, he drove a D9 Caterpillar bulldozer during the construction of the interstate highway system around Boise.
Conditioning: Kramer was asked about a famed picture of Kansas City quarterback Len Dawson at the halftime of Super Bowl I, sitting on a folding chair smoking a cigarette and drinking a Fresca. "Oh, yeah, some of the guys smoked at halftime, that wasn't unusual at all," Kramer said.
The enormity of the Super Bowl: Super Bowl I (a name applied retroactively), in the Los Angeles Coliseum, featured 30,000 empty seats, and tickets that topped out at $12. "It really wasn't that big of a deal to us," Kramer said. "We were playing a bunch of guys we really didn't know much about."
Local journalism is essential.
Give directly to The Spokesman-Review's Northwest Passages community forums series -- which helps to offset the costs of several reporter and editor positions at the newspaper -- by using the easy options below. Gifts processed in this system are not tax deductible, but are predominately used to help meet the local financial requirements needed to receive national matching-grant funds.
Subscribe to the sports newsletter
Get the day's top sports headlines and breaking news delivered to your inbox by subscribing here.
---