Washington State teammates Gardner Minshew, Andre Dillard find silver linings of Senior Bowl despite 34-24 loss MOBILE, Ala. – Gardner Minshew and Andre Dillard won 11 games together this season, but capturing a 12th wasn't in store for the Washington State teammates Saturday afternoon in the Senior Bowl.
Minshew and Dillard's South team grabbed an early lead at Ladd-Peebles Stadium and held it all the way until the third quarter. Then Jon Gruden's North squad scored three touchdowns in the final 16 minutes, capping a 31-point second half, good for a 34-24 victory in front of a crowd that was announced at 31,437.
A three-hour football game that featured official player introductions, halftime shows and all the pomp of a college all-star showcase might be the top-attended event of Senior Bowl week, but for the 110 college standouts invited, it was hardly the most important one of their five-day NFL audition.
That's why Minshew brushed off an inconsistent day under center. One of four quarterbacks on Kyle Shanahan's South roster, Minshew completed just 1 of 8 passes for 4 yards. He scrambled out of the pocket once, but only reached the line of scrimmage for no gain.
"Man, it was a great week," Minshew said. "Learned a lot, didn't play as well as we wanted to in the game. Always want to help the team win, but man, a lot of good came out of this week, and I think it really helps us out."
Dillard, the Cougars' All-American left tackle, was an early talking point on the NFL Network's live broadcast and has been regarded as one of the top offensive tackle prospects in the upcoming draft.
He didn't damage that reputation, manning the left tackle spot for two offensive drives in the first quarter and three more in the third. Dillard sealed off the left edge for quarterbacks Will Grier (West Virginia) and Jarrett Stidham (Auburn), and only slipped up twice, committing a false-start penalty and giving up a sack in the third quarter.
"It was a little different than I expected," Dillard said. "A bunch of rules were different and just the whole scenario, but it was fun to go against all these guys that are some of the best in the country."
Dillard elaborated on the adjustments: "Just kind of the timeouts and just like the rotations and that kind of thing. … And then just kind of what we do before the game. We don't prepare as much for them. We just kind of come here, suit up and go out here. It's a little different."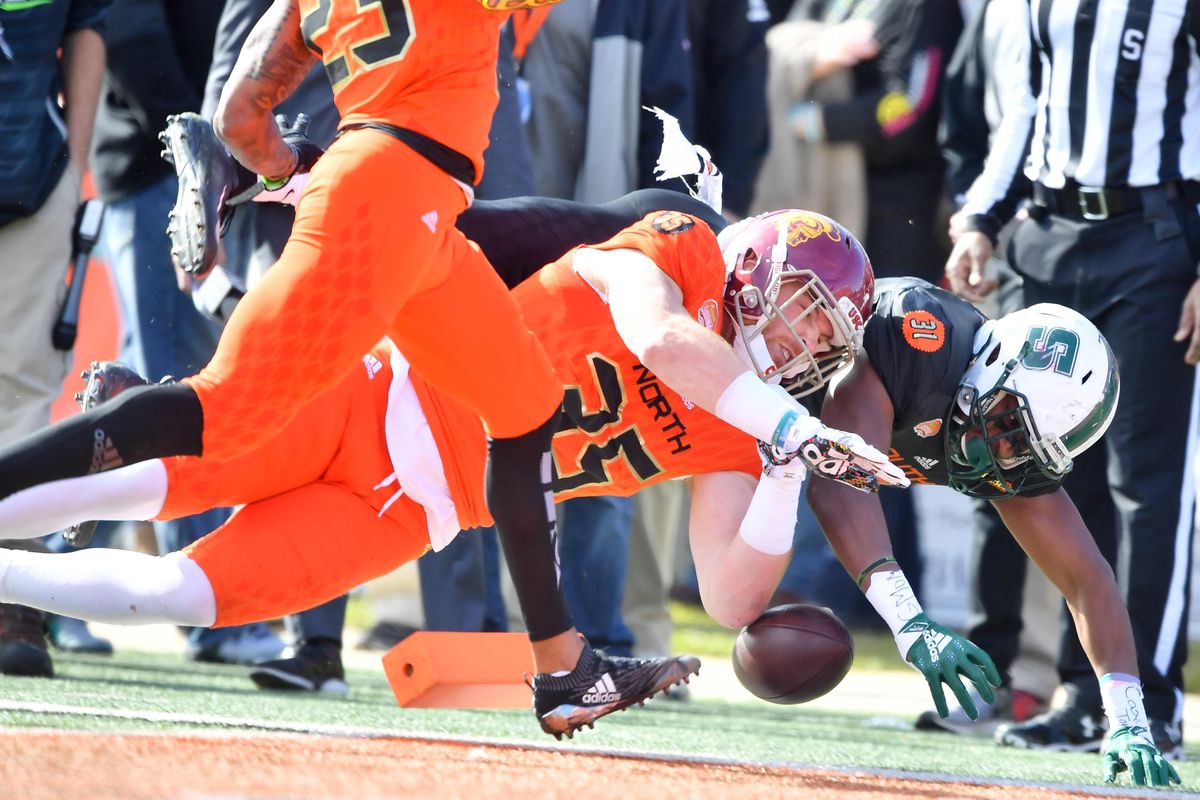 As for the false start?
"Yeah, I don't know about that penalty," he said. "I'll have to see it. But just kind of getting off on the proper snap count and having my hands in the right place. There's a lot of things to kind of work on."
Dillard and Minshew started in 13 games together this season, each doing their part for the Pac-12's top offense. But at no point Saturday did they share the field.
"I thought he played really well," Dillard said of Minshew. "And, just live and learn this game."
One of three South captains, Minshew waited until the second quarter to get his first snaps, then took his last few right before the game clock hit halftime.
Seven other quarterbacks played: Grier (4 for 8, 61 yards), Stidham (4 for 5, 30 yards), Buffalo's Tyree Jackson (13 for 21, 165 yards, two touchdowns, one interception), Missouri's Drew Lock (9 for 14, 57 yards), Penn State's Trace McSorley (7 for 13, 59 yards), North Carolina State's Ryan Finley (7 for 11, 83 yards) and Duke's Daniel Jones (8 for 11, 115 yards, one TD).
"These games are hard because of timing," Minshew said. "You've got different guys you haven't thrown to much, but I didn't do what I had to do, and it was a good experience as a whole."
Minshew never got into a rhythm after his first pass of the game fell out of Tyree Brady's hands. A pass interference call on the play allowed the South to move the chains, but Minshew's next throw soared over Deebo Samuel's helmet, an escape from the pocket picked up nothing, and his final throw of the series hit the turf well shy of intended receiver Anthony Johnson.
"It wasn't accuracy, it was timing," Minshew said. "That's all it is. That's how these games are. So, feel good about it. Had a really good week."
On the next drive, Minshew tried to find Samuel on first down under heavy duress from Oregon edge rusher Jalen Jelks. He completed a short 4-yard screen to Ryquell Armstead after that, but a second screen attempt to Armstead was dropped, forcing the South to punt.
Minshew's defense forced a fumble to get him the ball back with 2:04 left in the half, but the QB threw incomplete on three more plays, again demonstrating how difficult it can be to get in sync with new receivers in less than a week's time.
Still, Minshew left with positive spirits.
"You ask anybody around, I had a great week of practice," Minshew said. "To be voted team captain, all my interviews went really well. There was a lot of positives that came out of this week."
---