A&E > Art
Coeur d'Alene artist Chase Halland draws attention with his mounted animal artwork for HGTV Dream Home in Montana
Sun., Jan. 27, 2019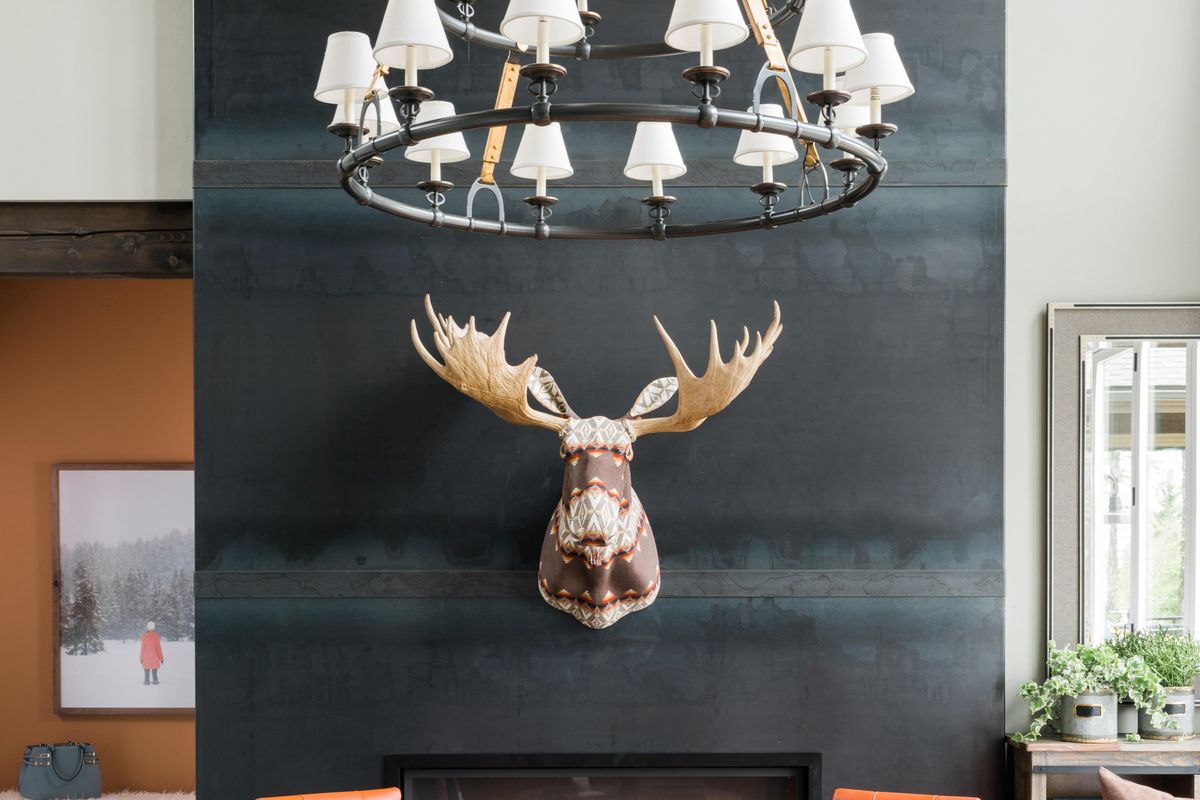 A moose head created by Chase Halland is featured in HGTV's 2019 Dream Home in Whitefish, Mont. (Rustic White Photography / Robert Peterson)
High on a mountain in Whitefish, Montana, overlooking a lake and with easy access to skiing, HGTV built the 2019 Dream Home.
This year's house features three bedrooms and three and a half bathrooms in 3,650 square feet, views of the Rocky Mountains and Whitefish Lake, a hot tub, outdoor dining space and an expansive patio. When the winning entry is drawn in late February, one lucky person will win a car, $250,000 in cash, the home and its contents.
Among those contents? A little piece of Coeur d'Alene.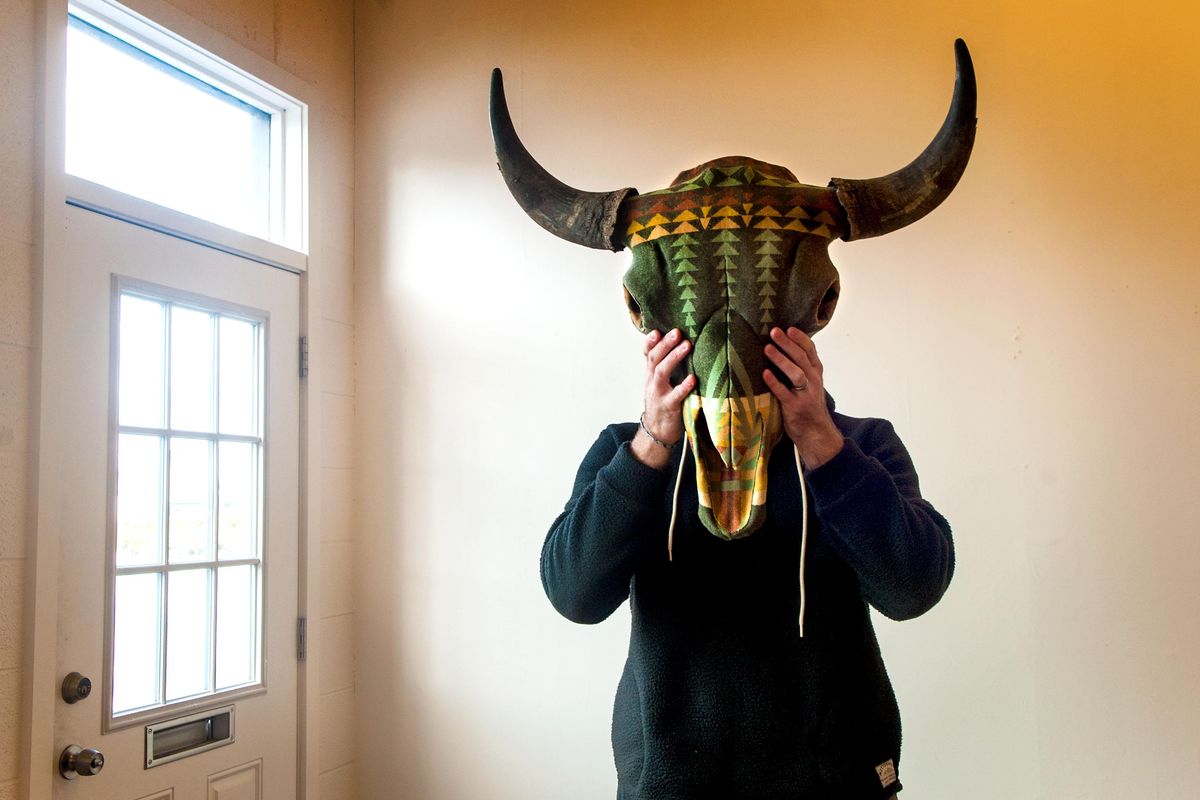 Coeur d'Alene artist Chase Halland is photographed holding one of his fabric covered bison heads at his studio on Monday, Jan. 7, 2019 Chase does sculptural wall art that looks like taxidermy animal heads, but are covered in fabric (often colorful pieces from Pendleton Woolen Mills). (Kathy Plonka / The Spokesman-Review)
Perched on the slate colored floor-to-ceiling fireplace in the home's great room is a large moose head covered in wool fabric from Pendleton Woolen Mills. Created by Coeur d'Alene artist Chase Halland, the moose is instantly recognizable to anyone who has seen his animal heads on display at events like Terrain or in galleries such as the Art Spirit and Emerge.
Halland, who moved from Seattle to Coeur d'Alene in 2009 with his wife, Renae, and family for a slower pace of life, has made a living doing art full time for several years. Since the dream home was announced late last year, and Halland was featured in an HGTV special about the home that aired on New Year's Day, things have kicked into overdrive.
"It's been crazy," said Halland while seated in his midtown Coeur d'Alene workshop. "It's been my busiest month, ever."
Interest had been building, too. When HGTV announced the dream home late last year, before the sweepstakes officially opened, the home's designer, Brian Patrick Flynn, was sharing images of the moose on social media, Halland said.
"I get a lot of emails every day from people. They're interested in moose, custom mounts, deer, bison. So it's been great."
Flynn discovered Halland on Instagram through the account for Halland's business, Faraway Lovely.
"After scrolling through Chase's feed, I knew his sculpture was the perfect fit for HGTV Dream Home because it was forward-thinking, unusual, one of a kind and also fully customizable," Flynn said in an email interview. "Art happens to be the most important design factor to me in regard to making rooms totally unique and custom, so I tend to plan around 12 original pieces of art for each HGTV Dream Home I design."
The 4-foot-by-4-foot art moose features real shed antlers he bought from a store in Wallace, precisely mounted on a foam taxidermy moose head and covered in a Pendleton pattern in rich brown shades. While an actual taxidermy animal head would not be out of place in a Montana home, Flynn said he made a conscious decision to have a piece that was animal-cruelty free.
"I wanted something more humane since HGTV lovers, much like myself, are animal lovers. Since Chase's pieces are made from foam forms and offer antlers that have been shed by animals or are fabricated using resin, it was the perfect solution to get the look of taxidermy," Flynn said. "The use of the classically styled Western blanket fabrics as upholstery also sealed the deal for me."
Halland's customers have a lot of leeway when it comes to their custom-made mounts. He's done work for hunters who want a different way to display their trophy heads and racks. He's used resin antlers for those who want their art pieces 100 percent animal-free. He scours thrift stores, eBay and antique shops in search of shed antlers and stays in touch with a network of friends and acquaintances who enjoy looking for shed in local woodlands. He's always looking for shed antlers to buy.
He's done animals with mudcloth and other fabrics, but Pendleton is his fabric of choice. "It's a great product," he said.
Customers get to pick their pattern, although a couple customers have provided their own antique Pendleton blankets to use. One woman sent Halland a 70-year-old family heirloom blanket to transform into a deer head.
"It was literally falling apart in certain areas," he said. "I made a deer mount because she said it was sitting in storage, and they don't really bring it out because it's so sentimental, but they wanted to make something in honor of their grandpa. … Now the deer is on the wall, and it's their grandpa's blanket. But that was nerve-wracking cutting that up because if it didn't work …"
Back to the beginning
His interest in animal head art comes from a youth spent in the woods. Halland was raised in a large family in Montana that enjoyed hiking, camping and running around in the woods.
"I've always loved the outdoors," he said.
He also always felt the pull to create stuff. "I've always been drawing, painting. I think it's funny that my art has changed over the years. My art has gone from being really fixated on graffiti and street art to more portrait art to this."
He enjoys playing in those other media, and his website, https://farawaylovely.com/, features banners, signs, clothing, coffee mugs and other pieces that show off his graphic design skills.
"But this one has stuck the longest."
"This one," his animal art, is a perfect distillation of his love of outdoors and his love of creating stuff.
The move to Coeur d'Alene from Seattle also has fueled his artistic side, he said.
"I was doing art over there, but so was everyone else," he said. "It was fun and I enjoyed doing it, but by moving to Coeur d'Alene, my wife was able to quit her job and we were able to slow down a bit. It did give me an opportunity to focus on my arts some. I love Seattle. It's a great place. The art over there is amazing, everything over there is amazing, but it's almost like you are working to live, and you don't get a chance to enjoy it."
He started off small.
"I started making these antler mounts. So basically the antlers and the skull cap covered in Pendleton fabric," he said. "I was sitting here doing my little antlers and I wondered what an actual deer head would look like."
Then Terrain happened.
"We moved here from Seattle, and I found Terrain," he said, referring to Spokane's one-night only art party held each October.
"I bought all the supplies and put it together, and to me it was very sketchy, but it's the one I entered in the second Terrain," he said. "And it picked up and people were very excited about it."
He still has the original deer, he said. "It's almost embarrassing because it's so pieced together. But I love it because it's the first one and it's sentimental, I guess."
A plug on Instagram from Benny Gold, a San Francisco streetwear designer with an Instagram following of more than 80,000 people, helped the business snowball.
"And it slowly got to the point where I could quit my full-time job and do this full time."
Terrain co-founder Ginger Ewing said she hasn't been surprised by Halland's success.
"It's the combination of a really good entry point for sculptural work. What I mean by that is the bucks are accessible to a large group of people. People can imagine a buck hanging in their living room or home. The materials used are familiar. The idea of a buck hanging on a wall isn't unfamiliar," she said. "I think all of those elements really speak to a pretty broad audience."
Last year was his busiest, and he sold roughly 160 deer, moose, elk, caribou and bison skulls. The deer bucks run $875. Bison skulls are $625. HGTV paid $2,800 for the moose head.
Those aren't the only critters he's done. He's done rabbits, and yes, even a jackalope. "Those are pretty new and pretty popular." He's done a fox and a fox rug out of Pendleton fabric. He's also working on a wolf rug.
"I have an idea, and it gets stuck in my head until I get it out. If I don't do it right away, it eats at me," Halland said. "Like right now, what I really want to do a full deer, running. That's been on my mind, so I think this year we're going to try to do one."
After a customer has selected their animal, size, antlers and fabric, Halland gets to work. Turnaround time these days is five to six weeks, mostly because it takes time to gather the supplies.
His goal for 2019 is to expand beyond Washington, Idaho and Oregon. He'd like to get into more galleries and reach an audience that maybe isn't paying attention to Instagram, where Halland has more than 11,200 followers. "I need to push myself to reach out to galleries. I mean the worst they can do is say no."
Whitefish dreams
The home in Whitefish is the 23rd that HGTV has built and given away, and it's the second in a row from the upper Western United States. Last year's waterfront home offered glorious views of Puget Sound from its perch outside Gig Harbor, Washington. This year's prize package is valued at $2.3 million.
Halland got to to see the Whitefish house last year when he taped his segment with Flynn for the HGTV special. It's an experience he won't soon forget.
"Everyone on the show was awesome. Brian Patrick Flynn was so easy to work with. It's a beautiful house and whoever wins it is extremely lucky," he said. "The views are amazing. There's a valley with a lake below. I'm sure every season it would be awesome to just sit outside there."
Local journalism is essential.
Give directly to The Spokesman-Review's Northwest Passages community forums series -- which helps to offset the costs of several reporter and editor positions at the newspaper -- by using the easy options below. Gifts processed in this system are not tax deductible, but are predominately used to help meet the local financial requirements needed to receive national matching-grant funds.
Subscribe to the Spokane7 email newsletter
Get the day's top entertainment headlines delivered to your inbox every morning.
---