News > Spokane
Then and Now: Thinking ahead of Expo '74, U.S. Pavilion takes shape
Jan. 27, 2019 Updated Sun., Jan. 27, 2019 at 6:58 p.m.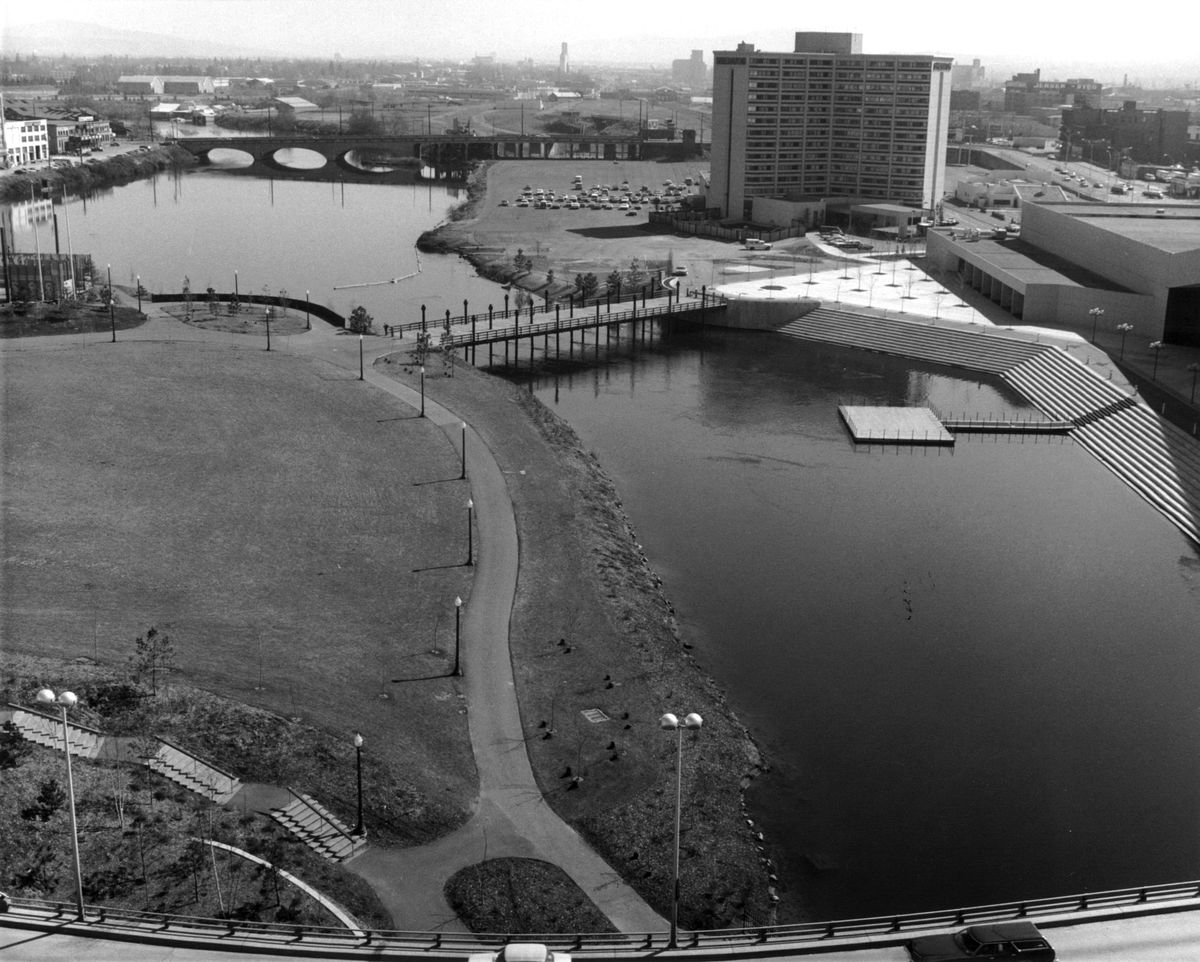 1977: Just a few years after Expo '74, the city has cleaned up from the World's Fair and is slowly transforming Riverfront Park into an urban walking park. And many people had differing ideas on what the area should be. (The Archi / Cowles Publishing)
Even before the world's fair, Expo '74, closed down, the city of Spokane was embroiled in discussions of what to do with the 100-acre site. There was a strong movement to build, and against building, a new City Hall in the park to replace the 1914 building across the street. There was strong support for an ice rink and a new Imax theater under the U.S. Pavilion. Many thought the gondola ride over the falls should stay.
The planning for Riverfront Park actually started long before the Expo '74 gates opened in May. Planners were already thinking of what the park would look like after the fair, deciding that some buildings there would be permanent.
"Keep in mind that we had to plan a fair, (and) we had to plan it in a way that six months later the park would be left in a state that we'd want the park to be in. And those are two different equations," said David Peterson, director of Spokane Unlimited, the economic development group that promoted the fair.
Ground was broken for the U.S. Pavilion in the fall of 1972, even as the railroads were still removing infrastructure from the downtown area and organizers were trying to get foreign countries and commercial entities to commit to pavilions of their own.
Peterson said that the U.S. Pavilion, with its now-iconic web of cables covered by tent fabric, was situated so that it would sit in the center of the world's fair, surrounded by international pavilions, with the plan that it would be the center of the residual park after the Expo.
Other structures that stayed included the Washington State Pavilion, which became the Spokane Opera House, now the First Interstate Center for the Arts. Also remaining from Expo: the round house that covered the Looff Carrousel, recently replaced, and the small amphitheater on Canada Island.
Petr L. Spurney, manager of Expo, made several recommendations for the post-Expo park, including giving the river and park Indian names, regular entertainment and Native American education programs.
Local journalism is essential.
Give directly to The Spokesman-Review's Northwest Passages community forums series -- which helps to offset the costs of several reporter and editor positions at the newspaper -- by using the easy options below. Gifts processed in this system are not tax deductible, but are predominately used to help meet the local financial requirements needed to receive national matching-grant funds.
Subscribe now to get breaking news alerts in your email inbox
Get breaking news delivered to your inbox as it happens.
---