Sports > Gonzaga women
15th-ranked Gonzaga women face tough week on road
UPDATED: Mon., Jan. 28, 2019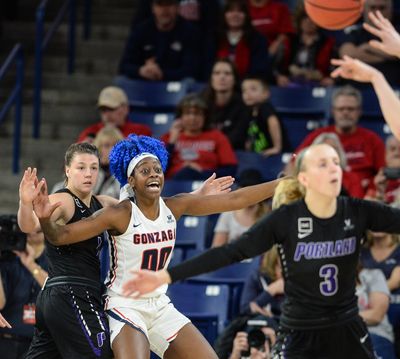 It's halfway through the West Coast Conference women's season, which would be the perfect time for a breather.
No chance of that for Gonzaga, which faces perhaps its toughest road trip of the season this week against Pacific on Thursday and Saint Mary's on Saturday.
GU's previous road trip was rocky enough. It began with a loss to BYU that put the Zags in second place, where they've remained despite three subsequent wins.
That lifted the Zags three spots, to 15th in Monday's Associated Press poll; however, they fell to 17th in the Rating Percentage Index because their strength of schedule ranking has dropped from 30th in the nation to 53rd during the past two weeks.
The games haven't been easy, however. GU is coming off a tougher-than-expected 78-61 home win over eighth-place Santa Clara, leaving it at 19-2 overall and 8-1 in the conference.
In a game that wasn't decided until midway through the fourth quarter, the Zags got another stellar game from their bench.
With starting point guard Laura Stockton seeing limited action because of a shoulder injury, backup Jessie Loera had six assists and four steals; sub Jenn Wirth matched her sister LeeAnne with 10 points and Jill Townsend hit a trio of momentum-turning 3-pointers in the first half.
Once again, the Zags were fresh in the fourth quarter, as only Chandler Smith played more than 30 minutes.
"This was a depth game," coach Lisa Fortier said after the game. "It's nice getting great performances from some of our bench players. It just reminds us that we're well-rounded."
Despite the closeness of the conference race, "there's no pressure on anybody," Fortier added.
"That's because they have backups who are talented, and not only that, they care about each other and are ready to fill in the gaps."
It doesn't hurt that the Zags are as balanced as it gets. In conference games only, they lead the WCC in scoring with 80.7 points a game, yet senior forward Zykera Rice (17.4 ppg) is the only Gonzaga player in the top 20 in the conference.
However, five other Zags are averaging at least eight points in conference games.
It's the same story on the boards, where Smith's team-high 5.4 rebounds is good for only 20th in the WCC. Jenn Wirth is right behind at 5.3, followed by Rice, Townsend and LeeAnne Wirth, all with at least four.
"We have a lot of people who can do a lot of things," Fortier said.
Local journalism is essential.
Give directly to The Spokesman-Review's Northwest Passages community forums series -- which helps to offset the costs of several reporter and editor positions at the newspaper -- by using the easy options below. Gifts processed in this system are not tax deductible, but are predominately used to help meet the local financial requirements needed to receive national matching-grant funds.
Subscribe to the sports newsletter
Get the day's top sports headlines and breaking news delivered to your inbox by subscribing here.
---