Sports
Grip on Sports: There's not an old saying about if you can beat them, then join 'em but, if there were, EWU's Gubrud and WSU would fit
Mon., Jan. 28, 2019 A GRIP ON SPORTS • Yes, it's the end of January. But a small piece of football news once again holds the promise of remaking Washington State's football season. Read on.
••••••••••
• If you were in Pullman that late September day in 2016 when Eastern Washington rolled into town, you may have left Martin Stadium a little stunned. It didn't matter if your sweatshirt was crimson or just plain red, what you had witnessed was astonishing.
The Eagles had upset the Cougars 45-42, but that wasn't the only thing that would have had you shaking your head.
Gage Gubrud's performance was the catalyst, not only for the upset win but the dumbfounded looks as well.
The sophomore quarterback, holding the reins of Beau Baldwin's offense, torched Washington State for 474 yards on only 40 passes, throwing five touchdowns. Only six of his throws didn't find his intended target, a jaw-dropping 85 percent completion rate. He lit-up Alex Grinch's defense.
Sure, it helped to have a trio of NFL-caliber receivers to throw to, including Cooper Kupp, but Gubrud was spectacular that day.
And now it may not be his best one in Pullman. (To be fair, his other visit, a 59-24 loss last September, was not good, as he completed just 14 of 36 passes and threw three interceptions. But his 231 yards did include three touchdowns.)
Our Theo Lawson confirmed yesterday Gubrud will transfer to Washington State and play his sixth season, NCAA-willing, in Pullman. (He needs the NCAA to grant that sixth year due to injuries, though the organization has been more lenient recently.)
Yes, there are overtones here of what happened last season, with Gardner Minshew transferring in from East Carolina and grabbing the nation by the mustache hairs.
But there is a difference.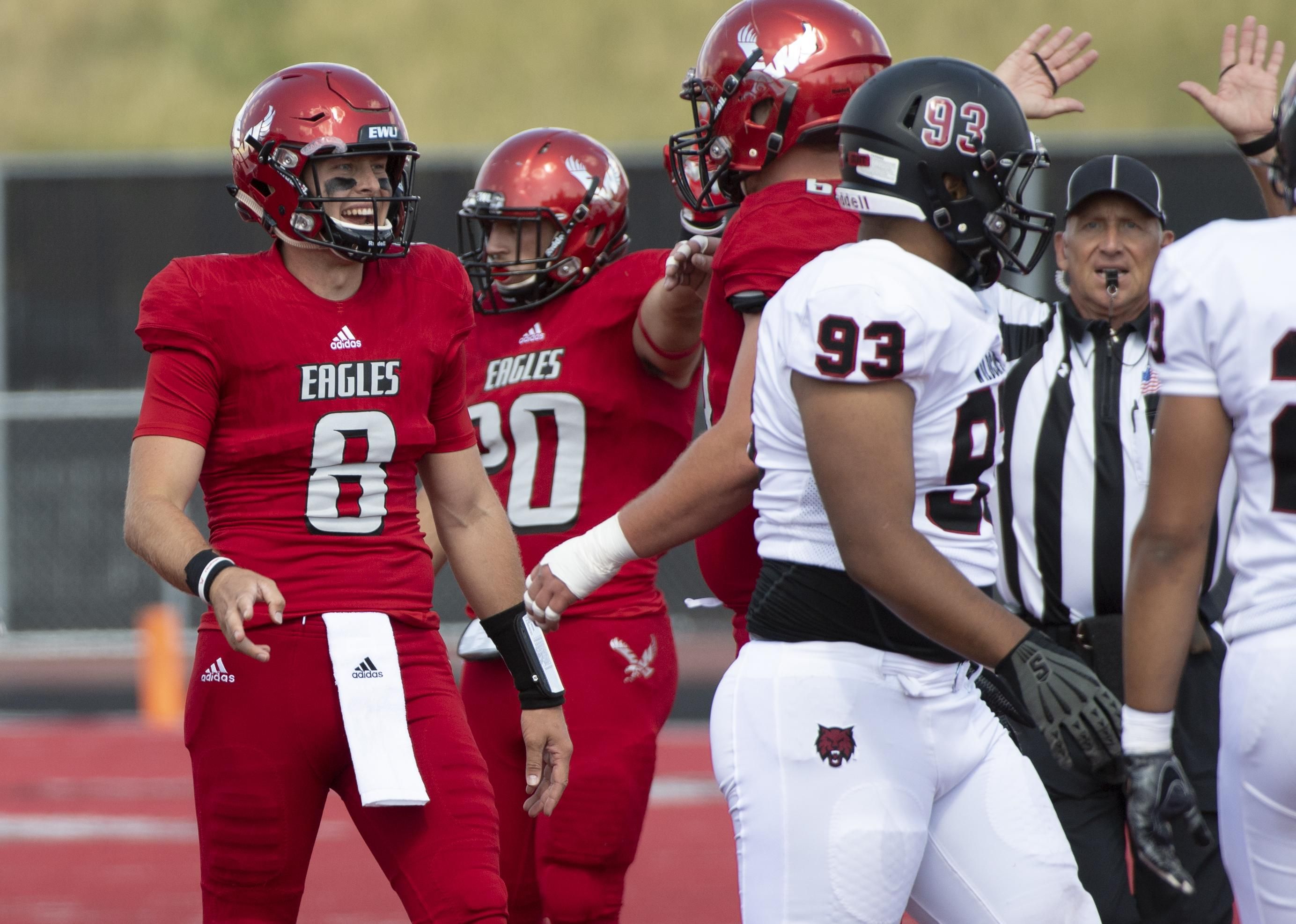 Gubrud has been quite a bit more successful in his previous stop, throwing for nearly 10,000 yards in an Eagle uniform. And he doesn't have the same amount of experience with the Air Raid offense.
It's a combination that makes this transfer experiment even more compelling. Well, that and the fact Gubrud played his first three-and-a-half seasons just up the road. And led the Eagles to that 2016 win.
Gubrud has skills, including quick feet (he rushed for as many as 606 yards in a season), an accurate arm (he completed 65 percent of his throws as an Eagle), toughness and leadership traits – the latter two he shares with Minshew.
Whether he will share another trait, WSU starting quarterback, this season remains to be seen.
• Tonight's the night. "Super Stories" with Jerry Kramer and Mark Rypien at the Big Crosby Theater. The two will talk about their experience, from growing up in Spokane (Rypien) to playing at the University of Idaho (Kramer) and beyond.
Former Spokesman-Review sports staffer Dave Boling has another story today, this one concerning Rypien and his battles with depression. It's a story you shouldn't miss.
•••
Gonzaga: Domantas Sabonis didn't stay in Spokane long – only two years. But he made an impression. And now he's making an impression on the entire NBA. Jim Meehan delves into Sabonis' upward NBA trajectory in this story, which includes my favorite phrase of the day, "setting concrete screens." … Around the WCC, Nick Emery isn't playing all that well for BYU, but the other aspects of his life impresses coach Dave Rose.
WSU: We wrote about this above, but here is Theo's story on Gubrud. If he receives that elusive sixth year of eligibility, he will be a big factor in Pullman in the fall. … The men's team was right in the game at Oregon with 10 minutes left yesterday. And then the Cougars lost by 20, 78-58. … The Oregon State women stifled WSU's offense in a 52-35 win in Corvallis. … Elsewhere in the Pac-12, former WSU assistant Graham Harrell may be the next offensive coordinator for USC. The Cougars have had a huge influence in Eugene recently and may have more in Los Angeles. … The Huskies are keeping key local players home. … In basketball, Utah finds itself near the top of the standings. … Colorado has wasted opportunities to move up. … UCLA's big man heard encouragement from UCLA biggest man.
Seahawks: It wasn't a great Pro Bowl for the Seattle three.
•••       
• I am related to a family of plumbers on my mother's side. So when it comes to such things, I am smart enough to call a professional. Today is a day in which one will be visiting the house. When he's done, life will be back to normal. Hopefully. Until later …
Local journalism is essential.
Give directly to The Spokesman-Review's Northwest Passages community forums series -- which helps to offset the costs of several reporter and editor positions at the newspaper -- by using the easy options below. Gifts processed in this system are not tax deductible, but are predominately used to help meet the local financial requirements needed to receive national matching-grant funds.
Subscribe to the sports newsletter
Get the day's top sports headlines and breaking news delivered to your inbox by subscribing here.
---