News > Spokane
Spokane Valley nuisance property law gives neighborhood new lease on life
Jan. 28, 2019 Updated Mon., Jan. 28, 2019 at 10:37 a.m.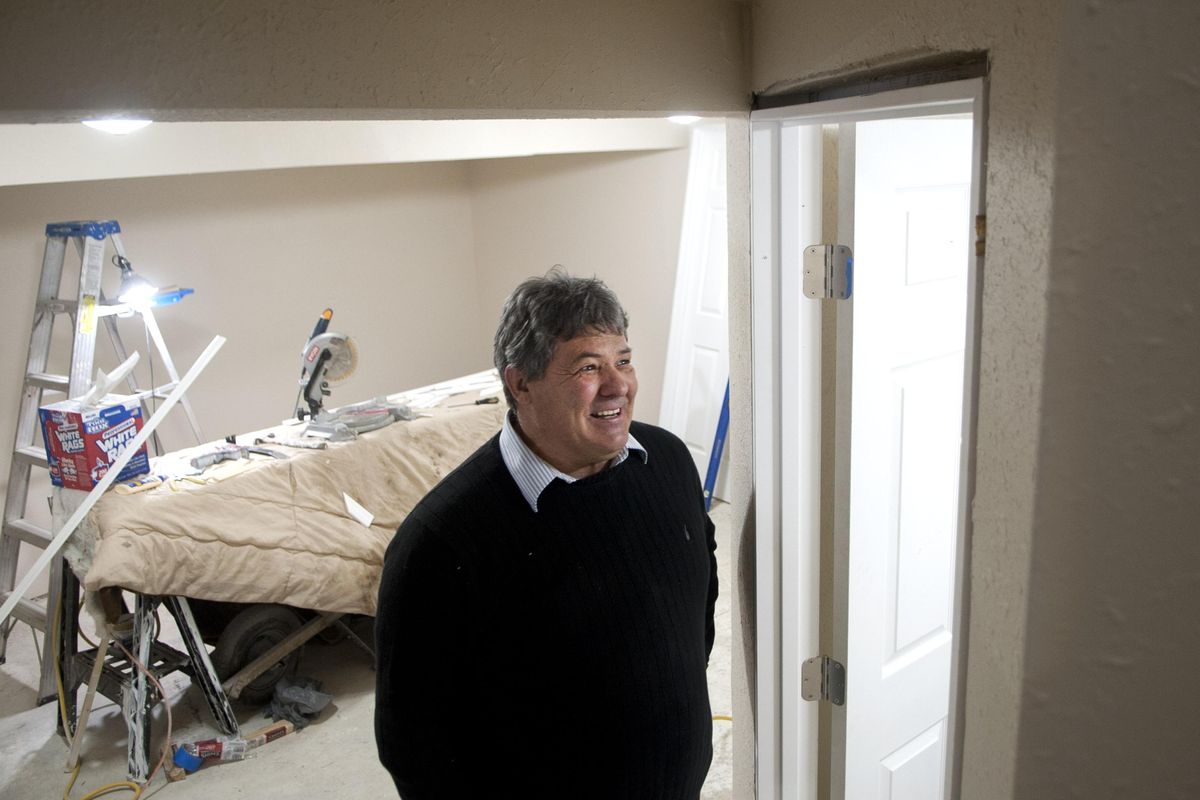 Alexander Scott talks about the nuisance property that he purchased and is in the process of remodeling in Spokane Valley on Thursday, Jan. 24, 2019. Spokane Valley passed an ordinance last year taking aim at nuisance properties. The home is on East 10th Avenue and was a neighborhood problem for years. (Kathy Plonka / The Spokesman-Review)
Last year, it was common for Spokane Valley resident Renee Anderson and her neighbors to be jolted awake late in the evening by police activity from a nearby chronic nuisance property.
Criminal activity – which persisted for more than 15 years – was so severe at the nuisance property on 10th Avenue that children didn't play outside in the neighborhood or walk to school, said Anderson.
"It's affected my family," she said. "My grandchildren have never been allowed to ride their bikes in the front yard. They are 13 now, so they'll never have that memory of grandma's house."
But that has changed since Spokane Valley implemented a nuisance ordinance last January, which takes aim at homes with excessive criminal complaints and abandoned properties.
Under the ordinance, the city can pursue legal action against properties with more than four "criminal events" plus a junk violation, or five criminal complaints in a year. It could then obtain a court order to gain access to the property and clean it up.
The city is subsequently able to recoup all costs associated with demolishing or cleaning up the property by placing a lien on the home.
To implement the ordinance, the city last year hired a part-time attorney to assist with code compliance and a code enforcement officer, who monitors possible violations, investigates complaints and resolves issues through site visits and phone calls.
Homeowners receive several warnings and opportunities from a code compliance officer to clean up the property before it imposes a fine or takes legal action. The first violation for a nuisance property is a $500 fine, a second violation within three years is $1,000 and each subsequent violation is $2,000.
The goal is "voluntary compliance" by working with property owners to resolve issues, according to the city.
Spokane Valley closed more than 700 code violation cases in 2018, including two significant nuisance properties on Second and 10th avenues that had "an abundance of garbage, junk and criminal activities."
The city was able to address multiple unfit dwellings by cooperating with the Spokane Valley Police Department and Model and Carnhope irrigation districts. If water service is shut off to a home in combination with a second utility, the property can be deemed uninhabitable.
"With that in hand, we can go to the court and get an order requiring removal of everybody from the property," said Eric Lamb, deputy city attorney at a Jan. 22 council meeting. "It's a temporary solution until they pay their water bill. It's an extraordinary solution we only use in extraordinary circumstances."
Once the city obtained a court order to clean up the property on Second Avenue, a Geiger work crew removed more than 35,000 pounds of trash.
The home was purchased and is now being renovated.
The city also obtained a court order on the 10th Avenue property, deeming it uninhabitable because of an absence of electricity and four years of unpaid water bills.
Alexander Scott, operator of an online training course for renters and landlords to develop safe housing and productive relationships, purchased the property on 10th Avenue.
Scott and his wife, Connie, have been purchasing blighted homes in Spokane, renovating and reselling them for more than six years.
"We recognize the housing problem in this city and other cities are a combination of financial issues, but also there are social issues behind that and what I do very much enjoy seeing is this city is taking a multifaceted approach to fixing some of those issues," said Scott at a Jan. 22 city council meeting.
Scott also helped the former property owner pay off debt to clean up his criminal record.
The 10th Avenue home contained evidence of people using drugs, the kitchen sink wasn't functional, items had to be removed to access the bedrooms and more than eight dumpsters of junk were transported to the dump, he said.
"We put modifications into fixing every part of the house," he said.
The home will be for sale in two months, once renovations are complete, he said.
"(The home's) rightful use is to go back into the community in a way that's befitting to everybody," he said. "My wife and I have a social responsibility to help our community and this is the way we do that."
The result of the nuisance ordinance is positive for residents as blighted properties are returned into productive use within neighborhoods.
Spokane Valley resident Audrey Forsberg said the difference in the neighborhood on 10th Avenue is remarkable since Spokane Valley passed a nuisance ordinance.
"I no longer have the sketchy cars and people parking in front of my house and I no longer have to watch the obvious drug deals go down," she said at a Jan. 22 council meeting. "Our neighborhood is almost normal."
Anderson echoes that closure of the nuisance property has completely changed the neighborhood.
"Now, I see people outside jogging, people walking their dogs and kids walking the street, going to school," she said. "We never saw that – ever – in 15 years."
Anderson said she's now getting to know neighbors through events and a barbeque at her residence attended by 35 people.
"The camaraderie among the neighborhood has just been incredible," she said. "It's the way it should be."
Local journalism is essential.
Give directly to The Spokesman-Review's Northwest Passages community forums series -- which helps to offset the costs of several reporter and editor positions at the newspaper -- by using the easy options below. Gifts processed in this system are not tax deductible, but are predominately used to help meet the local financial requirements needed to receive national matching-grant funds.
Subscribe now to get breaking news alerts in your email inbox
Get breaking news delivered to your inbox as it happens.
---