Portland comedian Mohanad Elshieky says he was accosted by Border Patrol agents at Spokane bus station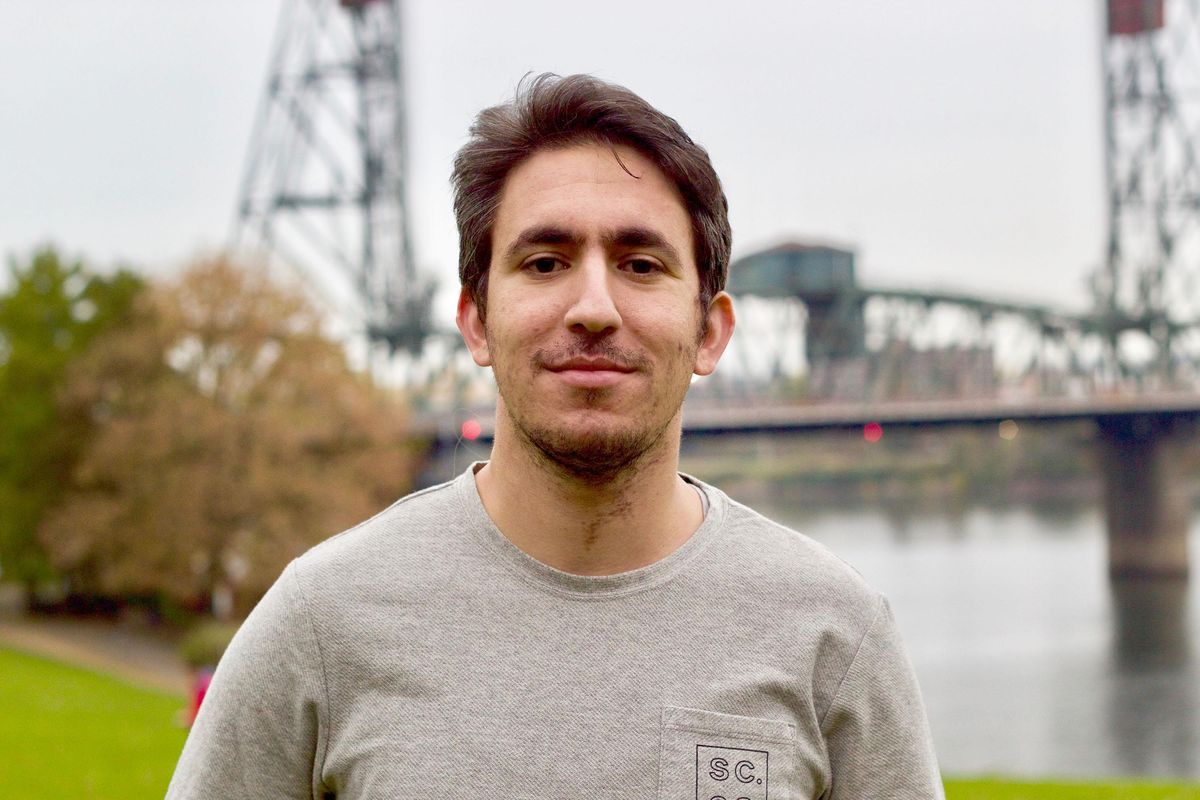 A Portland comedian says he was traveling home from a stand-up show in Pullman on Sunday when immigration authorities forced him off a Greyhound bus at the Spokane Intermodal Center and falsely accused him of being in the country illegally.
In a viral Twitter thread and in interviews with several news outlets, Mohanad Elshieky said he showed his work permit and driver's license to federal agents who boarded the bus, but they insisted he should have been carrying his asylum papers.
"They walked around before they asked me and few others to step outside and took my documents and interrogated me for around 20 mins then claimed my papers were fake and that I'm 'illegal,' " Elshieky wrote.
The incident drew rebukes from local activists and Spokane City Council members, who last year passed an ordinance aimed at curbing U.S. Border Patrol activity at the city-owned transportation center. It also caught the attention of national figures including U.S. Rep. Alexandria Ocasio-Cortez, the newly elected New York Democrat who has led progressive calls to "abolish ICE," a reference to Immigration and Customs Enforcement.
U.S. Customs and Border Protection, which includes the Border Patrol, issued a statement Monday confirming the broad contours of Elshieky's account, though the agency insisted he "was not in possession of the immigration documents required by law."
Elshieky, who is from Benghazi, Libya, moved to Portland on a student visa in 2014 and has since risen to the top of that city's comedy scene. According to a profile in the Oregonian, he applied for asylum a few weeks into his first term at Portland State University as a new civil war broke out in Libya.
Two major airports in Libya were bombed, and Elshieky began getting dispatches from home about people looking for him, raiding his room and searching for documents to prove his allegiance to one of the warring factions, the Oregonian reported.
Willamette Week reported that Elshieky was granted asylum last October.
On Sunday, he joined hundreds of other immigrants who have been detained and questioned at the Intermodal Center, a stopping point for Amtrak trains and Greyhound buses. About 93 miles from the Canadian border, the Intermodal is just within a 100-mile zone within which Border Patrol agents say federal law permits them to conduct searches without warrants on privately owned buses.
On Twitter, Elshieky said he had performed a stand-up set at Washington State University on Saturday and was traveling back to Portland when the Border Patrol agents stopped him. He initially wrote that the agents belonged to ICE but later corrected the error.
The Spokesman-Review could not reach Elshieky for comment. But in an interview Sunday with Willamette Week, an alt-weekly paper in Portland, Elshieky said he had left Pullman at 7 a.m., and at about 11 a.m. he had boarded a different bus bound for Portland.
After stowing his luggage and taking a seat, agents in green uniforms boarded the bus and asked four people to show their IDs, Elshieky told Willamette Week. He assumed they worked for Greyhound and were simply comparing IDs to bus tickets and handed over his card without a second thought.
Then an agent asked if he was a U.S. citizen. He explained that he was not, that he'd come from Libya on a J-1 visa and had been granted asylum last fall, he told Willamette Week. The agents weren't satisfied with his driver's license, so he handed over his work permit, which he keeps in his wallet.
One of the agents made a phone call to another immigration official. Elshieky told Willamette Week he could hear the person on the other end of the call confirming that his permit number was authentic, but still the agents accused him of lying about his legal status.
They asked for his passport and proof of his asylum approval, a three-page document that Elshieky said is not practical to carry everywhere, according to Willamette Week. He said his lawyer had advised him that his license and work permit would be sufficient to establish his legal status.
"They kept repeating the word 'illegals' over and over and over again," Elshieky told the newspaper. "I said, 'I know for a fact what you're doing now is illegal and that's not okay.' "
The Border Patrol agents finally let him back on the bus, telling him to carry his asylum approval in the future.
Federal law does state that an adult immigrant "shall at all times carry with him and have in his personal possession any certificate of alien registration or alien registration receipt card issued to him." Failure to do so is a misdemeanor, punishable by a fine of up to $100 and up to 30 days in prison.
In its statement, Customs and Border Protection confirmed that agents had detained and questioned Elshieky, and that the encounter had lasted about 20 minutes.
"As with anyone who needs to have their immigration status verified, Mr. Elshieky was asked to exit the bus," the statement read. "After the approximately 20 minutes needed to verify his status, Mr. Elshieky was allowed to board the bus and continue his travels without delay."
CBP said neither Elshieky's work permit nor his Oregon driver's license satisfied the law.
"A valid I-94, which is given to all immigrants when legally entering the United States, or paperwork showing a person is currently in the asylum process, which is given to the asylee by the U.S. Citizenship and Immigration Services, would have worked to resolve this inquiry quickly," the statement read.
Hector Quiroga, a local immigration lawyer who has represented clients detained during similar sweeps in Spokane, said he recommends that those under political asylum carry all their paperwork to avoid situations like Elshieky's.
"A copy of the court order to have with them would be very important," he said.
Elshieky shared several photos of his encounter on Twitter, including one that showed Border Patrol agents leading a man into an SUV. Bill Kingsford, a spokesman for the agency, said he couldn't immediately confirm how many people from Elshieky's bus were detained on Sunday.
In October, the Spokane City Council passed an ordinance requiring Border Patrol agents to obtain written permission from the mayor before entering the Intermodal Center or any other city-owned property that's not accessible to the public.
Mayor David Condon, however, has refused to enforce the law, arguing it's outside of the city's authority, and Border Patrol agents have continued to regularly board buses.
Condon could not be reached for comment Monday. On Monday morning, city spokeswoman Marlene Feist said the mayor's position on the ordinance hadn't changed.
In response to Elshieky's story, several Spokane City Council members reiterated their dissatisfaction with Condon and the Border Patrol.
Councilman Breean Beggs, a civil rights attorney, said it seemed that Elshieky would have a good case if he were to sue the Border Patrol for infringing on his Fourth Amendment rights.
"Someone who has done nothing wrong, minding their own business, is interrogated by law enforcement," Beggs said. "He happens to have a big enough following on Twitter that it's gotten the attention of U.S. Congress and national media. But what happens to him happens to people regularly."
Councilwoman Kate Burke, who had previously criticized the mayor's handling of the immigration ordinance, retweeted Elshieky's post Sunday afternoon, saying she was "ashamed and sorry" for what happened to him.
"Our mayor, David Condon, has failed to execute that law," she said. "This failed leadership continues to have real consequence."
Reached by phone Monday morning, Burke called the incident "embarrassing" for Spokane.
"I don't think you will see many people want to travel through our community because of this," she said. "And I can guarantee this comedian will never want to come here to do a show."
Councilwoman Candace Mumm, who voted in favor of the October ordinance, said Monday she was disappointed to hear Elshieky's story.
"This is exactly why I voted the way that I did," she said. "This sort of thing shouldn't be happening."
Lili Navarrete, an immigrant-rights activist who leads Planned Parenthood's Raíz program in Spokane, said Elshieky's story is typical of the experience that many immigrants – those with papers, and those without – go through at the Intermodal Center. She said she was glad, however, that the comedian managed to draw some attention to the issue.
"I feel so bad that this happened to him, but it actually took someone that has a bigger platform … to bring this to light," Navarrete said.
On Monday night at the White Owl Social Club in Portland, Elshieky talked about the experience in his first comedy appearance since he was pulled off the bus.
On Twitter, Elshieky wrote: "I'm just a stand up comedian who had a bad experience and shared it. I have been taking phone calls all day and responding to emails and also getting a lot of hate mail, which is unfortunate, but I don't care, I survived a civil war in Libya, so I can take this too."
Editor's note: This story was changed on Tuesday, Jan. 29, 2019. A previous version misstated the distance between the Spokane Intermodal Center and the Canadian border.
---