News > Spokane
Super stories: Jerry Kramer and Mark Rypien share their memories of the Super Bowl
Jan. 28, 2019 Updated Mon., Jan. 28, 2019 at 10:52 p.m. There for the first one, Jerry Kramer knows firsthand how expensive Super Bowl tickets have gotten to be.
"I bought four tickets at the gate for $10 apiece. I had tickets for my nephews, and they didn't show up," Kramer said. "I gave away the tickets to kids outside the gate."
The Super Bowl certainly has ballooned in popularity and price since the first one 52 years ago, in which Kramer, the Sandpoint native and member of the Pro Football Hall of Fame, played for the Green Bay Packers.
With Mark Rypien, Kramer shared the stage Monday night at the Bing Crosby Theater for "Super Stories," tales of their Super Bowl appearances and football careers. The event was part of the Northwest Passages Community Forum series and was hosted by The Spokesman-Review and KHQ/SWX.
Sam Adams of KHQ and Dave Boling, formerly of The Spokesman-Review, emceed the event.
Kramer took the stage first to a standing ovation from an audience comprised of many fans donning gear from the Packers – for whom he played from 1958 to 1968 – and the Idaho Vandals, his college team. He sat down to a "Go, Pack, Go!" cheer.
"Does that happen everywhere you go?" Adams asked.
"At home, normally," Kramer quipped.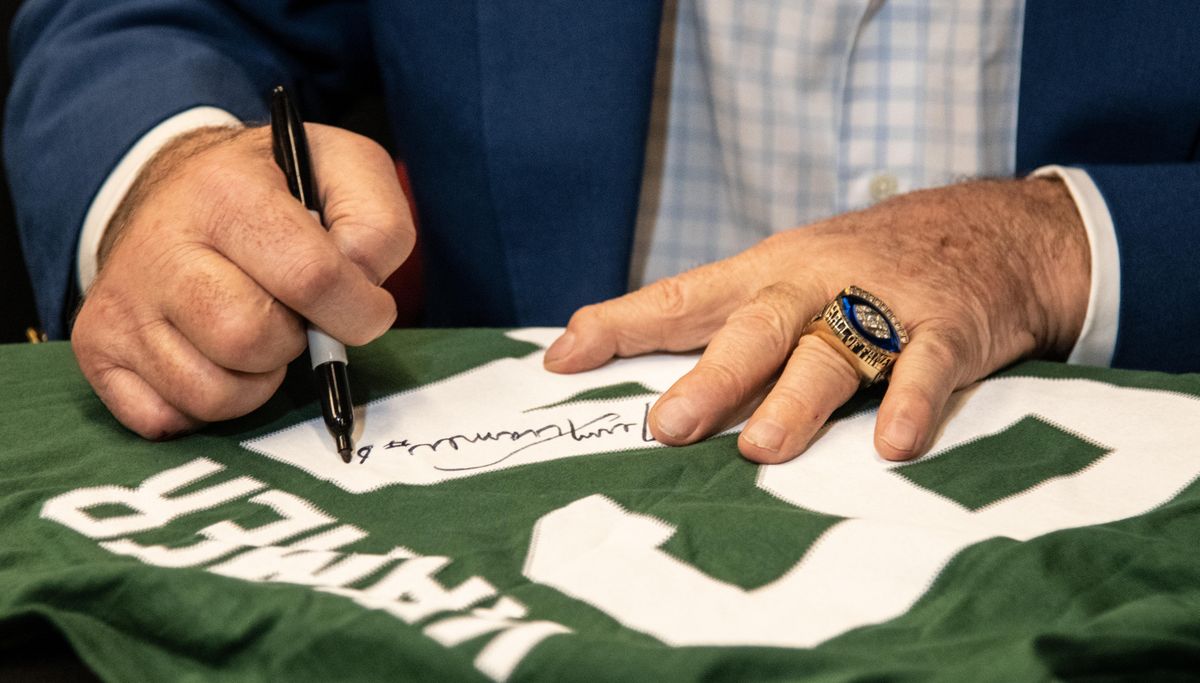 With a pen in one hand and an NFL Hall of Fame ring on the other, NFL Hall of Famer Jerry Kramer, who played in Super Bowls I and II. signs a fan's Green Bay Packers football Jersey Monday before taking the stage at Bing Crosby Theater for Super Stories: Tales from our Super Bowl Champions. (Colin Mulvany / The Spokesman-Review)
He was later joined by Rypien, the former Washington State quarterback who was part of two Super Bowl-winning teams with the Washington Redskins and was named MVP of Super Bowl XXVI.
The two former players spent the rest of the event telling stories of Super Bowl memories, teammates and, especially, their coaches.
Kramer played his entire career with the Packers, who were coached by Vince Lombardi, after whom the Super Bowl trophy is named.
Once early in his career, Kramer had a particularly poor practice. He said he went to the locker room afterward, "checking out the carpet … and I'm wondering where I'm gonna play tomorrow. I'm never gonna make this guy happy, never gonna play for him."
Then Lombardi walked in.
"He says, 'One of these days, you're gonna be the best guard in football,' and it was like a bolt of lightning," Kramer said. "That approval, and that belief in me, had an incredible impact on me."
Kramer went on to talk about a time later when he was at home, moving wood stacks with his 6-year-old son, Jordan. Kramer was moving wheelbarrows of wood and Jordan wasn't all that keen on the chore, nor was he keeping up with stacking the wood in its new spot – except for two pieces of wood, perfectly placed.
Rather than criticize his effort, "I said, 'Jordy, that's wonderful.' I came back and every stick was stacked, all three loads," Kramer said. "Coach Lombardi knew that approval, and if a youngster has your belief, they will work and work and work, as long as they have one person who believes in them."
Rypien shared a story of one bad half of football, after which Redskins coach Joe Gibbs, met the team in the locker room.
"He said, 'Golly geez, holy smokes, son of a gun, you guys can't play football,' " Rypien said of his coach, who Rypien never heard curse. "Everybody's shocked, they're almost laughing, but they're saying, 'I've never seen him like this before. He's out of his mind.' "
They went out and played much better after the half, Rypien said.
Rypien also talked about his holdout heading into the 1991 season that culminated in the Super Bowl MVP award, when the quarterback was at Flathead Lake. His preparation for the season, he said, was to stand on a dock and throw footballs to his agent's son, who would ride past on a boat.
When he finally signed a one-year contract, Rypien said the team's owner told him, "God bless you. Now go out and win a Super Bowl."
Both mentioned a number of their teammates, and many received cheers from the crowd: Max McGee and Paul Hornung came up often for Kramer, Darrell Green for Rypien.
They told many other stories: Kramer about being on "The Tonight Show" with Johnny Carson, and about accidentally getting run through by a 1-by-6-inch board, splinters of which stayed in his body for 11 years. Rypien spoke about the Redskins' 12-0 start in 1991 and how that might have been "maybe the greatest team in the history of the NFL."
As for this Sunday's Super Bowl between the Los Angeles Rams and New England Patriots, Rypien didn't reveal his rooting interest.
But Kramer made his quite clear: "I am rooting for anybody but New England."
Local journalism is essential.
Give directly to The Spokesman-Review's Northwest Passages community forums series -- which helps to offset the costs of several reporter and editor positions at the newspaper -- by using the easy options below. Gifts processed in this system are not tax deductible, but are predominately used to help meet the local financial requirements needed to receive national matching-grant funds.
Subscribe now to get breaking news alerts in your email inbox
Get breaking news delivered to your inbox as it happens.
---