News > Spokane
After questioning of Portland comedian, Spokane Mayor David Condon says city can't stop Border Patrol agents
UPDATED: Tue., Jan. 29, 2019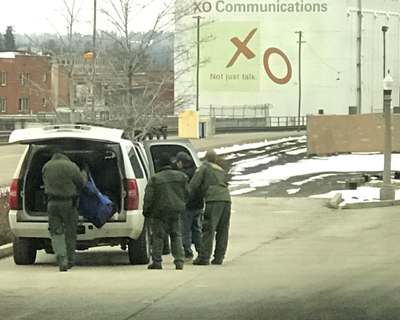 Spokane Mayor David Condon weighed in Tuesday on the detainment of a Portland comedian at the Spokane Intermodal Center, again insisting city leaders don't have the authority to prevent federal agents from operating at the downtown bus station.
In a statement posted on the city's Twitter page, Condon reacted to the Sunday incident in which U.S. Border Patrol agents detained and questioned comedian Mohanad Elshieky, an immigrant from Libya who was granted asylum last fall. The incident made national headlines and reignited a debate over federal law enforcement powers. Elshieky was ultimately released.
The mayor has refused to enforce an ordinance the City Council passed in October, which attempts to compel federal agents to get written permission from the mayor before entering portions of the Intermodal Center.
U.S. Customs and Border Protection argues that under federal law, agents don't need warrants to search privately owned buses, rail cars and aircraft within 100 miles of the country's border.
The Intermodal Center is about 93 miles from Canada, and so the Border Patrol considers it a prime location to catch undocumented immigrants as they pass through on trains and Greyhound buses.
"Spokane is affected differently than many other communities when it comes to such detainments," Condon's statement said.
He contended that even if the city tries to enforce the ordinance, "these agents won't seek permission or consent from a local elected official or municipal employee to complete their assignments."
"Ultimately that means I don't have the authority – as the mayor of the city of Spokane – to try to circumvent that federal law or somehow attempt to impede federal officials," the statement said. "Implying otherwise just provides a false sense of security for individuals who are particularly vulnerable."
Some City Council members have argued the city could prohibit federal agents from parts of the Intermodal Center that are generally inaccessible to the public, thus preventing them from boarding buses and demanding riders' proof of citizenship.
Councilman Breean Beggs, an attorney, has cited a 1973 case in which the Border Patrol used the legal rationale behind the 100-mile zone to justify a warrantless search of a Mexican citizen's car; the Supreme Court ruled that incident violated the Fourth Amendment.
Separately, lawyers for a California woman asked a state judge in November to order Greyhound to stop allowing agents on its buses. And U.S. Sen. Patty Murray, D-Wash., introduced a bill last summer that would shrink the border zone to 25 miles. That would put the dividing line a few miles north of Bonners Ferry and near Ione, Washington.
Local journalism is essential.
Give directly to The Spokesman-Review's Northwest Passages community forums series -- which helps to offset the costs of several reporter and editor positions at the newspaper -- by using the easy options below. Gifts processed in this system are not tax deductible, but are predominately used to help meet the local financial requirements needed to receive national matching-grant funds.
Subscribe to the Coronavirus newsletter
Get the day's latest Coronavirus news delivered to your inbox by subscribing to our newsletter.
---