A&E > Food
Super Bowl LIII: Where to watch the big game in the Inland Northwest
Tue., Jan. 29, 2019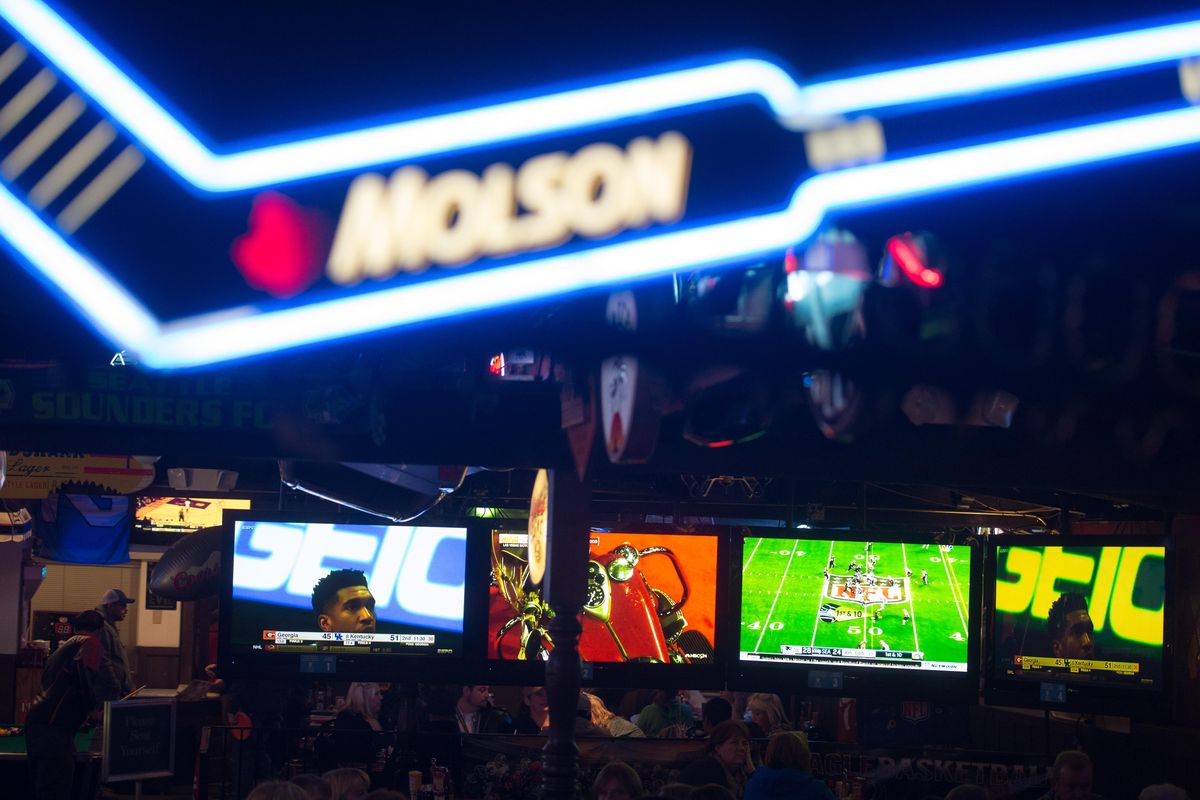 The Swinging Doors has more than 50 screens for sports fans. The longtime sports bar is at 1018 W. Francis Ave. (Tyler Tjomsland / The Spokesman-Review)
It doesn't matter whether you're rooting for the Los Angeles Rams or the New England Patriots – or the next Budweiser Clydesdale commercial – you need a place to watch the game.
If you're not going to a friend's house or hosting a party at your own place, here are some spots to consider for your viewing pleasure.
Don't miss it: Super Bowl LIII, which takes place Sunday at Mercedes-Benz Stadium in Atlanta, kicks off at 3:30 p.m. Pacific time.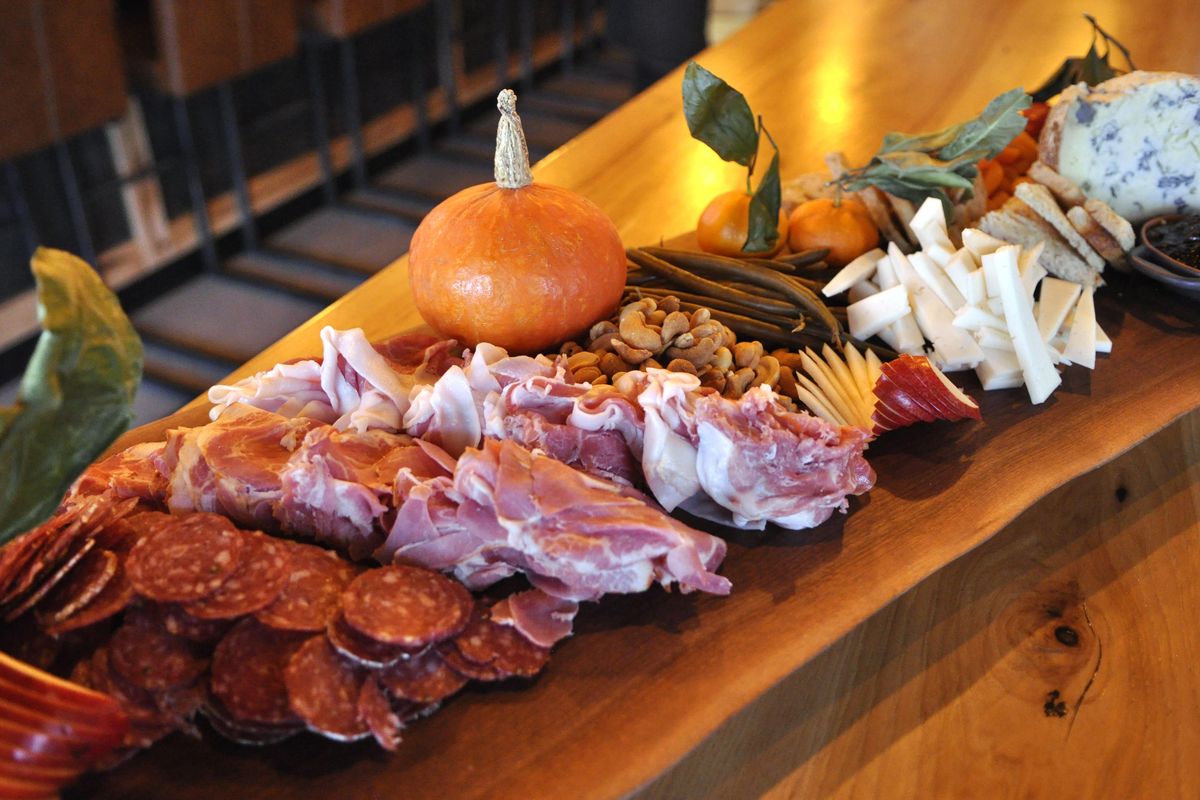 At least 24 hours' notice is required to order a party board like this one at the new Wine & Taps at Latah Bistro near the Eagle Ridge community. It's not a sports bar per se. But if you're looking for an upscale gastropub atmosphere to watch the big game, consider this new spot. (Adriana Janovich / The Spokesman-Review)
The Swinging Doors
There's a full bar and 27 beers on tap at this longtime sports bar, established in 1981. There's a pool table, too. And shuffleboard. Plus, guests who come here on their birthdays get a free steak dinner. But the Swinging Doors is perhaps best known for its top-selling broasted chicken, pressure-fried to perfection. Look, also, for beer-battered mushrooms, jojos loaded with white cheddar and bacon, garlic-Parmesan fries, jalapeño poppers, nachos, sandwiches, burgers, hot dogs, macaroni and cheese and more than 50 screens, including a 14-foot jumbo screen. 1018 W. Francis Ave. (509) 326-6794. www.theswingingdoors.com.
Jack and Dan's Bar and Grill
This Logan neighborhood institution serves up a sense of nostalgia along with its 19 beers on tap and pub grub. Jack and Dan's got its start near the Gonzaga University campus in 1932. It's had different names and owners – including the late Jack Stockton, father of NBA Hall of Famer John Stockton – since its inception. Today, the iconic establishment remains popular with not only Zags but sports fans of all sorts. Sandwiches and wraps (Reuben, club, French dip, roast beef and chipotle melt, BLT, Fiesta Chicken) grace the menu. So do plenty of shareable appetizers, such as hot wings, mozzarella sticks, nachos, mini jalapeño poppers and chips and salsa. 1226 N. Hamilton St. (509) 487-6546. jackanddans.com.
Logan Tavern
Settle in with a pint of bacon, pint of doughnuts or basket of fried pickles – or all three – at this newer Logan neighborhood spot, owned and operated by friends who used to hang out here back when the corner tavern was known as the Bulldog. It's now named for the neighborhood, and caters to Gonzaga students – the campus is across the street – as well as locals who live nearby. The menu features elevated pub grub. Look for maple-bacon popcorn, loaded fries and nachos, chicken wings, burgers and sandwiches. The Chop Chop features marinated and seared chicken breast topped with grilled onions, mayo, diced bacon, green onions and Provolone on a pretzel bun. Plus, there's baked mac and cheese, Hangover Bread (deep-fried dough with green onions, bacon, cheddar cheese and sweet chili dipping sauce), a BLT, grilled cheese and more. 1305 N. Hamilton St. (509) 474-0584. www.logantavernspokane.com.
Illinois Avenue Bar and Grill
This family-run sports bar opened in 2000 when four brothers bought the old Jimmie's Tavern on Illinois Avenue. They named their establishment for the street where it sits and expanded the menu. Wings come in 8 to 64 pieces. There are 16 taps, pull tabs, pool, video and pinball games and large-screen TVs all around the main dining area. The events room boasts a 140-inch screen. On the menu: hamburger steak, ham steak, chicken-fried steak, German sausage, burgers, sandwiches, broasted chicken and jojos, and a whole bunch of other deep-fried favorites. 1403 E. Illinois Ave. (509) 482-6033.
Rock City Grill
This South Hill spot has 13 TVs, so no matter where you sit you should be able to see all the touchdowns. The menu here is a mix of Italian and American. In fact, the top-selling appetizer is the Italian nachos. Pasta chips are piled with olives, tomatoes, pepperoncini, sausage, Asiago cream sauce, mozzarella and Parmesan. The house-made Thai peanut sauce is another favorite. (The Thai pizza outsells the pepperoni pizza at this place. It's that popular.) Starters – or, game day shareables – include sweet potato fries, focaccia bread, calamari, Buffalo hot wings, Texas eggrolls and more. Panini, pizza, pasta, calzones, burgers, wraps and sandwiches round out the extensive menu. 2911 E. 57th Ave. (509) 455-4400. rockcitygrill.com.
Morty's Tap and Grille
This family-friendly South Hill spot is known for its wings and steak bites. Wings come by the pound and are served with celery and carrots. Or, get the sampler with two dozen wings and four sauces. Steak bites are marinated, grilled and served with peppercorn dipping sauce. Rounding out the appetizer menu are jalapeno poppers, fried mozzarella, nachos, chips and salsa, and a veggie plate. The menu includes sandwiches, baskets with chicken strips or fish and chips, and burgers. The Regal comes with bacon, ham, Swiss and cheddar cheeses, Thousand Island dressing, mayo, lettuce, pickles and a fried egg. Established in 2007, Morty's is part of the locally owned Nelson-Phelps Hospitality family of restaurants, which includes Steelhead Bar and Grille, Selkirk Pizza and Tap House, The Barrel Steak and Seafood House, Fieldhouse Pizza and Pub North as well as Liberty Lake, and – most recently – Manito Tap House. 5517 S. Regal St. (509) 443-9123. mortystapandgrille.com.
Poole's Public House
This establishment offers two locations and an extensive menu. The newly built pub in the north features 18 taps, while the one on the South Hill has 15. Nosh on chili cheese fries, fried cheese curds, fried zucchini slices, bacon-wrapped grilled and stuffed jalapeños, beer-battered mushrooms, hand-battered pickle spears, Scotch eggs or Irish nachos with corned beef. Or, choose from an array of signature sandwiches and burgers. Salads, chicken strips, fish tacos and corn dogs round out the menu options. Note: wings are known as Liza's Legs here. Both locations offer more than a dozen screens. North: 12310 N. Ruby Road. (509) 413-1834. South: 5620 S. Regal St. (509) 368-9760. www.poolespublic house.com.
24 Taps Burgers and Brews
This expansive, downtown, corner sports bar is easy to spot. Just look for the mural on the exterior west wall depicting characters from the 1998 cult classic film "The Big Lebowski." Like its name suggests, it offers 24 taps – and about as many TVs. Pub grub is the specialty. Wings and sweet potato fries come by the pound. Of course, you can always ask for a half-order. Look, also, for poutine, potato skins, mozzarella sticks, nachos, wraps, fried pickles, burgers, sandwiches and more. 825 W. Riverside. Ave. (509) 309-3103. www.24taps.com.
Red Lion BBQ and Pub
Come for the game. Stay for the barbecue and beer. Ribs and chicken are the specialties at this old-school, longtime, legendary Spokane sports bar decorated with memorabilia from Gonzaga and Washington State universities as well as the Spokane Chiefs. It isn't unusual to spot local coaches and assistant coaches here – and sometimes even a Spokesman-Review sports writer or two. 126 N. Division St. (509) 835-5466. www.redlionbbq.com/.
The Viking
It's happy hour all day Sunday at this Spokane institution, which reopened after an extensive renovation in 2017. Come early: brunch is served Sundays from 10 a.m. to 3 p.m. and there's a bloody mary and mimosa bar. The menu features craft cocktails and elevated pub fare, including hearty, gourmet burgers. There are two dozen taps and six flatscreen TVs. 1221 N. Stevens St. (509) 326-6241. https://spokaneviking.com.
Wine & Taps at Latah Bistro
This elegant gastropub isn't a sports bar per se. (Its adjacent sister establishment is actually known for its fine dining.) But the new taphouse does get busy when there's a game on. If you're looking for an atmosphere that's a little more on the sophisticated side, consider coming here. Super Bowl Sunday, wings will be half off. There are five rotating taps, plus Stella Artois on draft. The feel is contemporary and casual yet upscale. The menu features wild Gulf prawns with citrus-vodka sauce, a pint of bacon with whiskey-maple syrup dip, skewered Old-English-braised brats with Walla Walla sweet onions, and Cajun-spiced Mississippi sliders. Look, also, for a bowl of bison chili and the chance to build your own steak wraps. Party platters are also available, but the bar asks for 24 hours' notice. So if you're coming with a group and want a high-end cheese-and charcuterie board, be sure to plan – and call – ahead. 4241 Cheney-Spokane Road. (509) 838-8338. http://latahbistro.com.
Epic Sports Bar
The center of attention at this contemporary Northern Quest Resort and Casino sports hangout is the 30-foot-by-10-foot big screen over the bar. There's even a special football menu, starting with breakfast/brunch. Look for chicken wings, nachos and tater tot poutine as well as cheeseburger soup, a cheeseburger, pizza and other hand-helds. 100 N. Hayford Road, Airway Heights. (509) 242-7000. www.northernquest.com/ resort/dining/epic.
The Ref Sports Bar
They really wing it at this place. Wings are available by the pound, half-pound or six-, 12-, 24- or 50-piece sizes. You can spice it up, too. There are four levels of heat to choose from – as well as five dry rubs and nine sauces. Burgers and other hand-helds, steak bites, chili-cheese fries, jumbo nachos, fried pickles and tots round out the menu. Big screens above the bar are the focal point, and there are 20 TVs in all. 14208 E. Sprague Ave., Spokane Valley. (509) 315-9637. therefsportsbar.com.
True Legends Grill
The center of attention at this Liberty Lake sports bar is a nearly 20-foot screen. Share or start with steamed clams, crab-artichoke dip, nachos, potato skins, onion rings or calamari. Wings come in packs of eight or 32 as well as up to four sauces. Choices include garlic herb, chipotle pepper, barbecue, Buffalo, teriyaki, Thai peanut, wasabi, Jamaican jerk and honey Sriracha. Pizza, calzones, fish and chips, pasta, ribs, steaks and assorted sandwiches, and salads round out the menu. 1803 N. Harvard Road, Liberty Lake. (509) 892-3077. www.truelegendsgrill. com.
CaddyShack Sports Pub
Nosh on finger steaks and fries, mini corn dogs, mozzarella sticks and loaded nachos at this long-running, no-frills spot in Coeur d'Alene. Established in 1998, CaddyShack offers 18 beers on tap – there's the "front nine" and "back nine" – plus virtual golf and plenty of sports memorabilia. Team towels, photos and vintage gear cover the walls. Hearty burgers, panini sandwiches and "sandwedges" – on wheat, French or marble rye – round out the menu. Consider the "Billy Baroo" with two strips of bacon and blue cheese crumbles. There's a pepperjack-jalapeno-bacon burger, too – as well as the Double Bogey with two patties, bacon, cheddar, mozzarella and grilled onions. 1100 W. Prairie Ave. in Coeur d'Alene. (208) 762-7275. www.caddyshackcda.com.
Nosworthy's Hall of Fame
Gather around the fireplace at this longtime Coeur d'Alene sports bar, where a big-screen TV hangs above the mantle and the wood-paneled walls are bedecked with sports memorabilia, animals heads and photos. And be sure to wear your stretchy pants. Nosworthy's opened in CdA in 1978 and has been known ever since for its generous portions. Burgers and omelets are staples here, and there are plenty – about two dozen each – from which to choose. They all have fun names. "Jock" Cousteau, Calamity Jane and Blazing Saddles are a few of the omelets. The Conan, Incredible Hulk, Big Al's Delight and Sun Valley Special are a few of the burgers. Beer is served in goblets here. 4045 N. Government Way in Coeur d'Alene. (208) 664-6161. www.nosworthyscda.com.
Capone's Pub and Grill
This North Idaho institution, started in Coeur d'Alene in 1991, offers three locations as well as all sorts of grinders, pizza, burgers and chicken wings. In fact, Capone's was featured on the 2010 "Wings and Things" episode of Food Network's "Diners, Drive-In and Dives" with Guy Fieri. The Food Network star revisited Capone's last summer and the pub appeared on his "Triple D Nation" last fall. Coeur d'Alene: 751 N. Fourth St. (208) 667-4843. Post Falls: 315 N. Ross Point Road. (208) 457-8020. Hayden: 9520 N. Government Way. (208) 762-5999. caponespub.com.
Local journalism is essential.
Give directly to The Spokesman-Review's Northwest Passages community forums series -- which helps to offset the costs of several reporter and editor positions at the newspaper -- by using the easy options below. Gifts processed in this system are not tax deductible, but are predominately used to help meet the local financial requirements needed to receive national matching-grant funds.
Subscribe to the Spokane7 email newsletter
Get the day's top entertainment headlines delivered to your inbox every morning.
---