Sports > EWU football
Eagles have landed: Eastern Washington players in Super Bowl is nothing new
Jan. 30, 2019 Updated Wed., Jan. 30, 2019 at 8:02 p.m.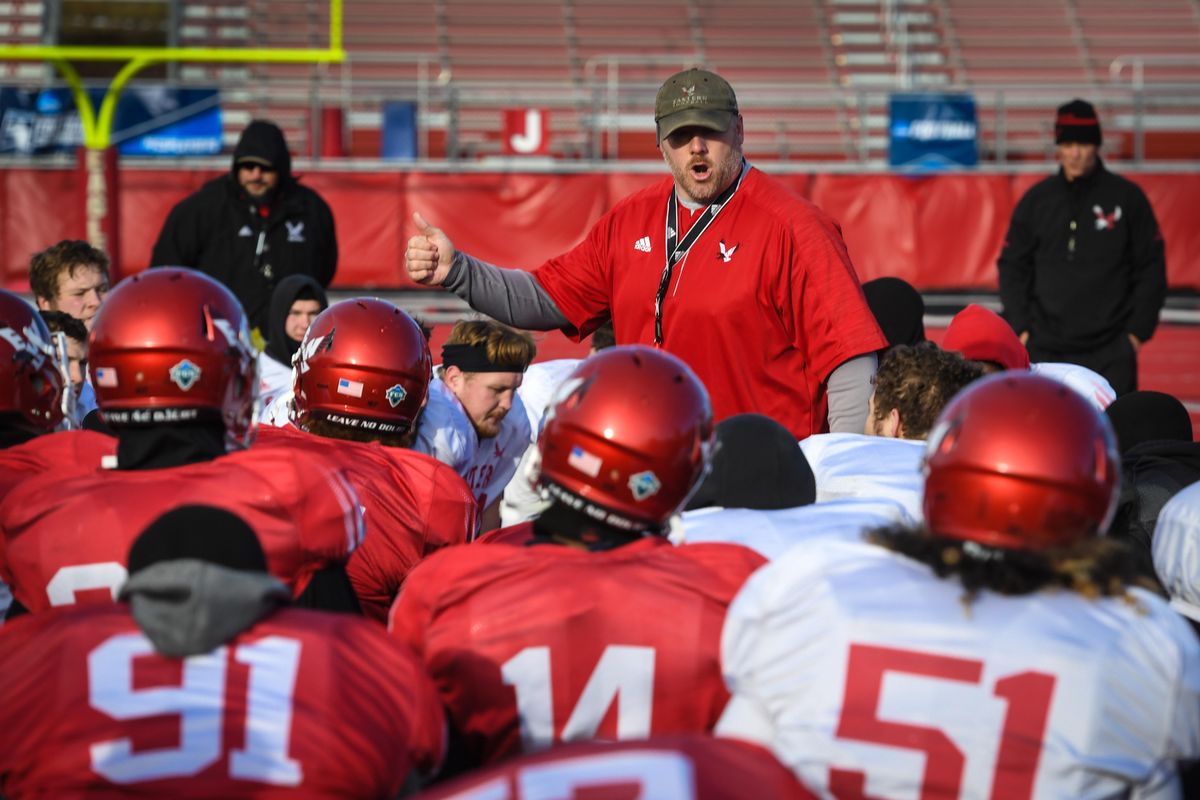 Eastern Washington University coach Aaron Best gathers his team after practice Dec. 12, 2018, in Cheney. (Dan Pelle / The Spokesman-Review)
In his early days as an NFL player in Buffalo, Kurt Schulz got many puzzled looks when he talked about his college alma mater.
Eastern Washington wasn't quite the program then that is has become. From 1988 through 1991, when Schulz played for the Eagles, they went a combined 16-26-1, and Schulz remembers crowds of 300 to 400 at some games.
When he showed up in Buffalo as a seventh-round draft pick, he gave more than a few geography lessons.
"A lot of people asked, 'Now where did you go to school?' " Schulz said. "Not Washington, D.C., but up in Washington state, near Spokane.
"You're like the oddball from this obscure school that nobody heard about, but that doesn't really last long. You can play or you can't. It's all about what you can do on the field."
It turns out, Schulz could play. He spent 10 years in the NFL, played in two Super Bowls with the Bills and established himself as a reliable safety.
Along with offensive linemen Ed Simmons (Washington Redskins) and Kevin Sargent (Cincinnati Bengals) a few years before him, Schulz was one of the first Eastern Washington players to catch on in the NFL, back when Eastern wasn't an FCS champion and perennial Big Sky contender.
That line of Eagles continues this weekend in Atlanta, where three former Eagles will represent the Rams at the Super Bowl: Samson Ebukam at starting linebacker; Cooper Kupp (on injured reserve); and Aaron Neary, as a practice squad member.
Each one has a unique path that led him to Eastern and the NFL, but there's a common thread: They are, in head coach Aaron Best's words, EKGs, or Eastern Kinda Guys: players with a lot of potential but enough question marks that FBS schools don't recruit them as much.
"(We look for) those guys who are going to become 6-foot-7, 310 over time," Best said, drawing on the example of Michael Roos, a 10-year NFL veteran after whom the Eagles' football field is named. "We are putting them in the oven and trusting the process over five years, instead of the ready-made individual, because most of those guys are going to be FBS anyway. … It may take three or four years to get there."
Roos started on his high school football team during fall 1999 but had barely played the sport. He began his time at Eastern as a tight end and defensive tackle before moving to offensive line, where he eventually thrived and started 35 games at left tackle.
He ended up being selected in the second round of the 2005 draft by Tennessee, the first FCS player taken that year, and started for 10 seasons on the Titans' offensive line before retiring in 2015.
Schulz, who grew up playing soccer, came to football about as late as Roos did, playing just his junior year at Eisenhower High in Yakima. He said he got some attention from colleges heading into his senior year.
"Then, I had my tonsils out prior to my senior year, and I remember my mom said, 'Hey, the doctor said you can't play football,' " Schulz said.
He sneaked into an intrasquad preseason game anyway.
"My mom was shocked when she heard I had broken my tibia and fibula. … I was getting recruited after my junior year, and those kind of stopped," he said. "Except for Eastern Washington."
Schulz said when he got to Cheney, coaches were willing to spend a lot of time teaching him about football.
That Simmons and Schulz did as well as they did in the NFL was important, because scouts and coaches are always looking for someone to use as a comparison, said Mike Kramer, EWU's head coach from 1994-99 who also was head coach at Montana State (2000-06) and Idaho State (2011-16).
"When Ed broke through for Eastern, not just as a draft pick who made it but as a guy who could play, that opened the door for everybody else," Kramer said. "Once Ed made it, (the NFL) could compare players to and from Ed Simmons."
Thus followed a series of Eastern offensive linemen who went to the pros: Jeff Mickel, drafted in the sixth round by the Vikings in 1989; Sargent to the Bengals, undrafted, in 1992; Trent Pollard, drafted in the fifth round by the Bengals in 1994; Tom Ackerman, also drafted in the fifth round, by New Orleans in 1996.
"It just seemed like, from Ed (to Jeff) to Kevin to Trent and then to Tom, that it just got better and better and better, and now it's all the way to Neary," Kramer said.
The Eagles have had other players in the pros since, and not just offensive linemen: Running back Taiwan Jones was taken 125th overall by the Oakland Raiders in 2011 and has remained in the league since then, now with the Buffalo Bills.
Kendrick Bourne played in all 16 games with the San Francisco 49ers this season, his second after signing there as an undrafted free agent in 2017.
Others have gone undrafted and signed free-agent contracts with NFL teams only to end up instead on Canadian Football League rosters.
That three of the five current pros ended up in Los Angeles is perhaps a testament not just to the Eagles but to the Rams' organization, Neary said.
"It shows that the staff here knows what they're looking for, to scoop up Cooper (Kupp) and Samson (Ebukam)," Neary said of his teammates, whom the Rams drafted in the third and fourth round, respectively, of the 2017 draft. "It also that goes to show how Eastern Washington can take a player, a diamond in the rough, and spot that person and mold him into a quality player."
Inevitably, in the Big Sky Conference and at the FCS level as a whole, teams will need to mold raw talent, Best said.
"Recruiting has never been an exact science and it never will be," Best said. "At our level, one must know that you have to be prognosticating five years from now."
Kramer echoed Best.
"I look at it from the back end, from the end product. When a guy gets recruited and finishes his career, his pro ability is something that has developed over five years," Kramer said. "It means that to become an NFL player, it's not where you come from. It's how you develop."
Local journalism is essential.
Give directly to The Spokesman-Review's Northwest Passages community forums series -- which helps to offset the costs of several reporter and editor positions at the newspaper -- by using the easy options below. Gifts processed in this system are not tax deductible, but are predominately used to help meet the local financial requirements needed to receive national matching-grant funds.
Subscribe to the sports newsletter
Get the day's top sports headlines and breaking news delivered to your inbox by subscribing here.
---