News > WA Government
Dwarf tossing denounced, defended to Senate panel
Jan. 31, 2019 Updated Thu., Jan. 31, 2019 at 9:28 p.m.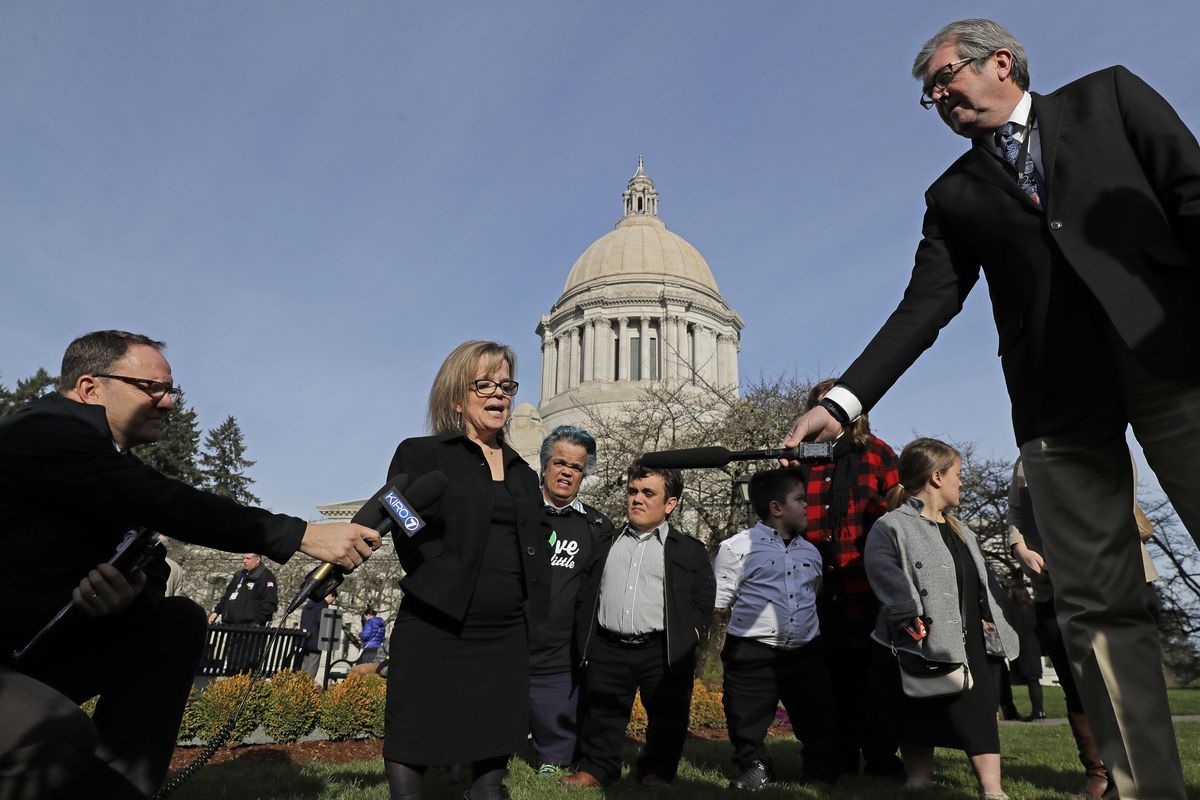 Shoshana Kehoe-Ehlers, second from left, talks to reporters Jan. 31, outside the Capitol in Olympia after a hearing before the Senate Law and Justice Committee of the Washington Legislature to discuss a proposed statewide ban on risky entertainment events, including dwarf tossing, that feature people with dwarfism. (Ted S. Warren / Associated Press)
OLYMPIA – Dwarf tossing and similar staged activities were denounced Thursday as discriminatory, dehumanizing and dangerous, even to dwarfs who aren't participating in those events.
"Dwarf tossing exists because people find it fun to toss someone smaller than them," Robert Eagle, a Spokane medical student who has dwarfism, told the Senate Law and Justice Committee. "We're not items of public amusement."
But an attorney representing a company that promotes such events argued a proposed ban is so broadly written it could have "a chilling effect" on business.
"Life is not without risks," Paul Boudreau said. "Not every viral video requires a legislative edict."
Sen. Mike Padden, R-Spokane Valley, proposed a ban on dwarf tossing and similar activities after receiving a request from Eagle, a University of Washington medical student who was concerned when he saw a sign advertising an event at the Déjà Vu strip club in Spokane Valley last fall. Another strip club in Seattle owned by the same company had a dwarf tossing event last summer.
Under the bill, a bar that sponsored such an event could lose its liquor license and face a fine of up to $1,000.
Testifying remotely from Spokane Valley, Eagle said dwarf tossing encourages participants and spectators to regard little people as "less than human."
He was joined in the committee hearing room by Seattle-area members of Little People of America, who called such events a throwback to the Dark Ages.
"We want to be seen as human beings, first," said Alex Foos, who works at Amazon.
No other minority group would be subjected to such an activity, said Shoshana Kehoe-Ehlers, an Olympia attorney who works for state government.
"This is so dangerous, and it's really psychologically damaging," Kehoe-Ehlers said.
Ayden Harris, a seventh-grader from Woodinville, Washington, disagreed with people who argue dwarf tossing is a sport. Harris, who is 12, said he plays Little League baseball and flag football as an athlete. In dwarf tossing, he said he wouldn't be an athlete but "a piece of equipment."
"Dwarf tossing sends a message that throwing people smaller than you is OK," he said.
Boudreau countered that people who participate in wrestling and other events staged by his client, Center Stage Entertainment, choose to do so, and outlawing all recreational activity that has the potential for injury would have "a chilling event on anything that involves dwarfs." Laws already exist that cover assault that dwarf tossing is alleged by critics to incite, he said.
"One person's exploitation could be another person's willing consent," Boudreau said.
Padden said he has "a conservative, libertarian streak" and could see arguments on both sides of the argument. But he read a letter from a mother in his district whose son has dwarfism and wants to grow up to be an architect or engineer, not "a mythical creature, an object of entertainment." The state wouldn't allow similar events featuring other minority groups, such as people who are black, have Down syndrome or are lesbian, she wrote.
"To me it comes down to common decency," Padden said.
Committee Chairman Jamie Pedersen, D-Seattle, said the panel would vote on the bill next week.
Local journalism is essential.
Give directly to The Spokesman-Review's Northwest Passages community forums series -- which helps to offset the costs of several reporter and editor positions at the newspaper -- by using the easy options below. Gifts processed in this system are not tax deductible, but are predominately used to help meet the local financial requirements needed to receive national matching-grant funds.
Subscribe now to get breaking news alerts in your email inbox
Get breaking news delivered to your inbox as it happens.
---