News > Spokane
100 years ago in Spokane: Voters back major road construction bond
Tue., July 2, 2019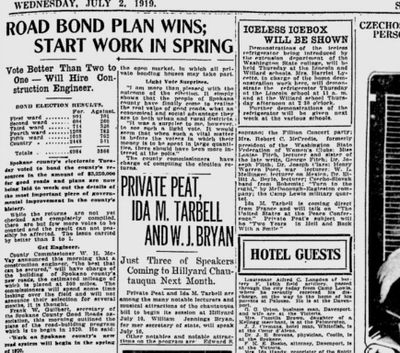 Spokane County's big road-paving bond issue passed by a nearly two-to-one margin.
The Spokane Daily Chronicle said it would result in the "most important piece of government improvement in the county's history."
This bond issue would make auto travel easier throughout the county. Existing roads would be paved and new roads would be built. Construction for up to 300 miles of road was scheduled to begin in 1920.
From the drowning beat: The remains of the first of five Priest Lake drowning victims were recovered after a two week search.
The body of Clark A. Topping was found in deep water not far from where the group's overturned rowboat was discovered. Topping was vice president and manager of the Spokane Hardware Co. He and his companions were crossing the lake at night in an attempt to reach a lakeshore cabin for a weekend fishing trip.
From the innovation beat: A new kitchen innovation, the "iceless ice box," was being demonstrated by the Washington State College extension department.
The "refrigerator" would be on display at various schools throughout the region.
Local journalism is essential.
Give directly to The Spokesman-Review's Northwest Passages community forums series -- which helps to offset the costs of several reporter and editor positions at the newspaper -- by using the easy options below. Gifts processed in this system are not tax deductible, but are predominately used to help meet the local financial requirements needed to receive national matching-grant funds.
Subscribe to the Coronavirus newsletter
Get the day's latest Coronavirus news delivered to your inbox by subscribing to our newsletter.
---