A&E
Advice for July 4: Let your summer cookouts sizzle, not spoil
July 3, 2019 Updated Wed., July 3, 2019 at 10 p.m.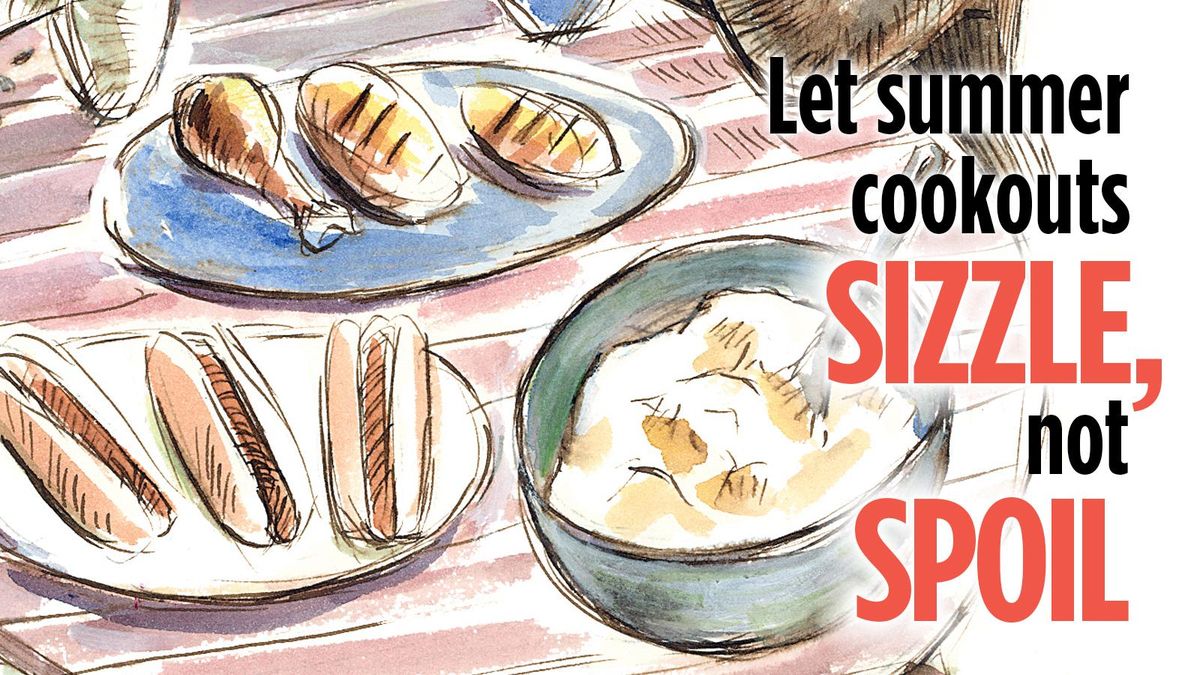 Heat brings on the outdoor picnics and cookouts, particularly for sizzling Fourth of July festivities.
While you're celebrating with fireworks, camping and park concerts, be aware it's also a time when illness-causing bacteria can sneak into the season's food to spoil all the fun.
The U.S. Department of Agriculture recently issued safety tips for cookouts or picnics to keep people safe from food poisoning. Millions of Americans suffer from foodborne illness each year, with roughly 128,000 hospitalizations, says the Centers for Disease Control and Prevention.
"There is a lot of outdoor cooking during the summer, and when you have the heat outdoors mixed in, there is higher risk," said Jessica Martin, Spokane Regional Health District environmental health specialist.
Steve Main, SRHD food safety program manager, described a common misconception that food purchased from a store is automatically safe, and home cooks therefore don't need to take precautions such as washing produce. A King County report cites 60 percent of foodborne illness stems from home kitchens.
"I'd say that's probably consistent statewide," Main said. "It's important for everybody to remember, we all play a part in food safety. It's not just the restaurants; it's not just grocery stores."
Wash up
A No. 1 tip is making sure to wash hands with warm water and soap, before and after handling food, the USDA cites. Scrub hands with soap at least 20 seconds.
"If they're handling raw meat for a barbecue, they need to wash hands immediately afterward, before they touch anything else," Main said. "Dry your hands using a paper towel, not the kitchen towel, to make sure you don't recontaminate."
That kitchen towel can easily harbor bacteria from general cleanup, he added.
But what if you're out in a remote outdoor space without water available? At least wash hands with disposable wipes or some kind of hand cleanser.
"Hand washing is preferred; hand sanitizers are not a good substitute," Main said. "There are hand cleansers that have sanitizer in it. You want to have high alcohol content. It destroys most bacteria."
Many state parks make water accessible, so people can pack in a small soap and towels.
Common mistakes
This is the season when it's popular to use marinades and rubs for meats. Once the meat is put in a marinade, the liquid is now contaminated with bacteria, Main said. A common mistake is to reuse that marinade to baste meat while cooking, he said.
"The recommendation is that you save a small amount of marinade that you put aside," before adding the meat.
The health district sees another common problem spreading bacteria – reuse of the same plate or cutting board that held raw meat – snatched up to put cooked food on without in-between sanitizing.
"That is, unfortunately, a common practice," Main said.
As far as food poisoning, common culprits are dirty hands, undercooked meats, unwashed produce and raw oysters. "The produce we buy at the market and bring home still needs to be washed before being cut," Main said. "Unwashed produce is a common culprit of food-based illness."
Danger zones
Temperature plays a big role, both with refrigeration and ensuring meats aren't undercooked.
When bringing a cooler, make sure to put in enough ice to cover food items and try to place the container out of the sun. Martin recommends filling all unused space within the cooler, because it will heat up faster if there are large pockets of air without ice or other items.
"Use ice, ice packs and gel packs," she said. Leave the cooler in an air-conditioned space if possible.
For cooking meat, Main recommends using a digital thermometer to verify recommended temperatures. For a hamburger patty, the recommendation is 160 degrees for no pink in the middle. Chicken or poultry is cooked to 165 degrees, and for steak and pork, it's 145 degrees.
This is based on science and testing, Main said. "We know what temperature kills E. coli, for example. What they don't want to do is pull it off early and assume it will come up in temperature."
Perishable foods shouldn't stay outdoors on a table for more than two hours if the day's temperature hovers at or below 90 degrees. The time window shrinks to one hour on hot days above 90.
Try to get everybody to eat at the same time, then tuck food back into a cooler or refrigerator.
"If it's a hot day and the sun is beating down on the food, you want to reduce the time food is out to about an hour," Martin said.
Throw out extra food if it's out too long. Cooked high-carb foods with moisture added, such as that potato or pasta salad, easily grow bacteria if left unrefrigerated too long.
"Food can be prepared very safely if you follow just a few basic tips," Main said. "So as soon as you've served your outdoor spread, especially if it's a really hot Fourth of July day, then you start clearing the table and put things in refrigeration again."
Local journalism is essential.
Give directly to The Spokesman-Review's Northwest Passages community forums series -- which helps to offset the costs of several reporter and editor positions at the newspaper -- by using the easy options below. Gifts processed in this system are not tax deductible, but are predominately used to help meet the local financial requirements needed to receive national matching-grant funds.
Subscribe to the Spokane7 email newsletter
Get the day's top entertainment headlines delivered to your inbox every morning.
---