News > Spokane
Plenty of parties planned for 100th: George White will be honored by family, neighborhood, civic groups
Thu., July 4, 2019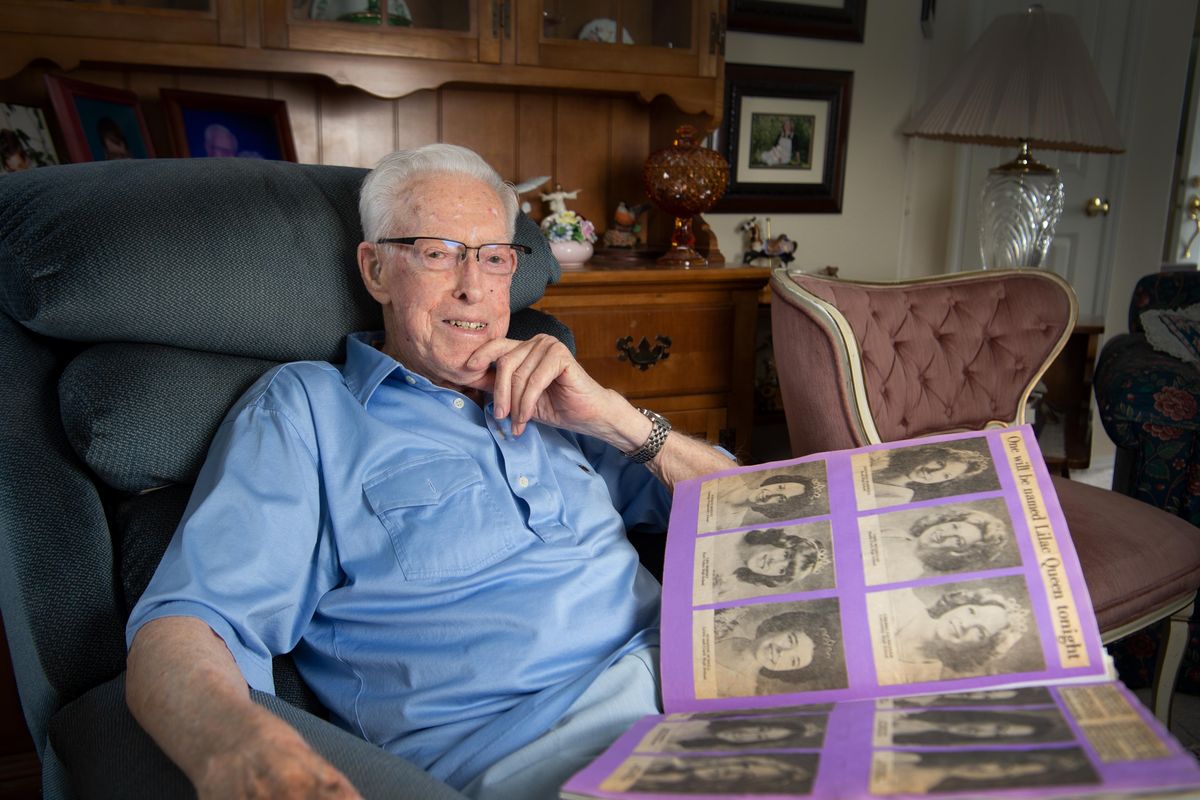 George White of Spokane sits for a photo Wednesday, July 3, 2019. He will be 100 years old Friday, July 5, 2019. Along with his work in business, he was the Spokane Lilac Festival Association president in 1976. (Jesse Tinsley / The Spokesman-Review)
George White will celebrate his 100th birthday this week – a lot.
He's slated to be the guest of honor at a family party hosted by his daughter, Diane Veltri, on Saturday. On Tuesday the YMCA will recognize him as their oldest active member at a small gathering and on July 10 his neighbors are throwing him a party. He'll also be honored at a Retired Airline Employees Association breakfast on July 11.
"I'm going to have my fill of parties," he said.
Shirley Carr has been White's neighbor for more than 20 years and will host the neighborhood gathering at her home. "He's going to be 100 years old on July 5," she said. "It's not every day we can have a party for a 100-year-old. This is a pretty special party."
Carr said White is a "sweet man" who still visits the YMCA several times a week to exercise. "He does his own yardwork," she said. "He's slowing down a little, but he's always done it. He has a beautiful yard."
White will surely be telling stories at his parties and he's got a lot of them to share. He was born in Northport, Washington, in 1919, and the family moved to Helena in 1922. His first job was at a local grocery store in Helena, where he stocked shelves and made deliveries. He graduated from high school in 1938 and in 1941 he decided he wanted to be an airplane mechanic and moved to the Seattle area to work for Boeing.
During World War II he helped build B-17 and B-29 airplanes, but found himself without a job when the war ended. He got a job at Northwest Orient Airlines, first as a ticket agent, then as assistant district sales manager.
He married his wife, Evelyn, in 1945 and the couple had three children; Diane, Richard and Douglas. White said he enjoyed the travel that was part of the job, including trips to Asia and family trips to Hawaii.
Eventually the airline offered him a job in Chicago that included a $50 a month raise. "I said no way am I going to leave my wife behind and move there for an extra $50 a month," he said.
After White turned down the position in Chicago, he took a job at the Ridpath Hotel as the manager of sales and conventions for several years. Then he joined Northwest Bell as a business consultant and retired after the company merged with AT&T.
"I had quite a variety of jobs," he said.
He started working with the Spokane Lilac Festival Association in 1960, when he first moved to Spokane, and became president of the organization in 1976. He's currently the oldest past-president, he said. "I worked my way up," he said.
His wife, known as Evie, died in 2013, and his sons have also died, but his daughter still lives in the area.
White said he recently attended his granddaughter's wedding, where someone convinced him to get on the dance floor and show off a few moves. "That was one of the most beautiful weddings I've ever been to," he said. "I'm just so privileged to be a part of it."
White said he likes to stay busy and is still able to drive. "My knees are my main problem," he said. "The more active I am the better it is for me. It's better than sitting around and watching TV."
He doesn't have firm plans about what he'll do after all his scheduled birthday parties, but he'll certainly be continuing his visits to the YMCA and his yardwork.
"I'm going to try for 101," he said. "At this stage of life, you have to take one day at a time."
Local journalism is essential.
Give directly to The Spokesman-Review's Northwest Passages community forums series -- which helps to offset the costs of several reporter and editor positions at the newspaper -- by using the easy options below. Gifts processed in this system are not tax deductible, but are predominately used to help meet the local financial requirements needed to receive national matching-grant funds.
Subscribe now to get breaking news alerts in your email inbox
Get breaking news delivered to your inbox as it happens.
---