News > Spokane
100 years ago in Spokane: The search for a solution to city parking problems starts
Fri., July 5, 2019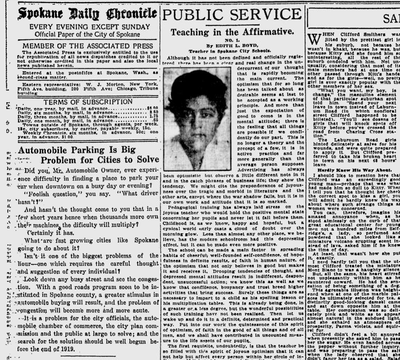 The Spokane Daily Chronicle looked into the future and warned about an emerging crisis: automobile parking in the city.
"Look down any busy street and see the congestion," wrote the Chronicle editors. "… Isn't it one of the biggest problems of the hour – one which requires careful thought and suggestion of every individual?"
You will not, perhaps, be shocked to learn the Chronicle was unable to offer a specific solution.
The editors punted, and said it was a problem for the city, the Chamber of Commerce and public to solve, and the "search for the solution should be well begun before the end of 1919."
The search continues, 100 years later.
From the drowning beat: The bodies of three drowning victims were recovered from Twin Lakes, and new details emerged about the accident.
A group of nine people had departed in a boat at 9 p.m. to attend a dance on Upper Twin Lake. One of the survivors said the lake was calm but after the boat rounded a point, waves broke over the side of the overloaded boat, and "it sank from under us."
A struggle ensued as the members of the party who could swim attempted to help those who could not. John Burns, 15, tried to save his sister, Phyllis Burns, 17, but when she put her arms around his neck, they both went down together. John was able to struggle back to the surface, but Phyllis was not. Their father, James Burns, a 225-pound man, did not know how to swim, and he too sank beneath the surface.
The third victim, Chester L. Graves, 21, was a soldier from Fort Flagler, who was in the area on furlough.
One survivor, Charles Gifford, was credited with saving Elizabeth Wood, who said she was overcome with a "warm and drowsy feeling" while in the water. "I did not know death could be so sweet," she later said.
Local journalism is essential.
Give directly to The Spokesman-Review's Northwest Passages community forums series -- which helps to offset the costs of several reporter and editor positions at the newspaper -- by using the easy options below. Gifts processed in this system are not tax deductible, but are predominately used to help meet the local financial requirements needed to receive national matching-grant funds.
Subscribe to the Coronavirus newsletter
Get the day's latest Coronavirus news delivered to your inbox by subscribing to our newsletter.
---