News > Spokane
100 years ago in Spokane: 14 arrested for wearing a Wobbly button
Mon., July 8, 2019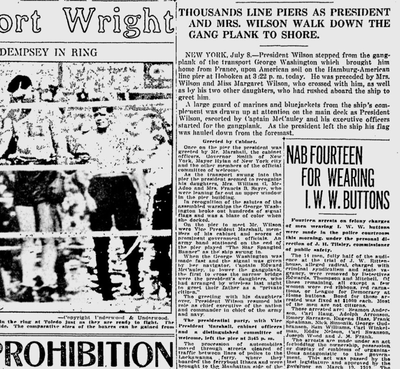 Spokane police detectives arrested 14 members of the Industrial Workers of the World — or Wobblies, as they were commonly known — for the crime of wearing a Wobbly button. Not only was wearing the button a crime, it was a felony.
These men were arrested while sitting in the gallery of the trial of a fellow Wobbly. Spokane's commissioner of public safety, J.H. Tinsley, noticed that these men — half the audience — were wearing buttons with the Wobbly insignia.
The buttons violated a recently passed state law that forbade the display of flags, banners, insignia or emblems of any group "antagonistic to or subversive of our constitution."
The law was controversial, and Tinsley said "we might just as well make a test of the law right now and determine its worth." He said if it is proven to be constitutional, the law will be "of great aid in fighting the radicals, and if not effective, should be tried out and removed from the statutes."
Many of the arrested men were member of the loggers branch of the Wobblies, and most gave their occupations as woodsmen. The Spokane Daily Chronicle claimed that most of the arrested men "are not citizens," perhaps based on their European-sounding names. On the other hand, one of the arrested men was named Eddie Nelson.
The other half of the audience at the trial wore red ribbons, red carnations or Democracy at Home buttons, and were not arrested.
From the auto beat: Spokane County authorities were cracking down on glaring auto headlights. Motorists were supposed to dim their headlights when there was oncoming traffic, but according to the county commissioners, most drivers flagrantly violated the law.
A county commissioner said it was impossible to "see one's way" against the glaring headlights and that deputies were now going to go "hot and heavy" after violators.
Local journalism is essential.
Give directly to The Spokesman-Review's Northwest Passages community forums series -- which helps to offset the costs of several reporter and editor positions at the newspaper -- by using the easy options below. Gifts processed in this system are not tax deductible, but are predominately used to help meet the local financial requirements needed to receive national matching-grant funds.
Subscribe to the Coronavirus newsletter
Get the day's latest Coronavirus news delivered to your inbox by subscribing to our newsletter.
---