Sports
A Grip on Sports: The World Cup win for the U.S. women opened a Sunday full of action
Mon., July 8, 2019 A GRIP ON SPORTS • Summer is officially in full swing. The Fourth of July holiday is in the rearview mirror and the only thing standing between us and football season is the interminable days stuck working when you want to be on vacation. To quote a great man, it could be worse; it could be raining.
•••••••
• It was anything but raining news yesterday. Oh sure, the U.S. women's soccer team won their fourth World Cup championship with a 2-0 victory over the Netherlands. That started the day off with a bang. After that, though, there were only little pops here and there.
• We've already discussed, more than once, the issue that hung over the women's romp through the tournament – and surfaced again after they won their second consecutive title. They deserve the same pay as the men make. Maybe even more, if you are not an advocate of equal pay for equal work.
If success is all that matters, then the women should be paid more. If exposure matters, ditto. And if sponsor money matters, if the women are not bringing in more, that's on the ad sellers for the U.S. Soccer Federation, as the first two arguments in this section should translate into easy money.
• The Mariners have always been really good at marketing the past. Or the future. The present? It's a tougher sell. Still is.
Yesterday was all about hope. Three M's farmhands played in baseball's Futures Game in Cleveland, site of Tuesday's All-Star Game. That's a good thing, sure, especially when this year's team only earned a representative due to the every-team-must-have-one rule.
Maybe the M's will be good in a few years. As good as they were in 1995. Or maybe 2001. But we're not banking on it.
• The Washington Post has a story today on the dangers of being a major league catcher. It is based on a play in Sunday's game between the Astros and the Angels. Houston's Jake Marisnick leveled Johnathan Lucroy at the plate, knocking Lucroy out and sending him to the hospital.
The plays, and the discussion afterward, brought up more than a few bad memories.
Concussions are bad for you. No one will argue that. But in the 1960s and 1970s and beyond, no one really understood how bad. And those of us who played sports in those days usually endured their share of them. Especially those of us who were dumb enough to throw our body in the way of others.
Catching was a contact sport for most of baseball's history. Keeping the other team from scoring was how you won games. If that meant, at times, putting your body between home plate and the baserunner in anticipation of a close play, you did it.
When that was the case, and someone ran you over, you owned it. It was part of the unwritten rules. You didn't get mad. You knew it was just part of the game.
But when the baserunner went out of his way to hit you, that was different. The first concussion I remember (or don't remember, if you get my brain drift) was like that. High school. Jump for a high throw. Runner hits me in mid air, knocking me for a loop – and on my head. He slides, he's safe. No contact.
There were no repercussions. And I finished the game.
I wasn't ready for the collision, that's a big reason why I was hurt. I learned over the years to leave an alley for a player to slide within, and only take it away when I had the ball and was in a position to make a tag. It took years to learn the skill, a skill that saved many a bruise.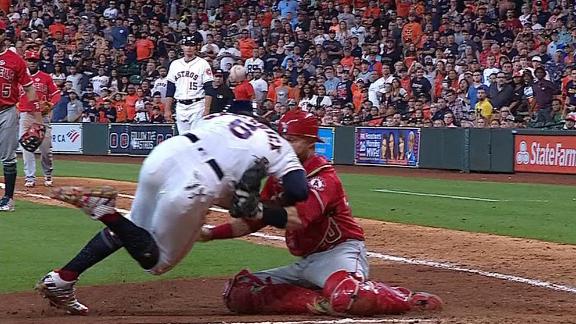 Which brings up baseball's current rules. When the Giants' Buster Posey was injured years ago in a home-plate collision, baseball began examining rules to protect catchers. It has instituted them. Meanwhile, younger ages have banned collisions at the plate for years, so many of today's catchers have no experience to draw upon.
That was the main point ESPN's baseball analysts made last night. Catchers think they are safe and don't protect themselves. In general, that might be correct. In this particular case, it doesn't apply.
If you watch the video of Lucroy and Marisnick, the Angels' veteran catcher gives a huge lane for Marisnick to get to the plate. Most runners default to the outside, or away from the field, so Lucroy had given that lane, ready to take it away with his left leg after he caught the throw.
Marisnick said afterward he thought the play would be away from the field, so he was sliding, headfirst, to the inside. What? That's just a stupid decision. It would never had worked no matter where the throw was.
He added he had no intent to run into Lucroy and he might be right. The throw took the catcher up the third-base line and into Marisnick's path. That's one of those danger areas no catcher wants to enter, but sometimes has to. If Lucroy had caught the ball three feet closer to the plate, the collision may have been avoided – or have been around the lower body.
Hopefully, baseball will use this incident as a way to help younger players learn how to deal with such occurrences, to help catchers learn how to protect themselves, to teach runners how best to avoid them.
That's hard though. Handing out suspensions and changing rules is easy. Guess which path baseball will probably take? 
•••
Gonzaga: Summer basketball continues to be good for Zags, as Brandon Clarke began summer league play yesterday, following Rui Hachimura's debut with the Wizards. … Two Bulldogs made the all-tournament team at the U19 World Cup.
WSU: Around the Pac-12, Oregon opens with Auburn, a challenging opponent any year.
Indians: Spokane won its fourth consecutive game. shutting out Tri-City on Sunday night at Avista. Dave Nichols was there and has this game story. … Around the Northwest League, Everett has owned Vancouver thus far. Everyone seems to own Eugene.
Preps: Gonzaga Prep graduate Daniel Roy is competing at the World University Games.
UFC: Spokane's Michael Chiesa spoke about his most recent win.
Mariners: Another game with the A's, another loss. Now the All-Star break awaits. … Gene Warnick is back with the final Out of Right Field recap before the All-Star break.
•••       
• If you are of a certain age, you know I reference Igor in today's open. "Young Frankenstein" was one of those movies that shaped my personality. The same can be said of the four or five concussions I endured playing baseball over the years. Until later …
Local journalism is essential.
Give directly to The Spokesman-Review's Northwest Passages community forums series -- which helps to offset the costs of several reporter and editor positions at the newspaper -- by using the easy options below. Gifts processed in this system are not tax deductible, but are predominately used to help meet the local financial requirements needed to receive national matching-grant funds.
Subscribe to the sports newsletter
Get the day's top sports headlines and breaking news delivered to your inbox by subscribing here.
---