Sports > Outdoors
Wolf pack to be targeted by Washington state shooters after repeated cattle attacks
July 10, 2019 Updated Thu., July 11, 2019 at 3:02 p.m.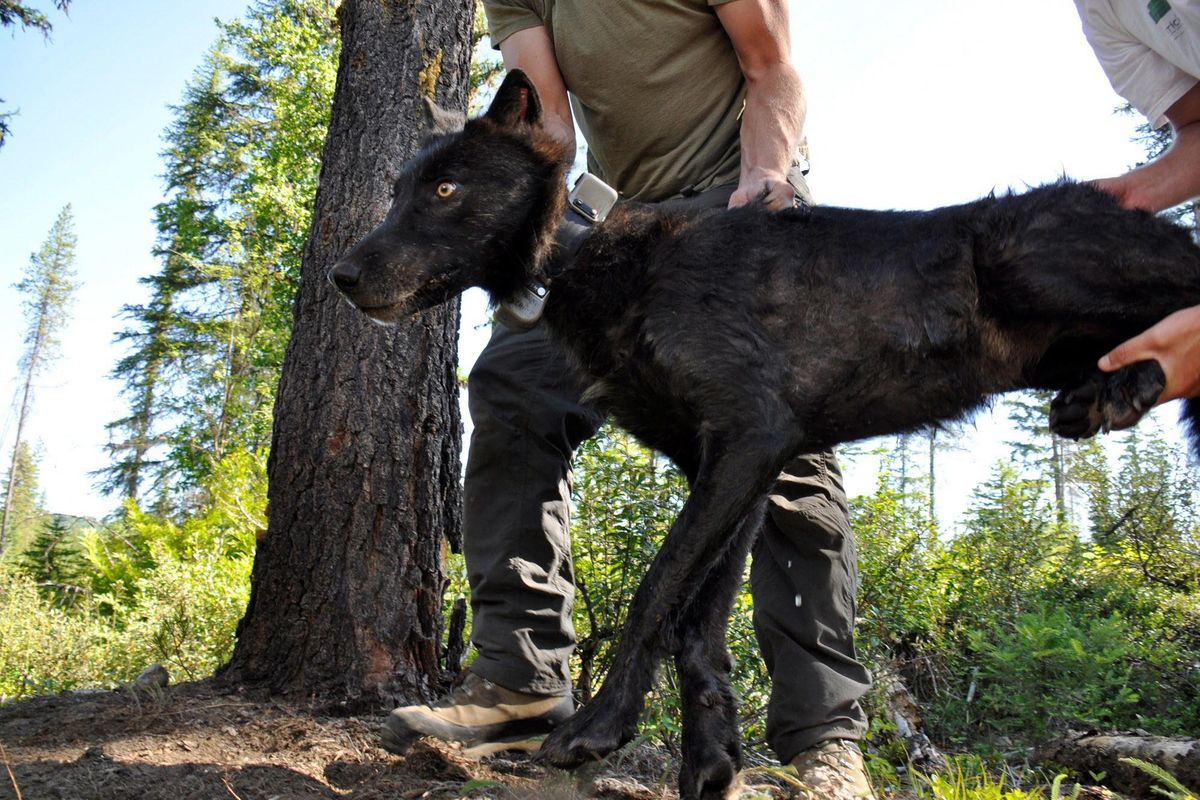 In this July 15, 2013 photo, a yearling female gray wolf is set in the shade by Washington Fish and Wildlife Department biologists so it can continue waking from the effect of tranquilizers after it was captured and fitted with ear tags and a GPS collar in Pend Oreille County in Washington state. (Rich Landers / The Spokesman-Review)
A wolf pack in northeast Washington with a history of attacking cattle will be targeted by state shooters this week.
The Washington Department of Fish and Wildlife announced the lethal removal order for the Old Profanity Territory wolf pack, Wednesday morning.
The pack inhabits the geographic area formerly lived in by the Profanity Peak Pack before WDFW killed seven pack members in 2016. Now, the OPT pack is credited with 20 depredations (seven killed cattle and 13 injured) since Sept. 5, according to the agency.
Environmental groups that have, in the past temporarily blocked similar orders, will not challenge this order in court, according to Sophia Ressler, the Center For Biological Diversity's Washington wildlife advocate.
WDFW's lethal removal policy allows killing wolves if they prey on livestock three times in a 30-day period or four times in a 10-month period.
Currently, two other packs sit just below the lethal threshold. Members of the Smackout Pack have killed four heifers since Oct. 14, while members of the Grouse Flats pack have killed a calf and injured a cow since Sept. 2. The Togo Pack was also on the bubble, but just recently enough time had elapsed for some of their 2018 depredations to no longer count.
In 2018, WDFW killed a juvenile member of the OPT pack and a breeding female following repeated depredations. Now, WDFW estimate the OPT pack to have 9 wolves in the pack, including four pups.
A minimum of 126 wolves, 27 packs and 15 breeding pairs were counted by WDFW during their annual winter survey. Wolves are protected by state endangered species rules in the eastern third of the state, while they remain federally protected in the western two-thirds of the state.
Since 2008, when WDFW first documented a pair of wolves in Okanogan county, wolf numbers have grown year after year.
"I think as we get wolves on the landscape, more and more, we're going to have more regular conflict, but it doesn't have to turn into that pattern where it's recurring," said WDFW Director Kelly Susewind in an interview Monday.
That's the intention behind the lethal removal order, Susewind said, to disrupt and change recurring wolf habits. But it's not the only tool wildlife managers use. In addition to lethal removal, WDFW also employes range riders, fladry (colored string or flags), foxlights (automated lights that flash randomly) and other nonlethal deterrents.
Susewind points out that the vast majority of wolves in Washington aren't killing or injuring cattle.
"Last year, we had three packs get in trouble out of 27 packs," he said.
Not sustainable
Still, both environmental groups and ranchers are calling the repeated wolf depredations, leading to lethal removal, unacceptable.
"When you're an agency that has a record of complete failure, over and over, again something needs to be done," said Rep. Joel Kretz, R-Wauconda.
Wolf depredations are hurting northeast Washington cattle ranchers, he said.
"You can't take those kind of losses and stay in business," he said. "We all know the risks when we live up here and we still choose to live here. We've had predator problems in the past but it's nothing like the wolves."
On the other side, Ressler, the attorney for the Center for Biological Diversity, said WDFW needs to stop killing wolves and invest more heavily in non-lethal deterrence.
"I think we were dismayed with this try-again, try-again method," she said of the lethal removal order. "We were hoping the department would come up with some different solutions this time."
Ressler referenced a 2018 study that found killing wolves may help ranchers in the immediate area, but actually pushes the wolves to other areas and does not reduce overall incidents.
And, a 2014 study found killing wolves actually led to more dead sheep and cows the following year. The study was authored by controversial former Washington State University professor Rob Wielgus.
Part of the issue, said Chris Bachman, the wildlife program director at the Spokane-based Lands Council, is that the cattle in the OPT pack area are dispersed throughout forested and mountainous public land. Land that limits the effectiveness of nonlethal deterrents.
"This doesn't surprise me that this conflict happened," he said. "The same thing is going to happen in that area unless we do something different as humans. The goal is to go in and change pack behavior. (Well) it's a lot easier to go in and change human behavior."
Wolf policy to change
As WDFW sharpshooters take to the hills this week, the policy developed by the Wolf Advisory Group is in the final stages of review following the passage of HB 2097 (which was sponsored by Kretz, among others). That policy was developed in 2016 by WDFW and its 18-member Wolf Advisory Group, which represents the concerns of environmentalists, hunters and livestock ranchers.
The bill calls for WDFW to consider the wolf population and recovery status of different regions when deciding how to deal with conflict.
The bill also directs the state to spend nearly $1 million over the next two years on nonlethal deterrents in northeast Washington.
The changes in the WAG policy will reflect the bill's new intent, said Donny Martorello, wolf policy lead for WDFW.
"The closer we are to recovery the less restrictive the use of lethal removal because the population is robust and strong and growing," he said. "(It gives us) more flexibility in areas where the wolf population is closer to recovery."
Martorello hopes that the new policy will be approved by the various members of the WAG and published online within a month.
"It's not tremendously different," Susewind said of the policy revision. "But it just allows a little more flexibility in those areas where we have a recovered level of wolves like the northeast."
Local journalism is essential.
Give directly to The Spokesman-Review's Northwest Passages community forums series -- which helps to offset the costs of several reporter and editor positions at the newspaper -- by using the easy options below. Gifts processed in this system are not tax deductible, but are predominately used to help meet the local financial requirements needed to receive national matching-grant funds.
Subscribe to the sports newsletter
Get the day's top sports headlines and breaking news delivered to your inbox by subscribing here.
---