News > Spokane
Wholesale market selling local flowers blooms in Spokane
July 11, 2019 Updated Thu., July 11, 2019 at 2:03 p.m. The displays at the Inland Northwest Flower Farmers Market in Spokane can't seem to contain themselves.
Carried from cars and arranged on tables, the blooming flowers burst from buckets and other containers during the wholesale market held every Wednesday morning at the Spokane Conservation District.
Local flower farmers launched the weekly market this year to provide florists, event coordinators and brides with an alternative to imported flowers.
"It's more about community and caring for one another and not competition," said Kim Lango, flower market organizer.
Lango also owns Prairie Sky Farms in Cheney, which boasts organic peach and apple orchards along with a selection of flowers.
The flower business is something Lango said fascinates her, and she said knowing the history of where Americans buy flowers is important.
Over 90% of flowers are imported because the U.S. government gave incentives to countries in Central and South America to grow flowers rather than growing cocaine, Lango said.
This seriously depressed the cost to import flowers, hurting U.S. growers. When that trend combined with an appetite among American buyers in the 1990s for small roses and gerbera daisies, Lango said the U.S. flower market was devastated.
But she is hopeful that it is on its way back.
"We have the ability to grow every type of flower in the continental U.S.," Lango said.
And she said there has been a recent push to revive the American flower market because it's more sustainable.
Urban flower farmer Tia Rojan sees an emerging trend of green weddings and wildflower bouquets.
Rojan started growing flowers 12 years ago at her Garland District home. At her urban farm In Bloom, she hosts floral arrangement parties, wedding workshops and flower-crown parties.
When Rojan can't grow all the flowers for a wedding, she follows the principle "grown not flown" and uses flowers from other local growers.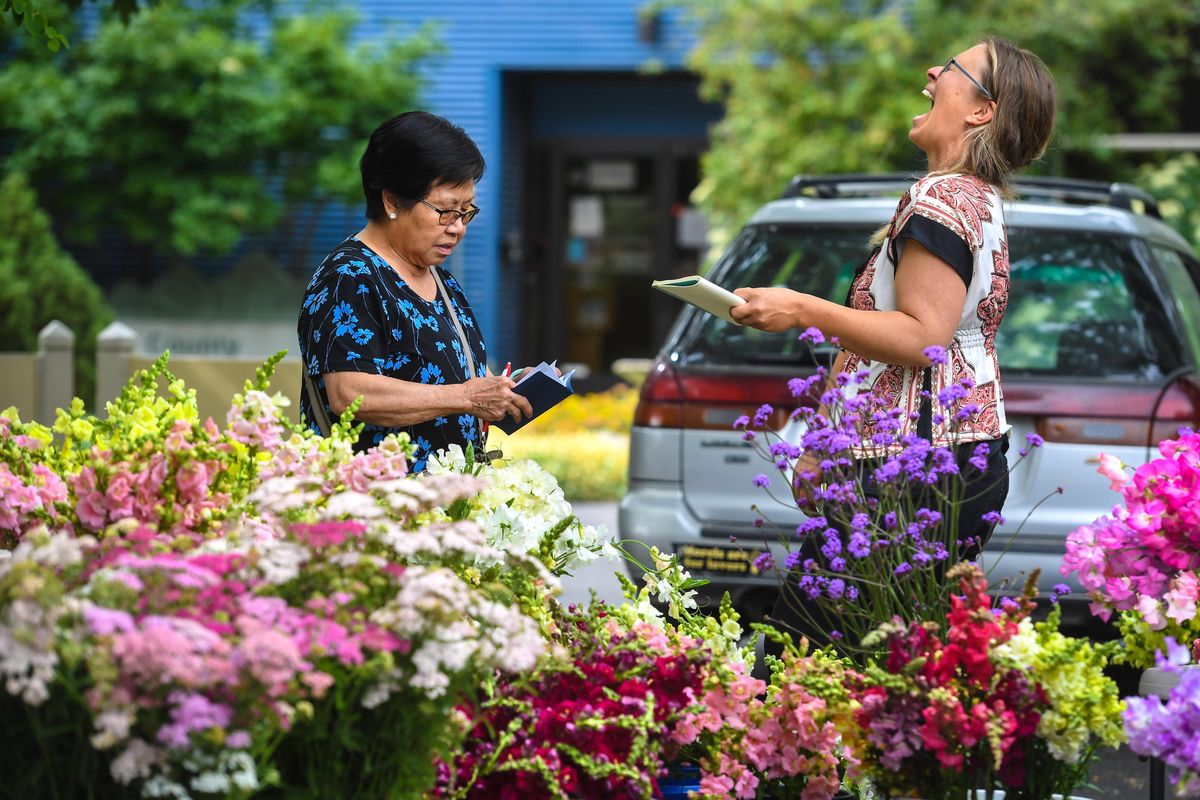 Beth Mort, of Snapdragon Flower Farm, right, breaks out in laughter while helping Gilded Lily owner Toi Mulligan, left, during the Inland Northwest Flower Farmers Market, Wednesday, July 10, 2019, at the Spokane County Conservation District. (Dan Pelle / The Spokesman-Review)
The 12 flower farmers at the market grow a large variety of flowers, from snapdragons to sunflowers.
While the farms are as unique as the farmers, they came together to form the Inland Northwest Flower Market this year for a common good: to help each other sell their flowers without having to go to a wholesaler or to individual florists.
The market has several florists who have become regular customers, including Toi Mulligan, owner of Monroe Street's The Gilded Lily.
She came to the first market the growers held and never looked back. The flowers are fresher and last longer than the flowers from wholesalers, Mulligan said.
Snapdragons from wholesalers, for example, come stiff and tall, Mulligan said.
"I want crazy. They have different shapes," Mulligan said of the snapdragons she finds at the Inland Northwest Flower Farmers Market. "I think there is more movement and beauty in the farmer-grown type."
Many of the growers started with large gardens and a passion for flowers.
Zandy Russell spent much of her life traveling the world with her husband, a U.S. government employee.
After her husband died seven years ago, she had a "big lifestyle change" that included lots of time in the garden.
Russell met some local flower farmers when she took a floral design class at Spokane Community College. Her teacher and classmates encouraged her to create a business from her massive garden – that business is Zandy's Garden.
"I gathered up my courage, and I bundled up the things that I had and started selling to the wholesalers," Russell said. "It worked, and I couldn't believe it."
With the creation of the Wednesday flower market, the flower farmers have created a tight-knit community.
"I love the camaraderie of the growers," Russell said. "We find out we all have the same problems."
The group shares tips and encourages each other, Lango said.
"I don't think I could have done it by myself," she said.
"It's the most delightful thing when you get a group of people with the same goals, all together supporting each other," said Kellie Rizzie of Cabbage Hill Flower Farm.
The group is proud of the progress the market has already made.
"I'm so excited and proud of us for what we've thrown together in a year," Rojan said.
The wholesale market had humble beginnings in the parking lot of Special Touch Florist in Mead.
Ester Ryan, who owns Special Touch and still shops the market every week, is a self-described "shop local proponent."
"It's one of those things for me. I love the relationships. I love the camaraderie, the fresh flowers, the varieties – I love everything about it," Ryan said.
The market has continued to change with the seasons. Shoppers can expect dahlias, snapdragons, sweet peas, hydrangeas, cosmos, zinnias and more until the market closes in September.
The market is open to individuals with reseller licenses from 7:30 to 9 a.m.
From 9 to 10 a.m., brides, event planners, restaurants and anyone else who wants to buy a large quantity of flowers can come and shop.
The market has a $100 minimum purchase, and brides are asked to email info@inwff.com in advance.
Local journalism is essential.
Give directly to The Spokesman-Review's Northwest Passages community forums series -- which helps to offset the costs of several reporter and editor positions at the newspaper -- by using the easy options below. Gifts processed in this system are not tax deductible, but are predominately used to help meet the local financial requirements needed to receive national matching-grant funds.
Subscribe now to get breaking news alerts in your email inbox
Get breaking news delivered to your inbox as it happens.
---