News > Spokane
Hundreds gather in Spokane to remember children who died in border detention centers
July 14, 2019 Updated Tue., July 16, 2019 at 3:59 p.m.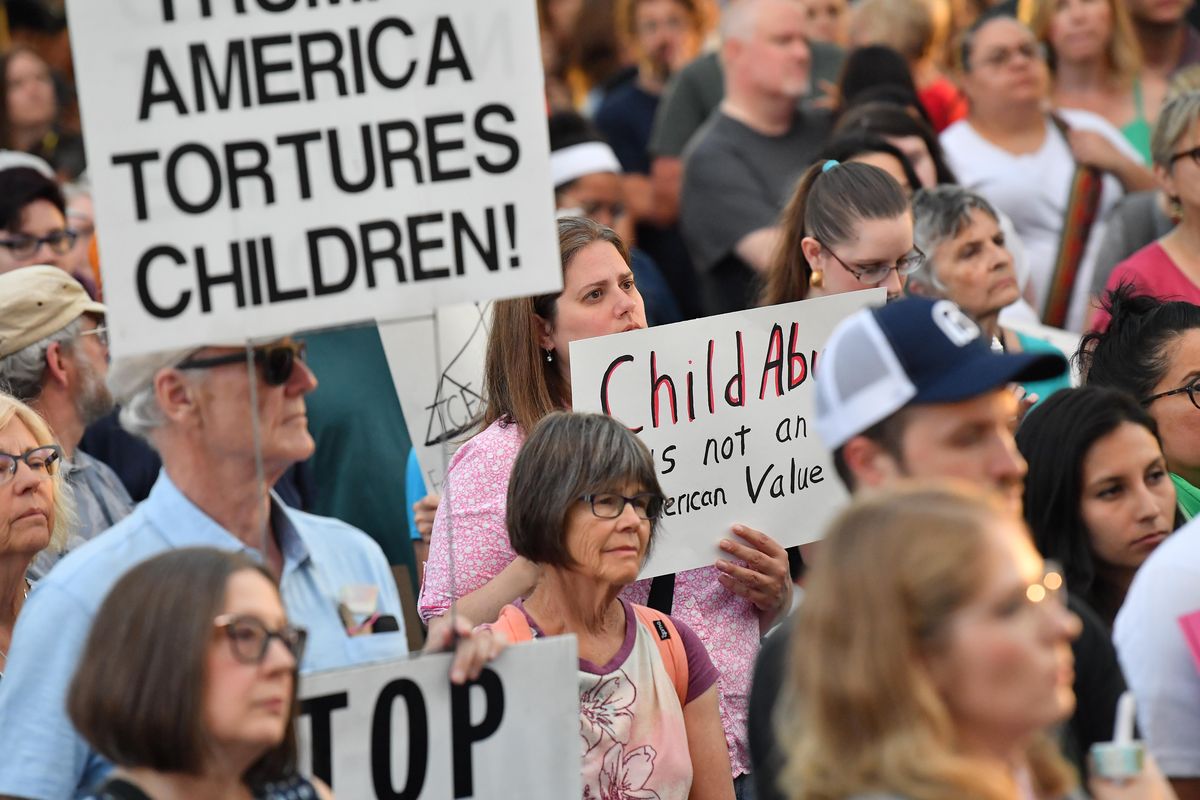 Protesters gather during a "Lights for Liberty" vigil on Friday, July 12, 2019, at Riverfront Park in Spokane, Washington. (Tyler Tjomsland / The Spokesman-Review)Buy a print of this photo
Hundreds gathered Friday evening at Spokane's Riverfront Park to take part in a vigil for immigrants who have died in U.S. Border Control custody, and Spokane Tribal Business Council Chairwoman Carol Evans spoke to the audience first.
She began with a prayer and continued with lament.
"Dear creator, we never, at this day and time, thought we would have to deal with this in the United States of America," Evans, said of the federal government's separation of parents and children.
But, she continued, "'Never again' has come again."
This time, she said, it came to the southern border of the United States, where immigrants are filed into detention centers and parents have been separated from their children.
Friday's vigil, called Lights for Liberty Spokane: End Detention Camps, was the local incarnation of a national day of remembrance for the immigrants who have died in border control custody. Raiz, a Planned Parenthood of Greater Washington and North Idaho program that focuses on the Latino community, organized the event.
Fernanda Mazcot, Raiz event organizer, said the immigration experience is personal.
She told the audience that when she was 4, she journeyed with her mother and two sisters from Mexico to the U.S., where her father was waiting for them.
She said her parents did this because they wanted a better life for their children. As a college graduate and a social worker, she said she has that better life but that she is less optimistic about the children making the trek today.
"I just cannot imagine being separated from my mother at such a young age in an unknown land," Mazcot told The Spokesman-Review.
Jennyfer Mesa, Latinos en Spokane founder, spoke about the experience of a Guatemalan family who recently arrived in Spokane after spending time in detention camps in Texas. (See related story.)
"There were three bathrooms for 200 people," Mesa told Friday's audience, describing the family's experience in the detention center. "No showers, no showers in days. There wasn't space to sleep, lights were on at all times."
The last speaker was Ingrid Sub Cuc, an indigenous Mayan from Guatemala who has dual citizenship in Guatemala and the United States. Sub Cuc's speech was a testimony to the treatment of indigenous people at the border, emphasizing that Mayans had been disproportionately affected by deaths in detention custody. Sub Cuc's words were a call to action, imploring the U.S. to take responsibility for its role in Central America and the damage inflicted upon Mayans in Guatemala.
"Seven children have so far passed away because of these policies," Sub Cuc told the crowd. "What hurts the most for me as an indigenous woman is that five out of those seven children are indigenous Guatemalan children."
In an emotionally charged moment, Sub Cuc called out the names of Mayan Guatemalans who died at the border and asked for a moment of silence. Many in the crowd were weeping or struggling to hold back tears. While she was speaking, organizers helped light candles and neighbors touched their flames to the wicks of those next to them.
"We gather here tonight with heavy hearts as we honor the memories of those who have passed away in custody of this country due to the brutal, inhumane, discriminatory policies that this country has decided to put on asylum seekers," Sub Cuc said.
For a few minutes, Sub Cuc held back from joining the march to the Department of Homeland Security office on West Caltaldo Avenue., receiving support and hugs from friends. Cupping her candle to shield it from wind, Sub Cuc told The Spokesman-Review that she did not think people in the U.S. understood the country's involvement in Central America.
"I think the U.S. has done a really good job of not sharing that part of their history," Sub Cuc said. "We all are ashamed of the things that we have done wrong, but we have to admit them when they are negatively affecting others."
During the march, an injured seagull was sitting on the sidewalk in front of the INB Performing Arts Center. With little hesitation, a woman scooped up the bird and announced she was taking it to the vet. The rest of the crowd marched on, amused, while onlookers at the Davenport Grand leaned over the balcony to discern the group's purpose.
Once the group arrived at the Department of Homeland Security, the crowd wrote messages to Homeland Security on bears cut from brown construction paper, using yarn to fasten them to the chain-link fence adjacent to the building. Many also leaned their handmade signs against the fence, and the crowd began chanting "Set them free! Let them stay!"
A native woman who had been circulating among the group since the beginning, offering smudging – a ritual that involves fanning smoke with an eagle feather to cleanse the body, mind and soul – continued until the crowd dispersed, the fragrant smoke hanging in the air.
Editor's note: This story was changed on Tuesday, July 16, 2019 to correct the location where the march went.
Local journalism is essential.
Give directly to The Spokesman-Review's Northwest Passages community forums series -- which helps to offset the costs of several reporter and editor positions at the newspaper -- by using the easy options below. Gifts processed in this system are not tax deductible, but are predominately used to help meet the local financial requirements needed to receive national matching-grant funds.
Subscribe now to get breaking news alerts in your email inbox
Get breaking news delivered to your inbox as it happens.
---