News > Spokane
'Who else is helping?': Latinos en Spokane works for safe, thriving community
Sun., July 14, 2019 Three weeks ago, the advocacy group Latinos en Spokane received a request for help from a member. The woman didn't know what to do: Her sister and niece had been released from a detention center in Texas, and one day after they arrived in Spokane they were served a notice to appear at a court hearing that might result in an order for their deporation.
"They had to present themselves at immigration court in Seattle," said Jennyfer Mesa, Latinos en Spokane founder. "Tell me, how does this family that was just spit out into the U.S. with nothing to their name get to Seattle? How are they supposed to pay for legal representation?"
The mother and daughter fled domestic violence in Guatemala and for seven days journeyed to the U.S. under cartel control. The journey culminated in a crossing of the Rio Grande by 14 immigrants, including the mother and daughter, on a raft manned by masked, armed cartel members. They were told to jump to shore – cartel members tossed a baby – and then the whole group ran, Mesa said.
"They're not running to sneak into the U.S.," Mesa said. "They're scared of where they came from, they're scared of being in the hands of the cartel, and they're looking for the U.S. for help."
After being caught by the U.S. Border Patrol, the mother and daughter were processed into the detention centers. They were initially placed together in the Border Patrol's McAllen Station, Mesa said. They were then transferred to another Border Patrol facility in Texas – Weslaco Station – where they were put into separate cages, according to Mesa.
The Weslaco facility has been the site of at least one detainee's death. Carlos Gregorio Hernandez-Vasquez, a 16-year-old Guatemalan boy, died of influenza in Weslaco on May 20.
Their total stay in detention was 4 1/2 days.
"The daughter suffered a lot being there," Mesa said. "She was scared, she doesn't speak English. … Her mom told her one of the guards will call her name later, don't go to sleep. If they call your name and you're distracted, you'll stay there for extra days."
Latinos en Spokane connected the family with resources from the Spokane Immigrants Rights Coalition.
Mesa finds it painful to talk about what happened to this mother and her 13-year-old daughter. Painful but necessary, and that's what she addressed at Lights for Liberty, a candlelight vigil at Riverfront Park on Friday that was organized by Raiz, a Planned Parenthood of Greater Washington and North Idaho program that works with the Latino community.
"After helping a directly impacted family that was in horrific detention centers, our hope is to raise awareness on the impacts of a broken immigration system, what is happening with asylum seekers, how families are being separated and how there are kids in cages, because we're becoming desensitized," said Mesa, who is also on the Spokane Immigrant Rights Coalition steering committee.
While detained, mother and daughter were given small cups of water every four hours that tasted of Alka-Seltzer, Mesa said. Those who didn't get a cup had to dig one out of the trash can. They were given one ham sandwich a day, no feminine products, and their personal belongings including hair ties and shoelaces were taken away. Children were screaming 24 hours a day, Mesa said, recounting her conversations with the mother and daughter.
Mesa said the family felt safer with the cartel than in Border Patrol custody.
A family member confirmed Mesa's account with The Spokesman-Review but was not comfortable speaking with the paper on record.
"They went to Walmart the other day, and she gets these attacks because she sees high ceilings and it reminds her of where she was," Mesa said.
Latinos en Spokane coordinated with the Spokane Immigrants Rights Coalition to get the family basic necessities and money for legal counsel. The attorney was able to get the deportation hearing delayed until fall, which gives the family time to build their case. The daughter doesn't feel free yet, but Mesa asked her what she would want to be when she grows up, if she is able to stay and attend school in the U.S. The answer? A border patrol agent.
"That has driven me and inspired me so much, because I've never met anybody that's braver than her," Mesa said.
Latinos en Spokane set up a GoFundMe a week ago to raise money for the family's continuing legal fees. Thus far, Latinos en Spokane's fundraiser has raised over $1,000, with a goal of $6,000.
Mesa spent much of her childhood in Miami, but when she moved from Mexico City to Spokane in 2011, she experienced a culture shock. The creation of Latinos en Spokane was the result of her and other community members' quest for connection.
"We don't have any international districts or anything like that here," Mesa said. "Spokane is very special in its structure, in that it's sprawled and we haven't really been able to form places."
They decided to build the group on Facebook about a year and a half ago, with the idea of connecting the Latino community. At first, the only members were around 100 friends and friends of friends, but the network quickly grew and now has about 1,800 members.
"Washington has been welcoming immigrants into the state since the 1940s, so we have first, second, third and even fourth generations here," Mesa said. "They're not counted, they're not integrated and they've been siloed off into these other communities where there's this otherness to them."
The volunteer-based organization builds community in various ways, but one of Latinos en Spokane's primary strategies is to host workshops in libraries, bilingual churches, restaurants and even through videos posted to their page, because some people don't feel comfortable coming in due to their citizenship status. The workshops provide information about a variety of topics such as immigrants' rights, applying for scholarships, avoiding immigration fraud starting a business and, coming in August, bilingual services.
"We have a lot of entrepreneurs in our community," Mesa said. "Immigrants are typically the drivers for small businesses in major cities, so we want to support the community that's here and connect them with resources."
Not to mention, Mesa added, laughing, "Who doesn't want more tamales and more amazing food?"
Latinos en Spokane listens to the community when building the workshops, and Mesa says the most popular ones are those that focus on topics like reporting discrimination and U.S. Immigration and Customs Enforcement arrests, legal representation, and immigrants' rights.
Latinos en Spokane, Spokane Immigrants Rights Coalition and the American Civil Liberties Union have accused the Border Patrol of unlawfully detaining people and racial profiling on Greyhound buses at Spokane's Intermodal Center.
The agency has dismissed criticisms that the searches are unlawful, saying the Intermodal Center – about 93 miles from Canada – is just within a 100-mile zone within which federal law permits them to conduct searches without warrants on privately owned buses.
Mesa, originally from Medellin, Colombia, knows firsthand the struggle to gain citizenship. She gained her citizenship about a month ago, after a process that took 30 years and cost about $30,000.
"I'm going to vote with intention," Mesa said. "I've never been able to vote, so I am looking forward to voting."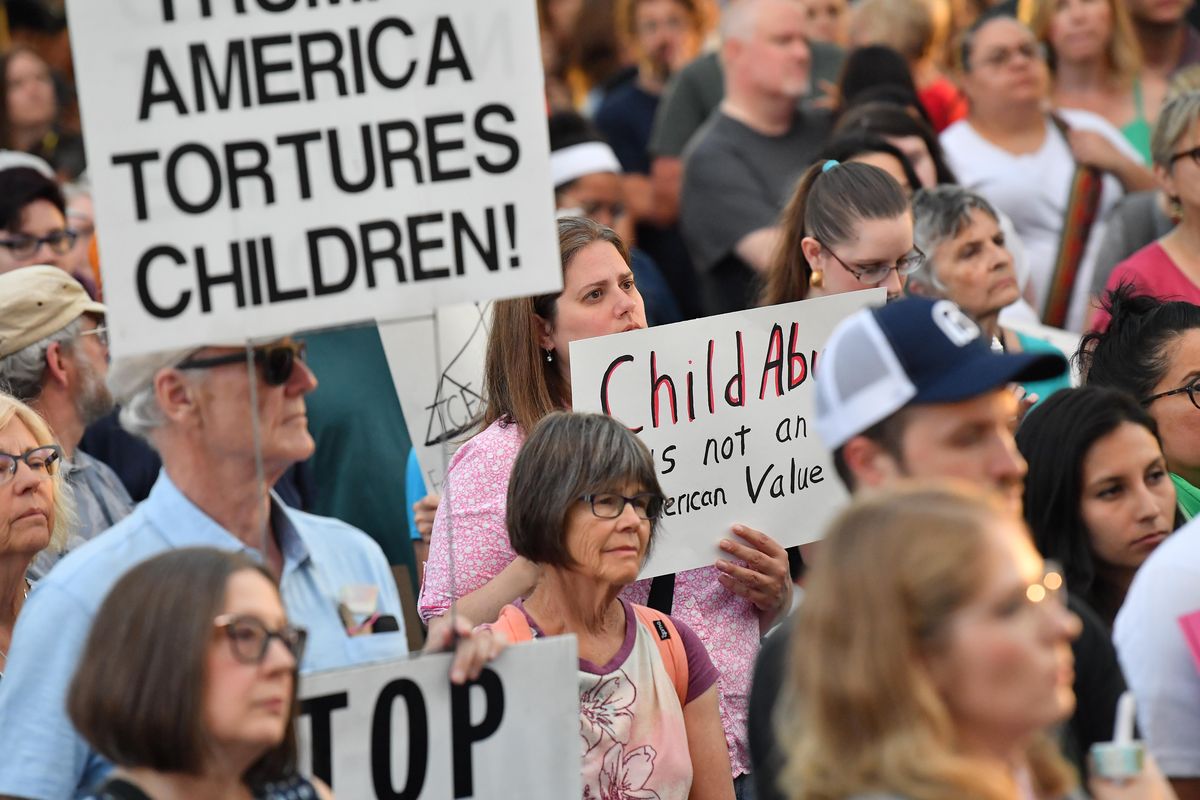 Protesters gather during a "Lights for Liberty" vigil on Friday, July 12, 2019, at Riverfront Park in Spokane, Washington. (Tyler Tjomsland / The Spokesman-Review)
Mesa said she has been inspired by the Deferred Action for Childhood Arrivals generation.
"They're out and they're loud," Mesa said. "I was told to remain quiet and silent and never say anything. … I think it's important not to normalize what we have and what we're going through."
She was one of the first people SIRC helped, and she has actively worked with the organization to help others. But Mesa said she needs all hands on deck to deal with the problems at the border.
"This is a race issue, this is an LGBTQ issue because we've seen trans lives that have died at the border," Mesa said. "This is a serious climate issue because people are fleeing land that once functioned for them and for their families for generations and have been taken over a lot of times by American corporations. This is a human rights issue."
Most importantly, Mesa said, there are children in cages.
If people outside the Latino community want to help – outside of providing funding and living necessities to those in need – they need to step up and have difficult conversations, Mesa said. She said her son, a U.S. citizen born in Mexico City, has had more difficulty than his younger sister because he has darker skin.
"As soon as (President) Donald Trump was in the primaries, he hated school because [kids said] 'We're going to deport you' or 'Good luck with Donald Trump,'" Mesa said.
Mesa explained the situation to their children in age-appropriate ways. With her younger daughter, she said some mommies and daddies can't be with their kids because they're from different countries and they come to the U.S. trying to get help.
"When I got my citizenship and we celebrated our citizenship, she said, 'Mommy can stay here, I know I have the same status as her,'" Mesa said. "But I never told her that I would be taken away."
Prior to becoming a citizen, Mesa was a resident, so she did not have to worry about being deported as much as other immigrants and said that it's important to acknowledge this privilege. Latinos en Spokane's work is entirely volunteer, and members worry they will miss a call like the one about the mother and daughter if the group isn't listening.
"If you know any organizers in your community, give them a hug because it's a hard time to be organizing," Mesa said. "I have my days where I can't. I have to disconnect from news, however, I don't want to disconnect. We need to be ready to help our community. If organizers don't step up, who else is helping? Some families are in fear of going to authorities, going to hospitals, and even afraid of taking a bus here in Spokane."
Local journalism is essential.
Give directly to The Spokesman-Review's Northwest Passages community forums series -- which helps to offset the costs of several reporter and editor positions at the newspaper -- by using the easy options below. Gifts processed in this system are not tax deductible, but are predominately used to help meet the local financial requirements needed to receive national matching-grant funds.
Subscribe now to get breaking news alerts in your email inbox
Get breaking news delivered to your inbox as it happens.
---