Sports
A Grip on Sports: For once, the hype actually was exceeded by an epic reality as Djokovic outlasts Federer
Mon., July 15, 2019 A GRIP ON SPORTS • It's rare that a commotion on Twitter gets me interested in what's happening in a sporting event. But yesterday morning the tweets were blazing around the net almost as fast tennis balls at Wimbledon. Which was appropriate.
•••••••
• The word epic is thrown around way too much. The Iliad is an epic adventure. The Battle of Gettysburg was an epic event.
A round of golf on a Friday morning? A game won with a 3-pointer at the buzzer? A game-winning field goal from 50-yards out? Probably not truly epic.
But maybe yesterday's Wimbledon men's final between tennis' current definition of the GOAT, Roger Federer, and his grass-court nemesis, Novak Djokovic, really was.
Though we will never know. And by "we," I really mean me. Mainly because I didn't see any of it after the first set. Other responsibilities kept me from a television set until late in the afternoon, so even though it was the longest Wimbledon final in history – despite using tiebreakers in three of the five sets, including the fifth for the first time – it didn't last long enough for me.
Even if it lasted a bit too long for Federer.
He had a chance, a couple of them actually, to put away his 21st Grand Slam final. And couldn't get it done. It was Djokovic, who has always been derided for his mental foibles, who was tougher on key points in this one. That ultimately was the difference as he won his second consecutive Wimbledon title and his fifth overall.
Though Federer, 37, has the most singles titles, it has been Djokovic, five years younger, who has won the most Grand Slam finals in this decade. Since 2011 began he's won 15 of a possible 35 titles. That's pretty good. And gives him a chance to surpass Federer's total someday.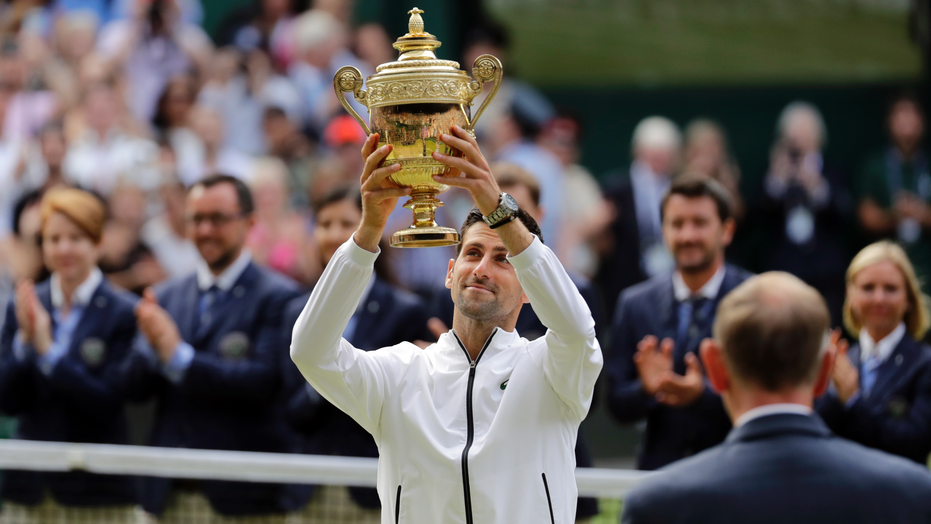 But who knows? Federer won his 16th Grand Slam title, the trophy Djokovic picked up yesterday, in 2010, when he was 28 years old. It gets tougher to win – and stay healthy – with every passing year. Since then only in 2017 did he win more than one title and he went six years with only a single Wimbledon crown to show for his effort.
Matches like yesterday – everyone tells me it was spectacular – take a lot out of both players. But for Djokovic, who for years was criticized for not being able to get through high-pressure situations, it is just another in a long line of tournament wins that showed not only that he's getting better with age but that us "experts" aren't, you know, all that expert.
Good for him. And good for tennis for making the world go all atwitter. For one day at least.
• Along those lines, I am continually amazed when folks say they don't watch this sport or that sport, because it's "boring." OK, I get it … if you are talking about cricket. But every sport has something to offer, from soccer to baseball, from tennis to volleyball.
Yes, some sports are more exciting than others. But for the life of me I don't understand how someone couldn't watch Raúl Ruidiaz's goal yesterday for the Sounders and not be impressed by his athleticism and grace. Or watch Federer stretch to reach a slicing backhand and return it with power and accuracy without being awed by his ability. Or watch any play from a variety of sports and not understand the beauty and grace it takes to make it happen.
I may not understand many sports. Or "get" them at the level their deepest fans do. But I appreciate them all, from table tennis to golf, from soccer to lacrosse.
Not cricket, though. All the spiked tea in the world couldn't get me through one of those competitions.
• The Spokane Library is holding a panel discussion Tuesday night with four local Olympians. John Blanchette, who is an Olympic-level writer, will moderate. Dan Thompson has more information in this story.
•••
Gonzaga: Brandon Clarke blocking shots. Dunking. Former Eastern star Tyler Harvey nailing 3-pointers. It was enough to lead Memphis into the NBA's summer league finals. … We go a little far afield for this Rui Hachimura story.
WSU: Redemption comes in many forms. Ryan Leaf is finding his. It's led him to ESPN as a college football analyst. … Elsewhere in the Pac-12, Utah is pretty hyped about the hype. Now the Utes need to live up to it. … Arizona State is trying to upgrade its secondary.
EWU: Around the Big Sky, Weber State is the conference's President's Cup winner.
Indians: When is a home run not a home run? When a team protests vehemently and the umpires decide to change their mind. Such was the case in Spokane's 6-3 loss to Everett last night, though the Indians' disallowed two-run, ninth-inning blast may not have changed the outcome. Dave Nichols has more in this story. … Elsewhere in the Northwest League, Eugene rolled to a win over Salem-Keizer.
Mariners: If you had a week after the All-Star Game before the M's won again, you might be right. They haven't yet, after blowing a two-run lead in a 6-3 loss at Anaheim. … Baseball has to do something about the overabundance of home runs. Larry Stone feels it is getting ridiculous. He's right. … Edgar Martinez was anything but, and he's about to be enshrined in the Hall of Fame. He never forgot his roots. … A step back did Justus Sheffield some good.
Sounders: Ruidiaz and Harry Shipp each scored as Seattle defeated defending MLS Cup champion Atlanta 2-1 at CenturyLink.
•••       
• I am a sucker for a certain type of movie. And Beatles music. Finally saw "Yesterday" yesterday. Yes, I am a sucker for a certain type of movie. And Beatles music. Until later …
Local journalism is essential.
Give directly to The Spokesman-Review's Northwest Passages community forums series -- which helps to offset the costs of several reporter and editor positions at the newspaper -- by using the easy options below. Gifts processed in this system are not tax deductible, but are predominately used to help meet the local financial requirements needed to receive national matching-grant funds.
Subscribe to the sports newsletter
Get the day's top sports headlines and breaking news delivered to your inbox by subscribing here.
---