Sports
A Grip on Sports: Once again, Eastern Washington is expected to finish atop the Big Sky Conference football standings
Tue., July 16, 2019 A GRIP ON SPORTS • Summer, we hardly knew you. But, sadly, we have to say goodbye. Fall is unofficially here. How do we know? A local conference held the first football media day of the year yesterday, and it happened to be in Spokane.
•••••••
• The Big Sky Conference came to its second-biggest city yesterday to look forward to another more-than-likely-to-be successful football season. Aren't they all? At least for the conference with the third-most FCS titles, behind the Southern and, basically, North Dakota State.
Even with the former flagship program of the conference, Montana, still deep in a football funk that has lasted about a decade, the Big Sky is a force to be reckoned with. Mainly because of the school in Cheney.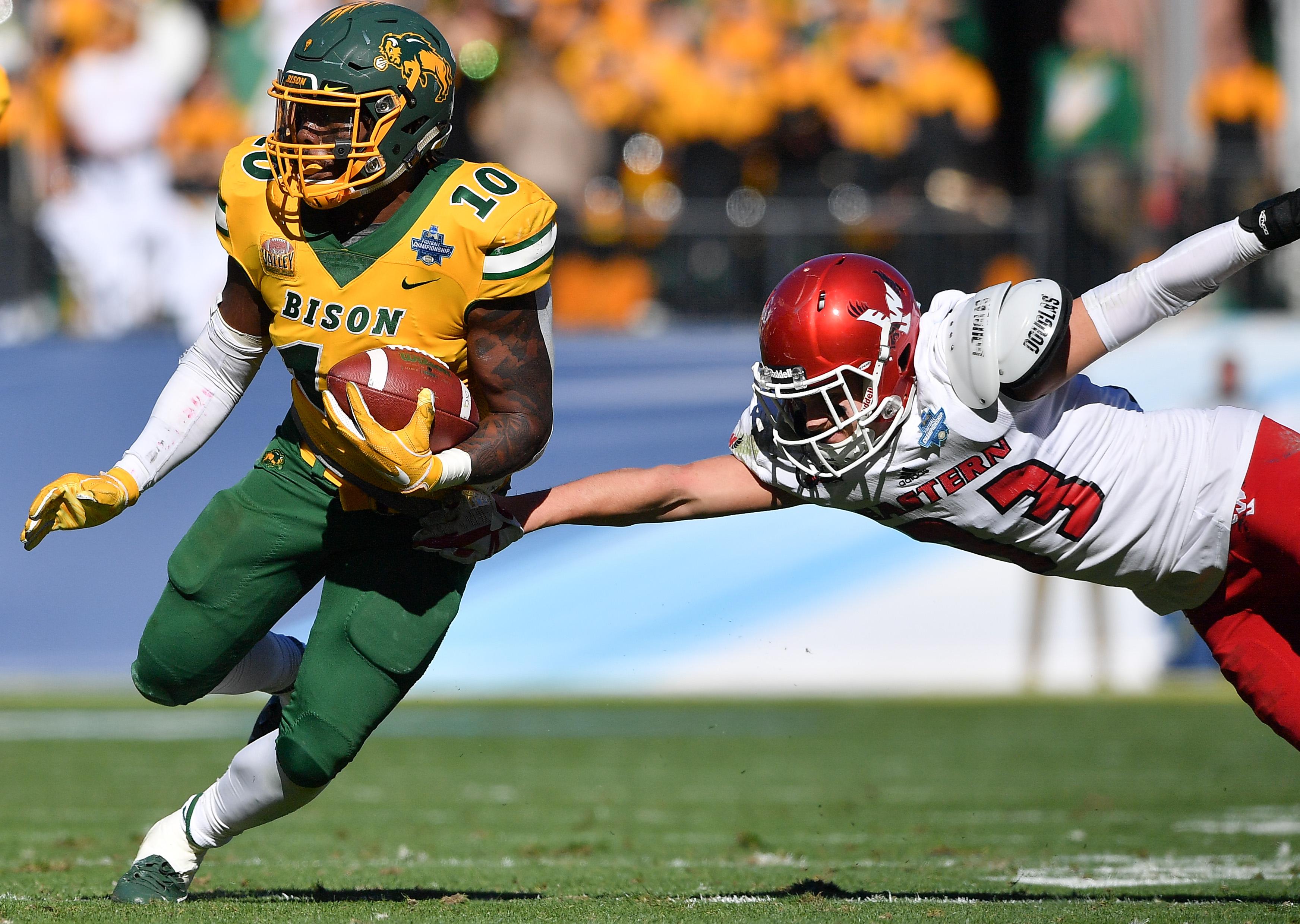 Eastern Washington has won just the one FCS title, in 2010. But the Eagles have been among the nation's best for more than a decade, including last season when they tied for the conference crown.
Oops, buried the lede there. "Tied for the conference title" should have read "played for the national title."
Aaron Best's team navigated its way through the FCS playoff gauntlet into the inevitable showdown with seven-time champion North Dakota State in the Frisco, Texas, finals.
It wasn't easy getting there, considering the inordinate amount of injuries the Eagles suffered to experienced players, many of them seniors.
That pain led to a surprisingly high number of returnees this upcoming season, as a few Eastern players received a sixth year of eligibility from the suddenly-generous NCAA.
All of that, the conference title, the playoff run, the unexpected return of key players, added up to respect for the Eagles by the Big Sky coaches and media, which both picked them to win the conference title again this season.
Which guarantees? Well, absolutely nothing. But it certainly is better than being picked to finish last.
Funny thing, though. Eastern is expected to win the conference title. And yet just one Eagle, offensive tackle Chris Schlichting, was named to the preseason all-conference team. Wow, he must be exceptional. He is, but, actually, it speaks to the depth the Eagles have developed, not an easy thing to do in a division with 65 scholarships.
Best's group may not have the stars of the past, but it has a bunch of guys who play hard, compete and, in many spots, are just plain better than the Big Sky competition. That's not a bad formula.
A formula one would expect from a team coached by a former offensive lineman.
• Trivia question: There were two undefeated FCS schools last football season. One was national champion North Dakota State, which finished 15-0. Can you name the other?
• We passed along a story yesterday about Olympians speaking at a downtown library function. Well, a sub is checking in. John Stockton will come off the bench to fill out the team for the panel discussion.
•••
Gonzaga: Brandon Clarke didn't just shine in the NBA's summer league, he dominated. The GU product was named MVP Monday and then led Memphis' group to the championship.
WSU: Around the Pac-12, it's also preseason watch list time. Oregon has a few players making the catalog of players, as does Arizona. … Colorado doesn't know what to expect from its inside linebackers. … We also can pass along an Oregon State basketball story.
EWU: We mentioned the Big Sky Conference media festival above, but we didn't mention Ryan Collingwood was in attendance. He has a story on the preseason picks as well as one on the Eastern players in attendance. … Larry Weir was also there, talking with a couple of conference broadcasters for the latest Press Box Pod. … Ryan also has a follow-up story to the shooting of two EWU football players over the weekend. They are doing well, all things expected. … Elsewhere in the Big Sky, the coverage of the media day events varied, with Montana, as per usual, the most in-depth. But there is also stories with news from Weber State, Montana State, UC Davis, Northern Colorado and Idaho State. … There is also basketball news from Idaho State concerning new coach Ryan Looney's contract.
Indians: An eighth-inning home run lifted Spokane to a 5-4 victory over Everett and alone into first place. Dave Nichols was at Avista Stadium last night and has all the particulars in this game story. … Elsewhere in the Northwest League, Eugene lost at Boise.
Mariners: There was no game last night, but Jerry Dipoto was still really excited. … No, it's not because the bullpen is changing again.
Seahawks: Every time a player on another team signs a contract, the Hawks feel a future cap-space hit.
•••
• If you answered Princeton to our FCS trivia question, you would be correct. The Ivy League champions finished the regular season 10-0 and, as per conference rules, watched the FCS playoffs on TV like the rest of us. Studies and all that. Until later …
Subscribe to the sports newsletter
Get the day's top sports headlines and breaking news delivered to your inbox by subscribing here.
You have been successfully subscribed!
There was a problem subscribing you to the newsletter. Double check your email and try again, or email
webteam@spokesman.com
---