News > Spokane
Custodian describes chaotic shooting scene inside Freeman High School
July 18, 2019 Updated Thu., July 18, 2019 at 9:52 p.m.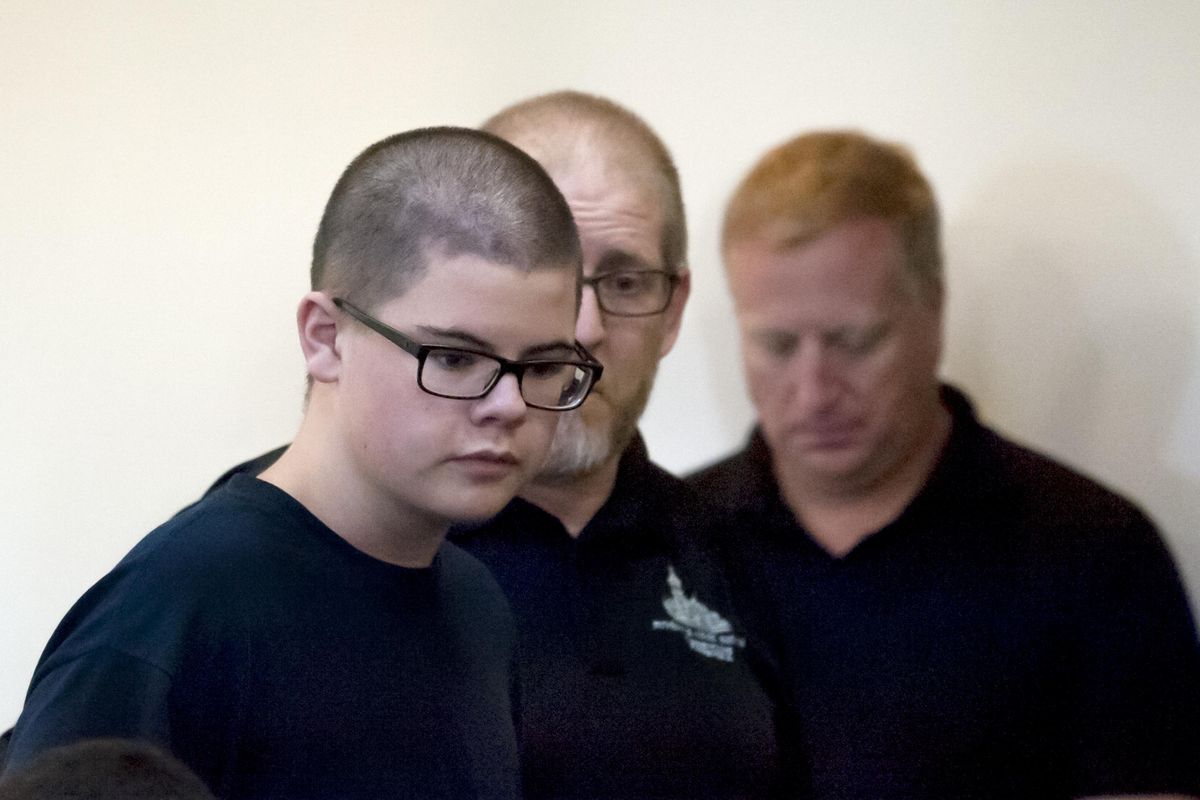 Caleb Sharpe, 15, walks into a packed Spokane County Juvenile Courtroom on Sept. 27, 2017. (Kathy Plonka / The Spokesman-Review)
Freeman High School custodian Joe Bowen launched Sept. 13, 2017, like most days. He unlocked all the doors to the school before marching up to fix two toilets in the girl's bathroom on the second floor.
Bowen fixed one toilet and had started on the second when he heard a series of pops.
"Initially, I thought, 'Which one of these kids brought firecrackers to the school?' " Bowen said. "Then I thought maybe Mr. John Hays exploded some experiment … or science project," which had happened before.
"Immediately I heard screaming," Bowen said, "screaming you can't even describe."
After days of hearing from psychiatrists, psychologists, doctors and other experts, Bowen for the first time brought the terror of the school shooting back to life as he described those first chaotic moments that forever changed Freeman and ended the life of 15-year-old Sam Strahan.
His testimony was the most compelling, and emotional, of all the testimony thus far in the hearing in which Superior Court Judge Michael Price will decide whether accused shooter Caleb Sharpe, now 17, should stand trial for first-degree murder as an adult or a juvenile.
Prosecutors also charged Sharpe with three counts of attempted first-degree murder for the three girls who were wounded and 51 counts of second-degree assault for the students put in danger by the shooting.
Defense attorney Bevan Maxey has brought in experts to show that Sharpe likely suffered a low-oxygen or a low-blood event at or around his birth which caused an injury to his brain. As a result, the experts testified that Sharpe's brain did not develop normally, which may explain his world view, how he interacted with others and what caused him problems at school.
If Price keeps Sharpe's case in juvenile court and he is convicted, he would be released at age 21 without any supervision. Conversely, Sharpe faces a potential of life in prison if Price "declines" the case and prosecutors try him as an adult.
Bowen said he didn't know Sharpe as well as some kids, but he remembers seeing him virtually every day that school year. So after he heard the series of pops, Bowen said he walked outside into the hallway armed only with a Gerber multitool, which had its flat-head screwdriver attachment deployed.
The first person he saw was Sharpe, who was standing about 10 feet away. Sharpe was wearing a black jacket and a gray Carhartt stocking cap.
"I turned and look down the hallway. I observed a young female laying in the hallway. Another young lady knelt down beside her. The girls were screaming intensely," Bowen said.
He also noticed white powder covering the entire hallway "like an (improved explosive device) had gone off."
Bowen said school officials previously had staged "mockups" to prepare students how to react to emergencies.
"I thought, 'Who scheduled a mockup and didn't tell me?' " Bowen said. "Then I realized this is a shooting. All of this happened in milliseconds."
Bowen, a U.S. Air Force veteran, turned his attention back to Sharpe.
"I looked at him. I remembered Columbine. There is usually a second shooter. I thought, 'Where is the other one?' I looked back at (Sharpe). I ordered him to go to the ground. He stared at me."
Bowen repeated the command, this time with saltier language. "He said, 'OK.' He peeled off his hat and went to the floor."
Bowen approached the then-15-year-old sophomore known for hanging out with the "gamer" crowd, as Bowen called it.
"I put my knee on his back and my Gerber to his neck and said, 'Don't F-ing move,' " Bowen said.
About that time, Hays, the science teacher, went to provide care to the wounded girl in the hallway. Bowen said that's when he saw Spokane Sheriff's Deputy Ron Nye, the school's resources officer, come into view.
"I said, 'Ron, I have the shooter.' (Nye) entered with a long rifle. He said, 'You have what?' I have the shooter," Bowen said. "He took possession of Mr. Sharpe and handcuffed him."
Bowen got up to see if he could assist Hays, who was caring for the injured girl.
"He said, 'There is a rifle in my room,'" Bowen said of Hays. "I proceeded into the doorway. There was an AR (15) on the ground. When I looked towards the back wall, kids were screaming."
Bowen said he remembers thinking that he didn't want to put his fingerprints on the gun, or worse, get shot by responding deputies who might mistake him as the shooter.
He used the multitool to pick up the rifle and walked back into the hallway. That's when he first noticed a handgun. "I gently nudged it with my foot down to Mr. Nye."
Deputy Brian Lawler then arrived and took possession of the weapons. "Then I turned back towards the girls to see if I could help," Bowen said.
Hays was speaking to the injured girl, who was screaming. "He talked to her like a doctor. He told her what was wrong and what they were going to do to fix her. She calmed right down."
Bowen then said he noticed a leg. "There was blood all over the floor. I approached the individual," later identified as Sam Strahan. "He had blood coming out of his abdomen and blood out of his face."
At that moment in the testimony, a distraught Ami Strahan, mother of the victim, got up and rushed out of the courtroom.
Bowen said Sam Strahan's face was "twitching and I thought there's still life. Then I got near and saw him. Then I thought, 'No, muscle spasms.' "
By this time, a small army of responding law-enforcement personnel began flooding the school and emergency-medical responders were arriving to care for the injured girls.
"It just got chaotic," Bowen said. "I have a master key to open every room. I assisted them clearing classrooms."
Bowen followed several sets of deputies as they opened doors, checked for more shooters and began clearing students away from the scene.
"They were nervous," Bowen said of the deputies. "Some rooms were cleared five or six times."
Bowen knows every room. He told deputies what to expect, such as lockers to the right or a counter on the left, every time they searched a new classroom.
Every room they entered "you'd hear screams, kids scurrying about and then I would direct them out," he said. "I saw one of the parents of the victims. Then I heard law enforcement say they needed to review video."
Bowen walked deputies to the video system and they immediately began scanning every camera looking for information about what had just happened. They found video of Caleb Sharpe with a black golf bag entering one of the doors that Bowen had earlier unlocked and it was later determined to be how he got the AR-15 semi-automatic rifle and 20 boxes of ammunition into the school.
Court records later describe how the video cameras captured Sharpe working the action of the AR-15, which jammed. He then grabbed a handgun from his coat before shooting Sam in the face and abdomen.
Spokane County Prosecutor Larry Haskell asked Bowen about how the shooting impacted both the students and the faculty at the school.
"When kids started coming back to school … many kids were crying. They were scared, still, in the building," Bowen said.
After the shooting, school officials installed several more cameras, upgraded to bullet-resistant windows and now make all students come through one set of doors. The back door that Sharpe entered now has an alarm that sounds if anyone tries to open it.
"There are staff members who are scared of that door to this day," Bowen said. "The students on that floor where it happened have seen what they have seen. There will be a constant memory of what happened."
Bowen can't climb those stairs to the second floor without thinking of that day and those screams.
Last September, Bowen walked up the stairs and looked down that hallway, the one that forever changed Freeman.
"There was an individual kneeling against the wall," Bowen said. "I almost peed myself."
The image brought all the fear rushing back as his mind processed who it was.
"It was one of the parents who was having a hard time near the anniversary," Bowen said. "There was nothing I could do to console the person, but I tried."
Local journalism is essential.
Give directly to The Spokesman-Review's Northwest Passages community forums series -- which helps to offset the costs of several reporter and editor positions at the newspaper -- by using the easy options below. Gifts processed in this system are not tax deductible, but are predominately used to help meet the local financial requirements needed to receive national matching-grant funds.
Subscribe now to get breaking news alerts in your email inbox
Get breaking news delivered to your inbox as it happens.
---