News > Spokane
Opposition persists as new Spokane regional emergency communications center opens
July 18, 2019 Updated Fri., July 19, 2019 at 2:36 p.m. To the local and county officials gathered inside the region's new emergency communications center on Thursday, its opening was a long time coming.
But to the dozens picketing outside, it never should have come to this.
Spokane Regional Emergency Communications celebrated its opening on Thursday with a news conference and tour of the Combined Communications Building as the union representing City of Spokane fire dispatchers picketed outside.
Known as SREC, the center launched operations on July 1. It's the start of what proponents believe will be a more efficient and sustainable way to facilitate emergency communications across Spokane County – all by bringing communications services for multiple agencies under one roof.
"I appreciate the fact that this has been stressful, but ultimately, this is going to be one of the best things that happens to this community," said Spokane County Sheriff Ozzie Knezovich. "We are the dinosaur. Spokane County was the last agency our size to go regional, and it's about time."
Spokane County Commissioner Mary Kuney described the center as an "example of the benefits of regional collaboration."
"This is significant, and it is a milestone for us to improve our current operations and prepare for future technologies in public safety communications," Kuney said.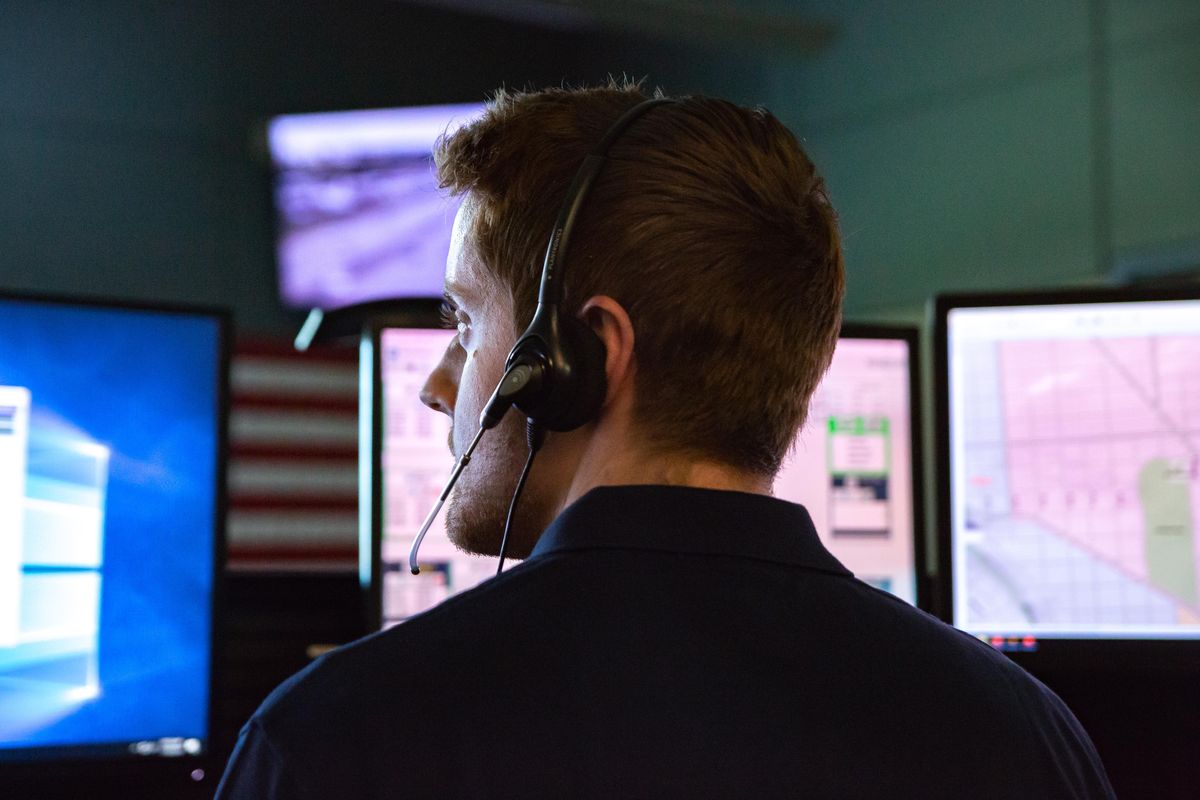 Chris Drohan, fire communications officer, works in the fire dispatch area at the new Spokane Regional Emergency Center (SREC), on Thursday, July 18, 2019 at 1620 N. Rebecca Street in Spokane, WA. Last year, 553,495 calls were received between 911, Crime Check, law enforcement, fire and medical response agencies. (Libby Kamrowski / The Spokesman-Review)
But the new center, formed under a public development authority created by the Spokane County Board of Commissioners, continues to face stiff opposition and a myriad of questions from members of the Spokane City Council and Spokane Firefighters Local 29, who have asked for more clarity on its financial ramifications to both the city and dispatch employees.
"The business meetings I sat in on, I felt like I was being sold a timeshare," said Tim Archer, president of the Spokane Firefighters Local 29.
Put simply, the center will improve outcomes, according to Bryan Collins, board chair of the new center and Spokane Valley Fire Chief.
Law enforcement, fire and EMS partners will all have access to "and share the same information in real time in the future, which was not happening and was not a practice in the past," Collins said.
The center will offer reduced call times, thanks to technology and procedural improvements. Bringing agencies under one roof will increase staffing flexibility and standardize the approach to "continuous quality improvement," Collins added.
Those efficiencies will take up to 24 months to fully come to bear, according to Collins.
The Spokane City Council has worked to prevent the city from joining SREC, but Mayor David Condon has taken an approach that effectively skirted the council and firefighter union's wishes.
The city has not technically joined the new regional communications center but is relying on it for services. In anticipation of SREC's opening on July 1 – and neighboring agencies across the county leaving the current city-led dispatch system and joining SREC – Condon laid off 10 of the city's 18 fire dispatchers. Three more fire dispatchers then left the city and joined the new center.
That leaves the city with only five fire dispatchers. Thus, the city has relied on SREC for assistance with dispatch needs but is not paying SREC "because we are operating under mutual, reciprocal aid," according to city spokeswoman Marlene Feist.
The union plans to file a grievance against the city for using contractors to perform the duties of union employees and for failing to bargain, according to Archer.
"The union had reached out to them over the last year, literally, and there was just all of this dodging," Archer said.
The city did not respond to the allegations because a grievance has yet to be filed.
The new agency's board could have pushed its launch date back six months and provided more detailed answers to questions from the union and City Council, Archer argued.
"Instead, they strategically waited until the 11th hour, with threats of 'Spokane Fire Dispatch may no longer exist, so you take our offer or you may have nothing,' " Archer said. "Well guess what? July 1 happened, and we're still here."
Collins acknowledged employees who have "lived with a couple years of uncertainty."
"Today is a testament that the future looks bright, that you're going to be in a worthwhile and high-performing career and this will be something you look back on as a major milestone," Collins said.
City of Spokane dispatchers are now working side by side with SREC employees to provide services.
"Our goal is, we don't want anybody on the other side, a citizen or a responder, to notice a difference, because that's threatening public safety and responder safety," said city fire dispatcher Kelly Masjoan, who was among those on the picket line on Thursday.
The concept of sharing emergency communications services in Spokane County is not new.
In the 1990s, the city of Spokane led the formation of the Combined Communications Center. Under an interlocal agreement set to expire in 2021, the city of Spokane provides fire dispatch services to 10 county fire districts and the cities of Airway Heights, Cheney and Medical Lake.
"The sad thing is our Combined Communications Center functions wonderfully, it's a model of how things should work," Archer said.
But because the city no longer employs enough dispatchers to adequately provide the service, the Combined Communication Center's policy board passed a resolution earlier this month that alleged a breach of contract and provided member agencies the opportunity to leave the city-led system.
As the city-led system disintegrates, fire districts across the county are joining SREC, and it is unclear how property shared between the former city-led partners will be divided – including the Combined Communications Building itself.
"While it resides on city-owned property, Spokane County has shared significant facility costs as well as many other assets. There is much to be sorted through to determine how costs will be allocated moving forward," said Kirstin Davis, a spokeswoman for SREC.
Also unclear is what the employee pay will be at SREC.
"The labor negotiations are in progress, so I really can't speak to that," said Steve Reinke, SREC's executive director. "What the board was committed to was making sure we're paying wages that are appropriate for the area."
To help get off the ground, SREC relied on a $2.5 million loan from Spokane County Investment Pool overseen by the Spokane County Treasurer, with an interest rate of 3.5% and term of 18 months, as the new center continues to sign on new partners. The loan is backed by Spokane County.
SREC will be paid via the tax revenues collected by its member agencies effective July 1, but "they're not in the bank yet," Reinke explained.
"We just needed a quick bridge loan to make sure that we can meet payroll," Reinke said.
This has story has been changed from its original version.
Local journalism is essential.
Give directly to The Spokesman-Review's Northwest Passages community forums series -- which helps to offset the costs of several reporter and editor positions at the newspaper -- by using the easy options below. Gifts processed in this system are not tax deductible, but are predominately used to help meet the local financial requirements needed to receive national matching-grant funds.
Subscribe now to get breaking news alerts in your email inbox
Get breaking news delivered to your inbox as it happens.
---