Sports
A Grip on Sports: When running down British Open TV coverage is tougher than finding Rory McIIlroy's lost ball, it's a bad day
Fri., July 19, 2019 A GRIP ON SPORTS • You know what is easy? Watching sports at home on your personal television. You know what isn't easy? Watching sports while traveling either on your computer or phone.
•••••••
• For the life of me, I can't figure out why a large hotel from a major chain wouldn't have the Golf Channel as part of its 70-plus offerings. But the one we are staying at this week doesn't. I'm not going to rat them out, but I will say when you are on holiday and are looking for a room at the inn, maybe someplace else would be better – at least when the British Open is on.
Especially when the broadband connection isn't what you would call speedy and the cell coverage, while 5Ge – whatever that means – is spotty and weak.
I was able to watch some of the Open yesterday, though I missed Rory McIlroy's awful start and any of Tiger Woods' good shots. But to get it done, I had to remember a password I hadn't entered in at least a year and not allow any other website to run on my computer.
It's just so much easier, and more comfortable, to be able to just turn on a TV, switch to the correct channel and vegetate. Isn't that what watching golf is all about?
It certainly isn't about having to search through your password chain, or having to see if there is a faster broadband available or, heaven forbid, actually, you know, do work before you can watch it.
This is America after all and easy-to-watch sports on TV is in our Constitution. Article FX I believe. When you actually have to work to watch, it seems un-American. And way-too-difficult.
• With Edgar Martinez's Hall of Fame induction this weekend, the road from Seattle to up-state New York has a few more travelers.
It isn't an easy trip, something I can state from personal experience. But well worth the effort. Though this weekend, with the ceremonies and all, should probably be avoided for all but the true die-hards. The rest of us can visit later in the summer of during the fall, when the hubbub has died down.
•••
WSU: If Gage Gubrud shines as Washington State's quarterback this fall, that won't surprise his former teammates. Ryan Collingwood talked to some of them when he made a trip to Los Angeles recently, and they all feel Gubrud will help the Cougars. … One thing that will help any Cougar quarterback? The receiving corps. One of its members, Dezmon Patmon, was placed on the Biletnikoff Award watch list yesterday. … Elsewhere in the Pac-12, Arizona State won't be able to replace N'Keal Harry at receiver. … Colorado's leading tackler is back.
Gonzaga: Around the West Coast Conference, BYU's leading returning scorer for the women's team will not play next season after suffering a knee injury.
Indians: Blaine Crim hit two home runs to lift Spokane past Vancouver at Avista Stadium on Thursday night. Dave Nichols has the game story. … Elsewhere in the Northwest League, Everett lost at Tri-City in 10 innings, meaning it is three games back of the Indians with four first-half games to play. … Eugene dealt a blow to Hillsboro's first-half title hopes.
Auto racing: There is a big race this weekend in Post Falls, honoring a longtime local racer.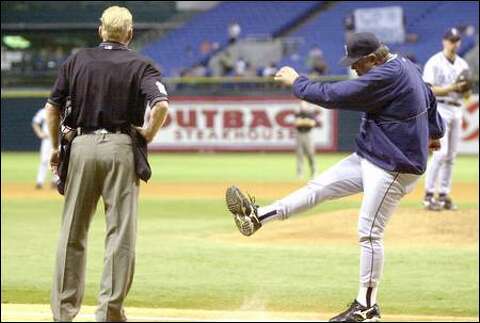 Mariners: Who do the M's have to dangle to contenders as the trade deadline nears? … Lou Piniella should also be in the Hall of Fame, if only for his antics on the field. Those were almost always hall of fame worthy. … Larry Weir spoke to Everett's radio voice concerning the newest prospects to join the M's minor league system. It's all part of the latest Press Box pod.
Seahawks: As the roster countdown continues, one wonders where Shaquem Griffin fits in.
•••
• As you can tell, we did decide to write today. It's just really short, as you can also tell. We should be back to normal by, I don't know, Tuesday. Until later …
Subscribe to the sports newsletter
Get the day's top sports headlines and breaking news delivered to your inbox by subscribing here.
---