Sports > Spokane Indians
Linda Ruth Tosetti – granddaughter of Babe Ruth – shares memories, throws strike at Spokane Indians game
July 19, 2019 Updated Fri., July 19, 2019 at 10:25 p.m. Linda Ruth Tosetti found her grip, and with her right hand threw a lofting strike into the glove of catcher Francisco Ventura.
A Ruth – Babe's granddaughter – had just thrown a baseball at Avista Stadium.
"I made it," Tosetti said, and then gestured to the sky. "I said, 'Babe, don't fail me now.' "
Wearing a No. 3 Spokane Indians jersey, Tosetti threw out the first pitch at the Spokane Indians game Friday night. The crowd audibly gasped when she was announced and cheered when the ball hit Ventura's mitt.
A few minutes beforehand, she played catch with another No. 3 – Spokane infielder Jonah McReynolds – just to be sure she still had it. It had been more than a year, she said, since she'd thrown a baseball.
The ambassador of her grandfather's legacy, Tosetti is in Spokane this week to celebrate the 100th anniversary of the Hutton Settlement, the children's home that George Herman "Babe" Ruth visited in 1926.
Ruth was an orphan and he always had a heart for children, Tosetti said.
"My grandfather was very smart. He was smart with baseball, he was smart with people, and kids," she said. "He loved kids."
When Indians staff members heard Tosetti was going to be in town, they were quick to extend an invitation.
Two years before his 1926 visit to the city, Ruth played in an exhibition game in Spokane on Oct. 17, 1924, and hit two home runs, according to The Spokesman-Review's reporting at the time.
"We thought it was only fitting because Babe Ruth also was here at the stadium before," said Otto Klein, Indians senior vice president. "(Tosetti is) obviously a great ambassador to the Ruth family … and for baseball."
Tosetti is often asked to make appearances like these, and she said she always obliges.
"To remember my grandfather," she said. "It's an honor to be asked, and I uphold and protect the legacy fiercely. And my grandfather, he never said no."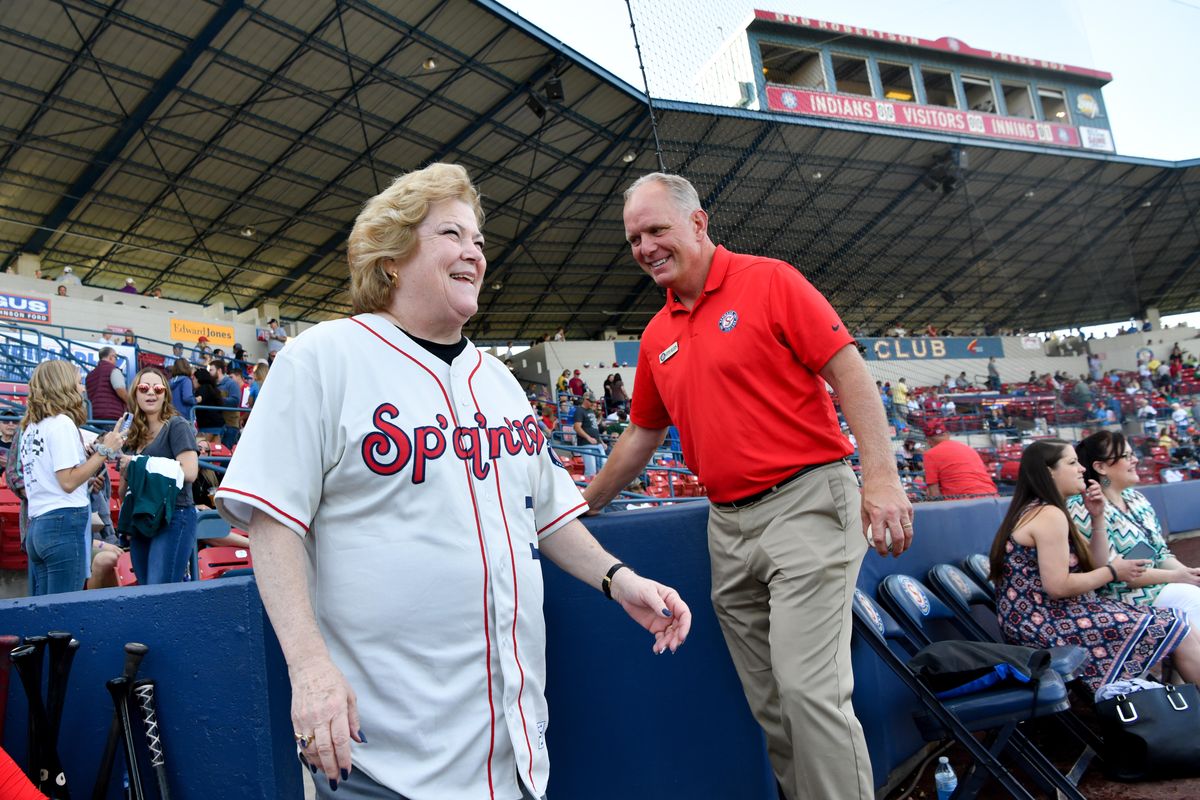 Babe Ruth's granddaughter, Linda Ruth Tosetti smiles with Otto Klein, Senior Vice President of the Indians before the Spokane Indians faced the Vancouver Canadians on Friday, July 19, 2019, at Avista Stadium in Spokane, Wash. Tyler Tjomsland/THE SPOKESMAN-REVIEW (Tyler Tjomsland / The Spokesman-Review)
Tosetti is a living treasury of stories about Ruth, stories she has made it part of her life's work to track down. Born in 1954, six years after Ruth died, Tosetti recounted secondhand stories of people who knew her grandfather – specifically his love and care for children.
"(I've been) studying my grandfather for 50 years and wanting to know the private man more than the man that hit the home runs," she said. "My mother filled me in on his love for children, which is what brought him to the settlement in the first place. … He was just ecstatic, and he played with the kids, and he was in (the backyard) playing baseball."
Tosetti has her father's memorabilia to look after, but as she travels the country, she has built her own collection, including the Spokane jersey she received Friday.
"I have a closet full of jerseys," she said, then ran her fingers across the front of her Spokane jersey. "This is one is different. This one is great."
Local journalism is essential.
Give directly to The Spokesman-Review's Northwest Passages community forums series -- which helps to offset the costs of several reporter and editor positions at the newspaper -- by using the easy options below. Gifts processed in this system are not tax deductible, but are predominately used to help meet the local financial requirements needed to receive national matching-grant funds.
Subscribe to the sports newsletter
Get the day's top sports headlines and breaking news delivered to your inbox by subscribing here.
---